En publiant les nouvelles images du DLC Orange Piccolo dans Dragon Ball Xenoverse 2 ce matin, Bandai Namco a également évoqué Cell Max dans un tweet qui laisse clairement entendre que le boss du film Dragon Ball Super SUPER HERO pourrait bien rejoindre Xenoverse 2 dans les prochaines semaines. La créature ultime du Dr Hedo n'est pas encore présente dans le jeu, mais sachant que la série de DLC Hero of Justice est uniquement centrée sur le film DBS Super Hero, et que le Hero of Justice Pack 2 coûtera plus cher que le Hero of Justice Pack 1, on a bon espoir d'avoir de très bonne surprise dans le prochain pack.
Dans deux tweets, l'un de la branche française de Bandai Namco, et l'autre du compte international Dragon Ball Games, il est question de « jouer avec Orange Piccolo pour combattre Cell Max ». On ne peut pas faire plus clair que ça. Cependant, l'histoire nous a appris à rester que nous ne sommes jamais à l'abri d'un malentendu…
DLC de Cell Max : personnage jouable ou boss géant ?
Nous sommes intimement persuadés qu'un DLC de Gohan Beast sortira dans le Hero of Justice Pack 2 de Dragon Ball Xenoverse 2, pour accompagner Orange Piccolo. Encore une fois, c'est une évidence, sachant que nous parlons du dernier DLC 100% dédié au film DBS Super Hero. Et comme ce pack 2 coûtera plus cher que le pack 1 (qui contenait 3 personnages), alors ce ne serait pas déconnant de voir un troisième invité surprise.
Parmi les combattants emblématiques du film, il ne resterait que Piccolo (potentiel éveillé), Gotenks (fusion ratée), et Cell Max. Mais si un DLC de Cell Max se confirme, comme semble le sous-entendre Bandai Namco, il semble impossible que le monstre arrive en personnage jouable, sachant qu'il n'existe aucune forme géante en personnage jouable. Cependant, l'une des forces de Xenoverse 2 réside dans ses combats de boss géants, et c'est là où une quête avec Cell Max en boss géant de fin prendrait tout son sens.
Qu'en pensez-vous ? Quel est votre pronostic sur les prochains personnages qui seront certainement dévoilés dans le prochain V-Jump du 21 février ?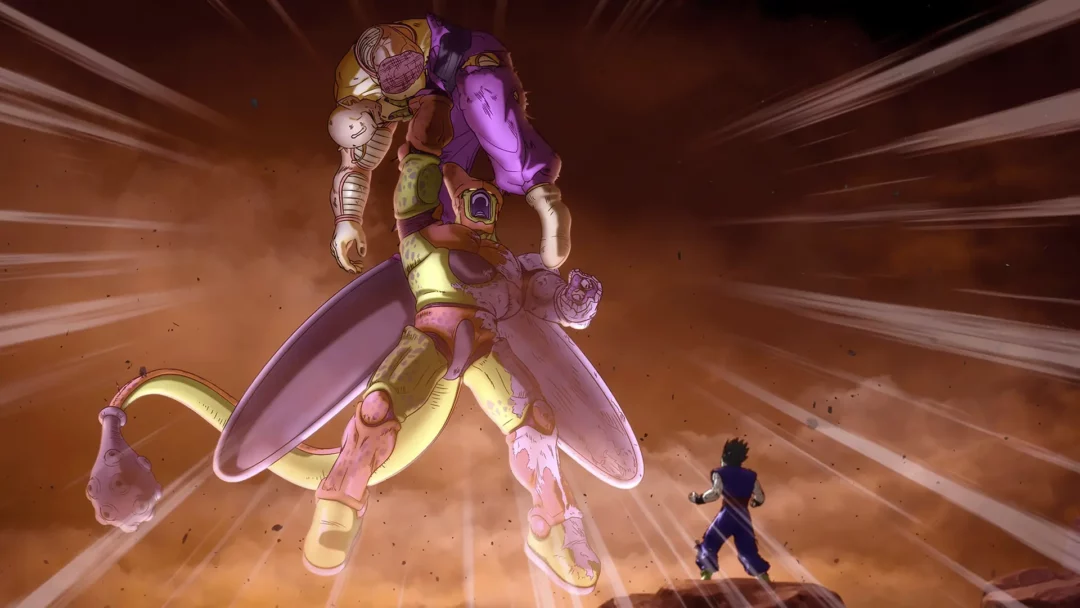 Dragon Ball Xenoverse 2
Dragon Ball Xenoverse 2 est un jeu édité par Bandai Namco Entertainment, et développé par Dimps, tout comme Xenoverse 1. Le scénario commence 2 ans après la fin de Xenoverse. Cette fois, le joueur évoluera dans la ville de Conton City, 7 fois plus grande que la ville de Toki Toki City vue dans Xenoverse. Elle offrira plus de quêtes annexes, plus d'objets, plus de costumes, et plus de fun. Tous les avatars pourront voler, et pour les parresseux, des véhicules seront mêmes disponible comme l'hoverboard ou le pilier de Taopaipai (offert en précommande avec le personnage de Goku Black). Le jeu est sorti le 28 octobre 2016 sur PS4, Xbox One et PC (Steam) ! Notez qu'au Japon, le jeu ne sortira que sur PS4. Les ventes de la Xbox One étant très faible au Pays du Soleil Levant, Bandai Namco n'avait en effet peut-être pas intérêt à investir sur cette plateforme.