La série des UDM existe déjà depuis plusieurs années, mais son succès ne se dément pas. Cette série de porte-clés, déclinée par ailleurs en plusieurs versions (UDM The Best et UDM V-Jump) en est déjà à sa 39ème itération ! Le stade des 40 séries approche donc à grand pas et devrait débarquer mi-Décembre au Japon.
Mais concentrons nous d'abord sur ces UDM Burst 39 qui met en avant la plupart des fusions de l'univers Dragon Ball, avec notamment Gogeta SSJ4 en vedette.
La seule véritable nouveauté se trouve avec Super Fû, tiré de l'univers Super Dragon Ball Heroes et que les collectionneurs vont certainement s'arracher, de part sa rareté et le fait qu'on ne le verra pas autre part, si ce n'est peut-être avec les WCF. C'est donc l'occasion d'obtenir sa figurine à faible coup.
Pour le reste, et hormis C-18 qui a du se perdre en chemin, on retrouve essentiellement des Saiyajin provenant de Dragon Ball, Dragon Ball Super et Dragon Ball GT.
UDM Burst 39 : Le line-up
Vous commencer à comprendre le principe : Bandai nous sert une fois 5 figurines, puis 6, puis 5, et ainsi de suite… Ce coup-ci, on aura le droit à 6 figurines, qui sont les suivantes :
UDM Burst 39 Vegetto SSJ
UDM Burst 39 C-18
UDM Burst 39 Super Fu
UDM Burst 39 Gogeta SSJ4
UDM Burst 39 Vegetto SSB (ou SSGSS)
UDM Burst 39 Gotenks SSJ3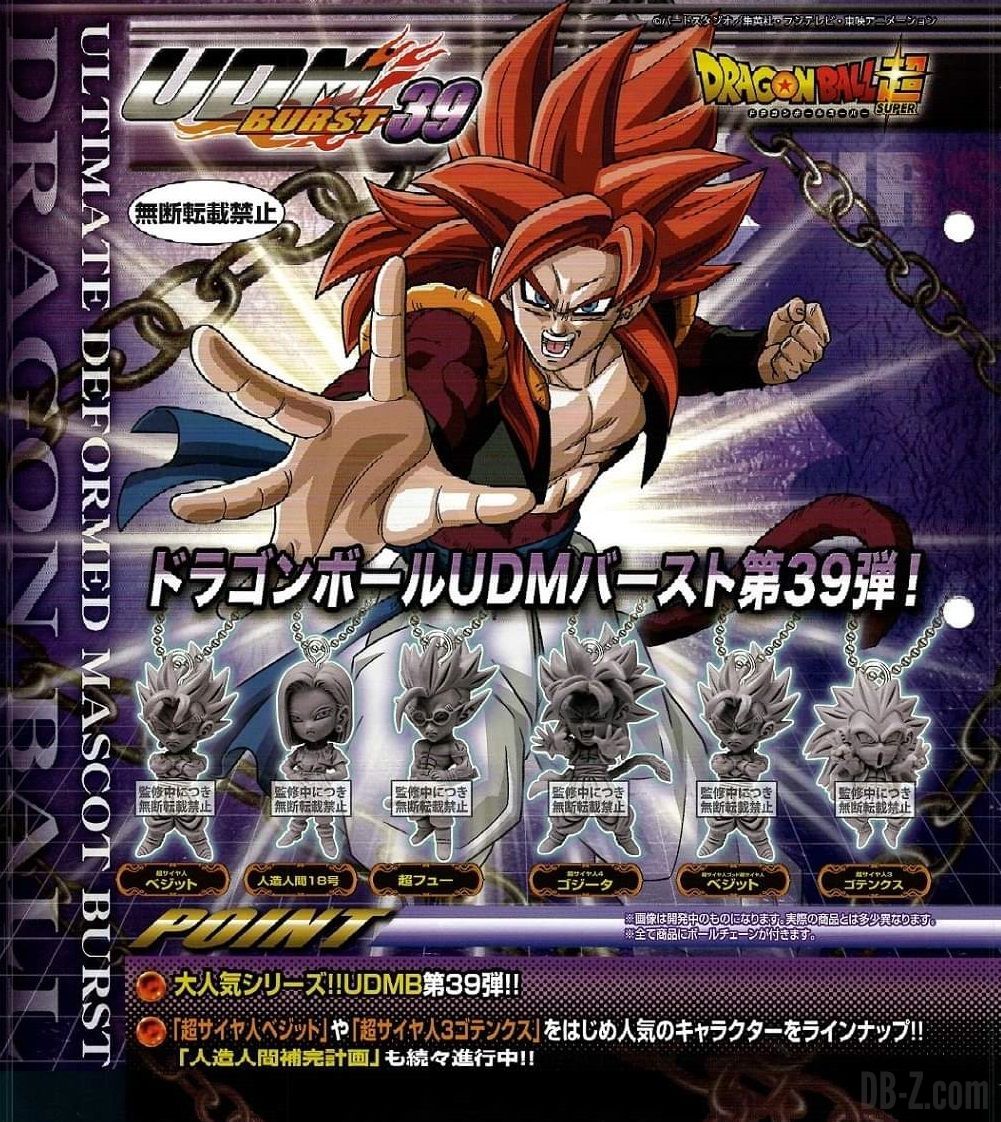 Malheureusement, comme vous avez du le remarquer sur l'image, on se retrouve avec un « presque doublon » : en effet, sur les deux Vegetto présents, seule la couleur des cheveux va changer… C'est un des nouveaux moyens trouvés par Bandai depuis quelques mois maintenant pour créer des figurines à moindre coût. C'est rageant, mais on commence à en avoir l'habitude.
Informations complémentaires
Titre : UDM Burst 39 (Ultimate Deformed Mascot 39)
Date de sortie : Septembre 2019
Prix : 200 ¥ / 1,50 €
Taille : environ 4 cm
Fabricant : Bandai
Les UDM en bref…
Les UDM Burst / UDM The Best sont de petites figurines Dragon Ball – en réalité des portes-clés Dragon Ball – fabriquées par Bandai. Beaucoup de personnages représentés dans cette série sont issus de Dragon Ball Z, Dragon Ball GT, ou particulièrement encore de Dragon Ball Heroes, comme Bardock Super Saiyan 3 ou Broly Super Saiyan 4. Elles s'achètent généralement dans les machines à sous (gashapons) généralement dans les environs de 200 ¥ / 1,50 € l'unité, et on s'en sert surtout de porte-clé ou de décoration pour sac, trousse, etc… Vous pouvez les acheter dans les machine à pièce (gashapon) au Japon, ou par exemple sur le Dragon Ball Store.
Au Japon, un gashapon (ガシャポン) ou gachapon (ガチャポン) est à la fois une machine à pièces distribuant des jouets, et les jouets qu'elle distribue. Les figurines Dragon Ball UDM Burst sont typiquement le genre de figurines que vous pouvez trouver facilement dans ces machines contre 200 ¥ / 1,50 €.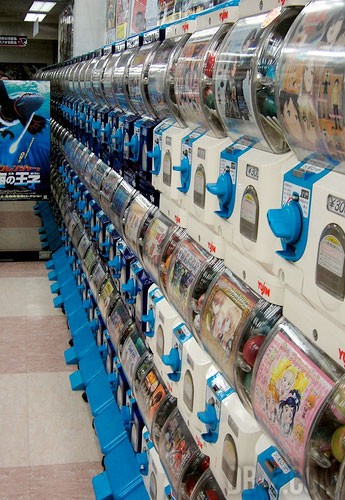 Et comme toujours, n'oubliez pas de suivre régulièrement le planning des futures sorties de figurines Dragon Ball sur notre forum pour être au courant des dernières annonces !