De nouveaux scans de Dragon Ball Z: Battle of Gods viennent d'être publiés. Le premier montre plusieurs images inédites : Bils (ou Birusu) qui cogne la tête de Gohan dans celle de Buu ; Bils qui joue avec C18 avec un genre de baguettes chinoises ; Bils face à Vegeta ; et le trio Pilaf, Mai, Shu, dont le scan relate qu'ils auraient été changé en enfant. Clin d'oeil à DBGT ? Autre point intéressant – et attention au spoil – le scan semble dire que Vegeta aurait déjà rencontré Bils par le passé, qui porterait apparemment une certaine attention pour les Saiyan…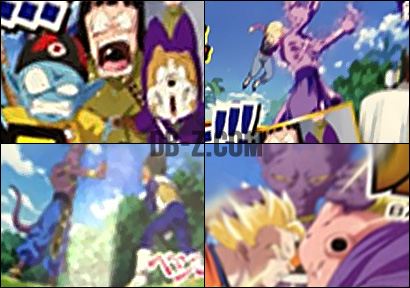 Le scan parle également tu thème du film, Cha-La Head-Cha-La interprété par FLOW, et nous informe également que ceux qui pré-commande une place repartiront avec des stylos en forme de Dragon Ball.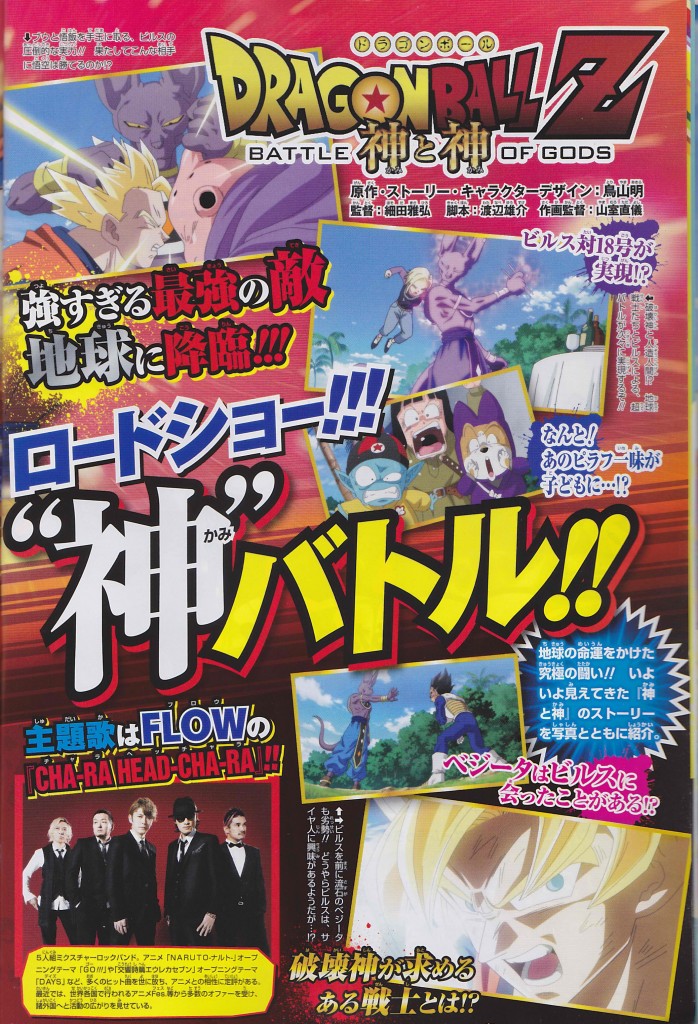 Traduction :
– Il prend Gohan et Buu par la tête, c'est le pouvoir écrasant de Birusu !! Goku pourra-t-il vaincre un tel ennemi ?
– Dieu de la Destruction et Cyborg ?! De supers combats entre Birusu et les combattants de la Terre vont s'enchaîner !!
– Quoi ?! La bande à Pilaf a été transformée en enfant…?!
– Vegeta a rencontré Birusu dans le passé ?!
– Même Vegeta n'est pas de taille contre Birusu !! C'est clair, il semble que Birusu ait un intérêt pour les Saiyan…?!
– Qui est le guerrier recherché par le Dieu de la Destruction ?!
Il existe également un autre scan qui nous explique que 1700 lecteurs du magazine japonais Jump auront la possibilité de voir le film en avant-première dans certaines salles de cinéma au Japon.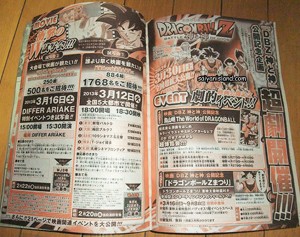 Pour rappel, Dragon Ball Z : Battle of Gods est le 18ème film animé Dragon Ball. Il se déroulera entre les chapitres 517 et 518 du manga Dragon Ball, dans les 10 ans qui s'écoulèrent après que Goku ait éliminé Buu, mais avant le 28ème Tenkaichi Budokai (=championnat du monde des arts martiaux), lors duquel Gokû affrontera Uub. Akira Toriyama est fortement impliqué dans la réalisation de ce film, aux côtés de Toei Animation, Fox International Productions Japan, Shueisha, Fuji TV, Bandai, et Namco Bandai Games. Dragon Ball Z : Battle of Gods sera diffusé dans les cinémas japonais à partir du 30 mars 2013, mais on n'a toujours aucune date pour le reste du monde, bien qu'on ait eu la confirmation que ce film Dragon Ball Z : Battle of Gods sera diffusé en Amérique et en Europe, les marchés où Dragon Ball s'exporte le mieux.