Si vous avez manqué l'information sur notre page Facebook, sachez que Dragon Ball Z : Battle of Z, le futur jeux vidéo sur PS3, Xbox 360, et PS Vita, sortira donc en Europe le 24 janvier prochain. Nous l'avons appris lors de l'événement MCM Comic Con de Londres, mais une autre information de taille a été annoncée par Namco Bandai : en effet, on apprend que la démo du jeu Dragon Ball Z Battle of Z débarquera en décembre sur le PSN et le Xbox Live ! Voilà qui est vraiment judicieux, surtout quand on sait que ce jeu ne fait vraiment pas l'unanimité. Grâce à cette démo, tout le monde pourra ainsi se forger son propre opinion du jeu, sans être influencé par qui que ce soit. Bref, cette démo de DBZ Battle of Z comprendra une campagne solo, mais également une campagne en ligne. Notez de plus que les progrès que vous effectuerez dans la démo seront enregistrés et exploités dans la version complète du jeu.
Dragon Ball Z Battle of Z : Edition Collector
Lors de cet événement, une édition collector du jeu a également été présentée, comme le montre l'image ci-dessous. Il y aura différentes versions, comme la « Goku Edition » présentée ci-dessous. Elle incluera sur cet exemple le DLC de Goku en mode ermite (Naruto), ainsi qu'une figurine de 25 cm de Goku en Super Saiyan. Nous n'avons pas d'autres information sur cette édition collector, mais j'espère pour ses futurs acquéreurs qu'elle contiendra les DLC de Bardock Super Saiyan et de Vegetto Super Saiyan, car on vous rappelle que ces deux personnages clés seront uniquement offerts à ceux qui auront précommandés le jeu. Le chantage commercial dans sa forme la plus exécrable…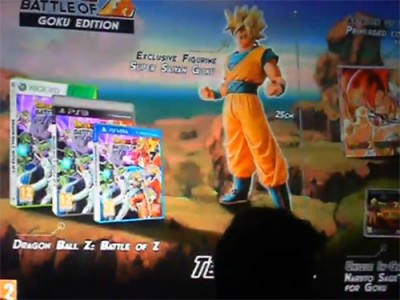 Mise-à-jour : Apparemment, la figurine de 25cm de l'Edition Collector serait la Son Goku de la gamme Master Stars Piece de Banpresto. Rien que pour ça … je crois que beaucoup vont craquer !
https://www.db-z.com/forum/index.php/topic,3147.0.html