Un nouveau scan du jeux vidéo Dragon Ball Z : Battle of Z a été publié sur la page des archives du VJump tenue par Treevax. Il porte principalement sur Broly, en Super Saiyan et en Super Saiyan Légendaire. Le scan confirme également que la démo de Dragon Ball Z : Battle of Z sortira bien en décembre au Japon, et on peut aisément imaginer qu'elle débarquera aussi chez nous dans le même temps. Le scan mentionne également 4 modes de jeux :
Normal Battle : Un combat standard en 4 contre 4. Chaque équipe débute avec un certain nombre de « résurrections » permettant à un personnage de réintégrer la partie une fois vaincu. L'équipe qui épuise ses résurrections a perdu.

Score Battle : Un combat standard en 4 contre 4. Pour avoir le meilleur score possible, votre équipe devra éliminer autant de fois que possible vos opposants dans un temps limité.

Battle Royal : Chacun pour soi ! Chaque joueur doit vaincre les autres et atteindre le meilleur score.

Collecte des Dragon Balls : 2 équipes de 4 joueurs combattrons pour les 7 Dragon Balls dispersées sur le champs de bataille. La première équipe à collecter les 7 Dragon Balls remporte la partie ! Si aucune des deux équipes ne parvient à réunir les 7 Dragon Balls dans le temps imparti, c'est celle qui en aura collecter le plus qui gagnera.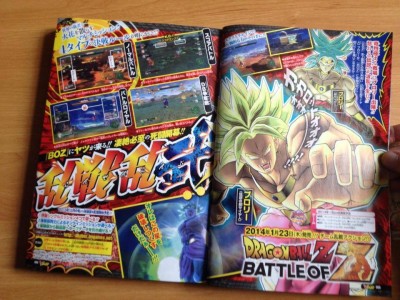 Dragon Ball Z : Battle of Z est donc le prochain opus de la licence Dragon Ball. Il s'agira pour rappel d'un jeu de combat en 4 contre 4, et jouable jusqu'à 8 joueurs en ligne. Le jeu sera disponible sur Xbox 360, PS3, et PS Vita au Japon le 23 janvier 2014, en Europe le 24 janvier 2014, et en Amérique du Nord le 28 janvier 2014.
https://www.db-z.com/forum/index.php/topic,3147.0.html