Attendu pour le début de l'été, le 3ème DLC de Dragon Ball Z Kakarot continue de se montrer en images. Bandai Namco avait déjà publié quelques images la semaine dernière, mais l'éditeur historique des jeux DB continue de nous en montrer davantage.
Ce prochain DLC dédié à l'épisode télévisé spécial "L'Histoire de Trunks" nous projettera dans le futur alternatif de Trunks, à une époque où C-17 et C-18 ont assassiné toute la Z-Team. Enfin presque toute, puisque Goku a succombé à une maladie, sans parler de Gohan et Trunks qui ont survécu en se cachant avec Bulma. Du côté de Kame House, d'autres se cachent dans un sous-marin. Il s'agit de Kame Sennin, Oolong, Puerh, et la Tortue de mer. D'ailleurs, ces images nous montrent que c'est un lieu que nous pourront visiter au cours de notre aventure pour y rencontrer nos amis.
Dans le futur, le monde sera en ruine, à l'image de ce que nous avons vu dans l'épisode TV. Il faudra bien ouvrir l'œil pour trouver des commerçants encore en vie, mais surtout, il faudra rester vigilent pour ne pas se faire repérer ! En effet, ce DLC apportera un nouveau mécanisme "assaut de cyborgs", dans lequel il vous faudra éviter ou détruire les drones qui patrouillent sur le terrain avant qu'ils ne sonnent l'alarme, et qu'ils appellent C-17 et C-18 en renfort pour vous anéantir !
Concernant les personnages jouables, seuls Son Gohan et Trunks seront jouables. Il semble même que nous pourront jouer avec deux versions de Gohan, si on en croit les précédentes images du magazine V-Jump. En effet, ci-dessous, Gohan a deux bras, tandis que dans le V-Jump du 19 mars 2021, et sur le modèle officiel, il n'a qu'un seul bras.
Pour ceux qui découvriraient l'Histoire de Trunks seulement maintenant, ce Gohan n'est pas celui que vous avez pu voir dans DBZ ou dans Dragon Ball Super. C'est techniquement la même personne, mais d'une chronologie alternative où tous ses amis sont morts lorsqu'il était enfant. Il a donc grandit dans un cadre et dans un monde totalement différent, ce qui en fait un personnage à part entière. Alors que le Gohan adulte de l'arc Buu a pu débloquer la forme dite de "Gohan Ultime" pour défier Buu, ce Gohan du Futur n'atteindra jamais le Super Saiyan 2. Il aura aussi la particularité de n'avoir qu'un seul bras, chose que nous verrons dans Dragon Ball Z Kakarot.
Avec ces différences et quelques autres, il est fort probable que ces deux personnages joueront très différemment l'un de l'autre. Mis à part l'entraînement que Gohan a reçu de Piccolo, il a dû faire tout son apprentissage par lui-même. Cela signifie qu'il n'a jamais passé un an dans la salle de l'esprit et du temps avec Goku pour éveiller le Super Saiyan 2, et qu'il n'a peut-être même pas certaines des techniques qu'il a apprises de Piccolo. Au lieu de cela, ce combattant sera une version beaucoup plus brute de Gohan, utilisant uniquement ce qu'il a appris de lui-même.
Ce DLC "Trunks - The warrior of hope" (Trunks - Le combattant de l'espoir) est inclus dans le Season Pass du jeu, aux côtés des deux premiers DLC de Battle of Gods et Résurrection de F. Il sortira au début de l'été 2021, et on espère que d'autres DLC du même type prendront le pas.
Trailer du 3ème DLC de DBZ Kakarot "Trunks, le combattant de l'espoir"
Le Season Pass de Dragon Ball Z Kakarot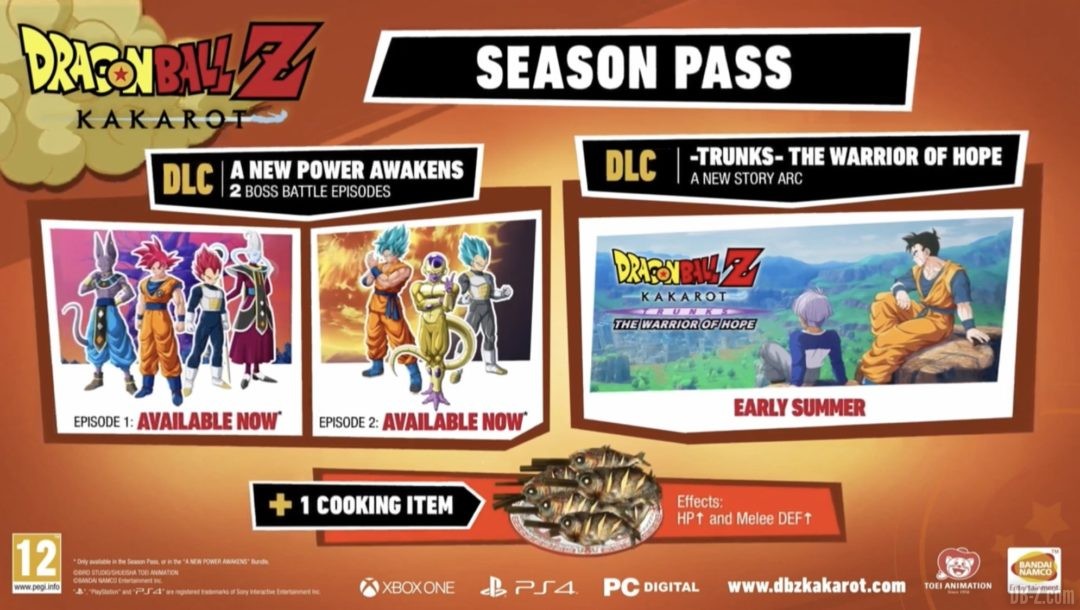 Dragon Ball Z Kakarot
Dragon Ball Z Kakarot est un jeu vidéo développé par CyberConnect2 (studio connu pour les séries .hack et Naruto). En effet, c'est un Action-RPG qui offre « une réinterprétation épique de l'histoire de Dragon Ball » dans laquelle les fans peuvent revivre « comme jamais auparavant » l'histoire du Saiyan Kakarot, mieux connu sous le nom de Son Goku, à la recherche d'un pouvoir toujours plus grand. D'autre part, on nous décrit un voyage qui le conduira à défendre la Terre contre de terribles ennemis. Le titre sort en France sur PlayStation 4 – Xbox One – PC via Steam le 17 janvier 2020. D'ailleurs, les différentes versions de Dragon Ball Z Kakarot sont à découvrir dans une édition Standard, Deluxe, Ultimate et Collector, offrant de vastes cartes librement explorables parsemées de missions secondaires et d'objectifs parallèles. Enfin, vous pouvez retrouver plus d'informations sur le site officiel de Dragon Ball Z Kakarot.