Au milieu du mois, le deck de cartes "Z戦士集結" (=Les Guerriers 'Z' réunis) des "Miracle Battle Carddass" a fait son apparition au Japon, incluant certains des personnages du booster "Miracle of God" entre autres.
La série "Miracle of God" inclus pas mal d'ennemis de films, comme Broly, Hildegarn, Slug, Cooler, L'androïd #13, Tullece, et Birusu, mais ces derniers ne sont pas inclus dans la série "Guerriers 'Z' réunis". Le V-Jump qui sort ce mois (en fait celui de juin 2013) fera un focus sur les cartes rares "Omega" de la série "Miracle of God".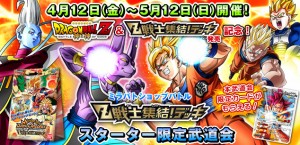 Chaque deck de cartes contient 40 cartes, 10 Jumpower, et les instructions du jeux, tout ceci pour 1260 ¥ (~9,80 €) et sont disponibles en ligne chez des revendeurs comme Amazon Japan.
https://www.db-z.net/forum/index.php/topic,3178.0.html