Mechikabura est donc le nom du vieil homme qui apparaît dans le teaser du jeu d'arcade Super Dragon Ball Heroes. Il fait sa grande entrée dans le manga, à quelques semaines de la sortie du jeu.
Le chapitre 2 du manga Super Dragon Ball Heroes : Ankoku Makai Mission (=Mission du Royaume des Ténèbres) vient de paraître dans le nouveau numéro du Saikyo Jump qui est sorti aujourd'hui au Japon. On y aperçoit de nouveau personnages, dont le vieil homme qui semblait avoir été invoqué par Towa dans le teaser de Super Dragon Ball Heroes, et à la fin de Dragon Ball Heroes GDM10. On connaît enfin son nom : il s'appelle Mechikabura.
Pour essayer de comprendre l'origine de son nom, on peut creuser du côté de la chanson Bibbidi-Bobbidi-Boo que chante la féé dans le long-métrage de Disney, Cendrillon. C'est déjà à cette chanson sur le thème de la magie qu'on doit les noms de Bibidi, Babidi, et Majin Buu. Et de la même façon, Mechikabura (メチカブラ en japonais) apparaît dès la première phrase de la chanson.
Paroles en Japonais :
サラガドゥラ メチカブラ
ビビディ・バビディ・ブー
うたえ 踊れ 楽しく
ビビディ・バビディ・プー
[…]
Paroles en Anglais :
Salagadoola mechicka boola bibbidi-bobbidi-boo
Put 'em together and what have you got
bippity-boppity-boo
Début du Chapitre 2 de Super Dragon Ball Heroes
Voici les 5 premières pages du chapitre 2 dans lequel Towa délivre Mechikabura. La scène se déroule dans le Monde des Ténèbres. Celui qui semble être un genre de Kami du Monde des Ténèbres (mais ce n'est pas précisé) apporte une statue de Shenron. Il explique qu'il va fabriquer les 7 Dragon Ball à partir de ce mini Shenron, et il s'exécute. Les 7 boules disparaissent aux quatre coins du Monde des Ténèbres, et Kami explique qu'il faut retrouver les 7 Dragon Balls pour pouvoir réaliser son voeu. Towa et Mira (qui entend pour la première fois le terme « Dragon Ball ») n'avaient pas prévu le coup. Mais Mechikabura semble avoir une solution : il va utiliser le pouvoir des Majin. Le reste est à découvrir dans le reste du chapitre que nous vous posterons plus tard.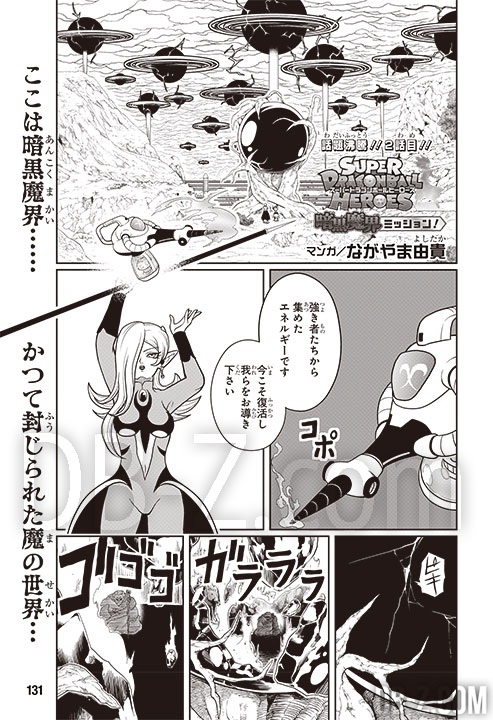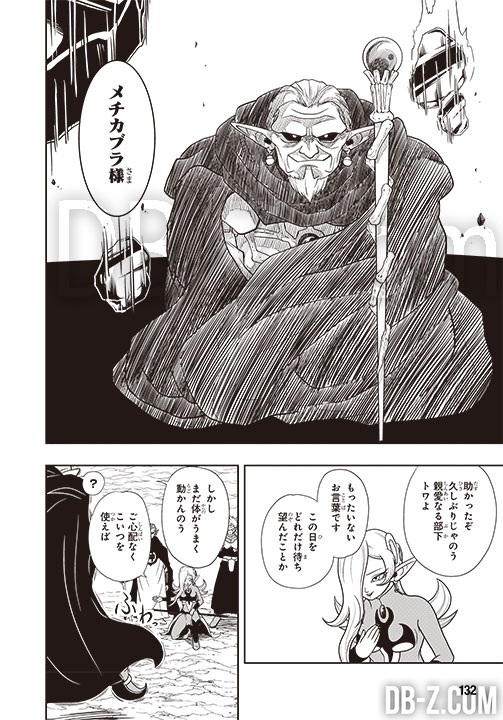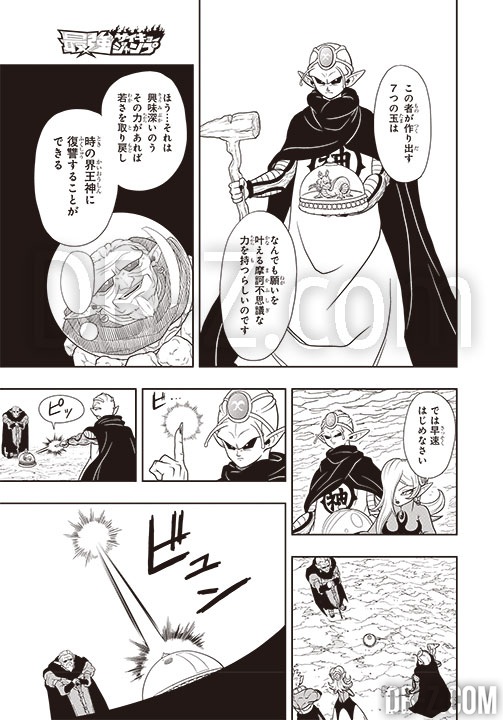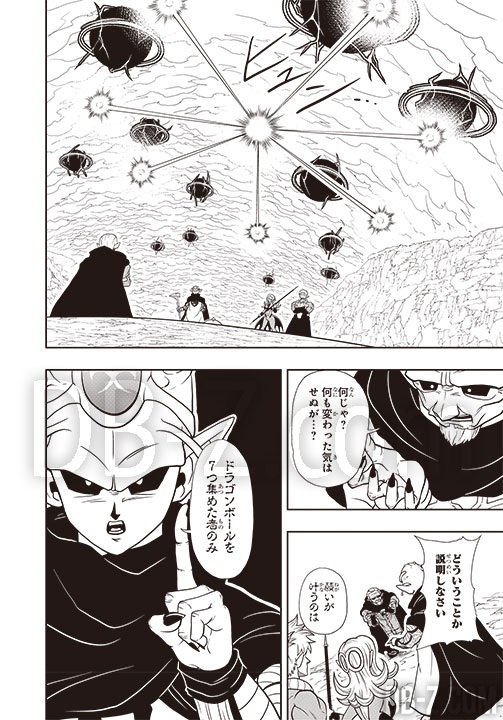 Rappelons que c'est Yoshitaka Nagayama, l'auteur de Dragon Ball Heroes : Charisma Mission, qui dessine ce manga Super Dragon Ball Heroes. Sur son compte Twitter, il avait récemment commenté au sujet de Charisma Mission :
新連載というよりは、連載中の超カリスマミッションの暗黒魔界編だと思っていただけたらと思います(^ ^)
カリスマたちも読者の方々と一緒に暗黒魔界編を見て、研究しているところです(^O^)

---

Plutôt que d'une nouvelle série, je préfère que vous pensiez qu'il s'agit de l'arc « Royaume des Ténèbres » du manga en cours « Super Charisma Mission » (^ ^) Les 'Charismas' touchent au Royaume des Ténèbres du jeu avec les lecteurs, et investiguent dessus (^O^)