Les figurines UDM Burst 28 sont annoncées pour le mois de Novembre 2017.
Alors que les japonais peuvent découvrir depuis quelques jours en rayon les UDM The Best 20 – une compilation de figurines de la série UDM Burst, voici que le fabricant Bandai annonce aujourd'hui la prochaine itération qui sera disponible dès le mois de Novembre prochain au Japon. Mais la particularité de cette collection, c'est qu'elle mettra en avant exclusivement des personnages apparaissant dans Super Dragon Ball Heroes, le désormais célèbre jeu sur borne d'arcade qui fête en 2017 ses 5 années d'existence, comme cela a déjà été l'occasion dans le passé, avec la sortie des UDM Burst 21.
Ainsi, cette collection mettra en vedette les 5 personnages suivant :
UDM Burst 28 Goku Xeno SSJ

UDM Burst 28 Goku Xeno SSJ3

UDM Burst 28 Gogeta Xeno SSJ

UDM Burst 28 Avatar Saiyen (femme)

UDM Burst 28 Majin Buu Xeno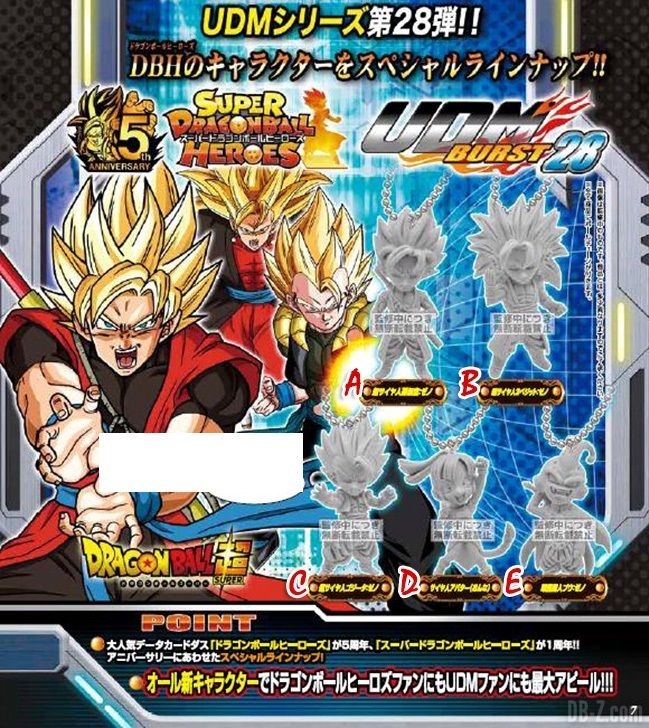 Informations complémentaires
Titre : UDM Burst 28 (Ultimate Deformed Mascot 28)
Date de sortie : Novembre 2017
Prix : 200 ¥ / 2 €
Taille : 5 cm
Fabricant : Bandai
Les UDM en bref…
Les UDM Burst / UDM The Best sont de petites figurines Dragon Ball – en réalité des portes-clés Dragon Ball – fabriquées par Bandai. Beaucoup de personnages représentés dans cette série sont issus de Dragon Ball Z, Dragon Ball GT, ou particulièrement encore de Dragon Ball Heroes, comme Bardock Super Saiyan 3 ou Broly Super Saiyan 4. Elles s'achètent généralement dans les machines à sous (gashapons) généralement dans les environs de 200 ¥ / 1,50 € l'unité, et on s'en sert surtout de porte-clé ou de décoration pour sac, trousse, etc… Vous pouvez les acheter dans les machine à pièce (gashapon) au Japon, ou par exemple sur le Dragon Ball Store.
Au Japon, un gashapon (ガシャポン) ou gachapon (ガチャポン) est à la fois une machine à pièces distribuant des jouets, et les jouets qu'elle distribue. Les figurines Dragon Ball UDM Burst sont typiquement le genre de figurines que vous pouvez trouver facilement dans ces machines contre 200 ¥ / 1,50 €.
Et comme toujours, n'oubliez pas de suivre régulièrement le planning des futures sorties de figurines Dragon Ball sur notre forum pour être au courant des dernières annonces !