Les figurines Dragon Ball UDM The Best 20 sont annoncées pour Juillet 2017.
Les figurines UDM Burst 23 viennent à peine de sortir dans les rayons au Japon, et Bandai annonce cette fois une nouvelle compilation de figurines Dragon Ball UDM The Best pour le mois de Juillet 2017. Comme toujours avec les UDM The Best, ce n'est que du réchauffé, mais c'est toujours bon à prendre quand on sait qu'il n'est pas facile de les trouver dans le commerce au bout de quelques mois.
Pour rappel, la particularité de la collection UDM The Best, c'est en effet qu'elle représente un best-of des figurines Dragon Ball de la collection UDM Burst, rééditées pour ceux qui n'auraient pas eu l'occasion de se les procurer auparavant. Cette collection sortira donc au mois de Juillet 2017 au Japon, au prix habituel de 200 ¥ / 2 € la figurine de 5 cm.
Cette nouvelle série UDM The Best 20 comprendra comme à l'accoutumé 5 figurines :
[amazon_link asins='B01B05LDAO,B01N32YZY0,B01MXK00YL,B01CTSYRR2,B01CTTLXFK,B01B05K1CK' template='dbz10′ store='dbzco-21′ marketplace='FR' link_id='8afaa8ee-195f-11e7-9de3-d3706e8a4a06′]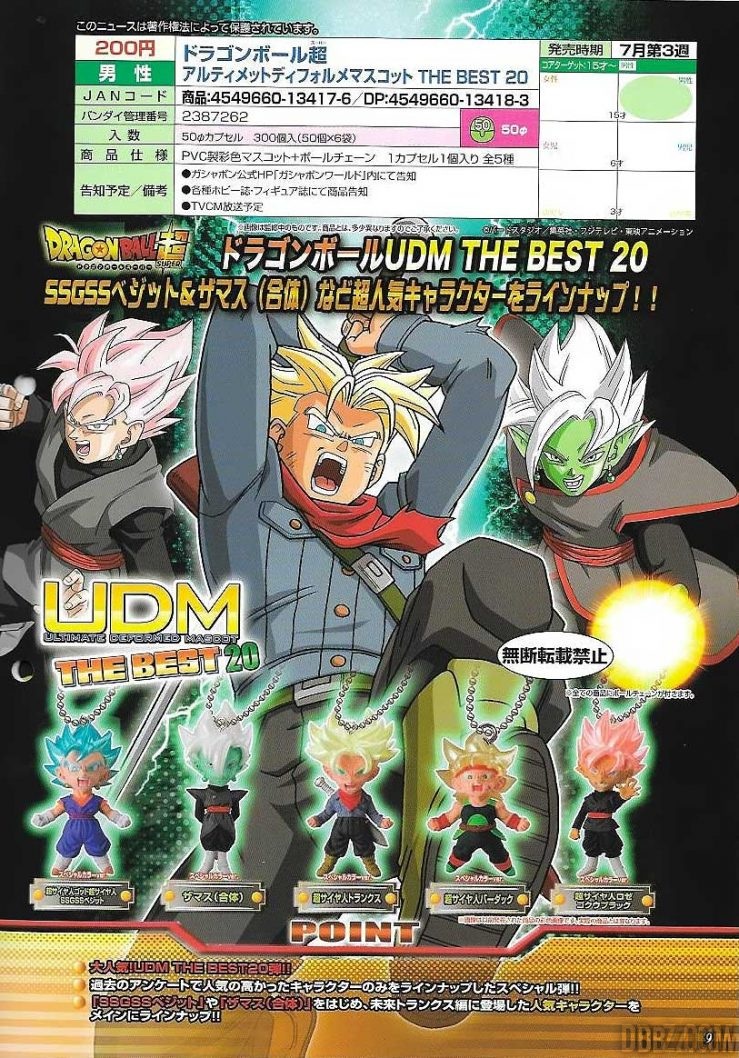 Informations complémentaires
Titre : UDM The Best 20 (Ultimate Deformed Mascot 20)
Date de sortie : Juillet 2017
Prix : 200 ¥ / 2 €
Taille : 5 cm
Fabricant : Bandai
Les UDM en bref…
Les UDM Burst / UDM The Best sont de petites figurines Dragon Ball – en réalité des portes-clés Dragon Ball – fabriquées par Bandai. Beaucoup de personnages représentés dans cette série sont issus de Dragon Ball Z, Dragon Ball GT, ou particulièrement encore de Dragon Ball Heroes, comme Bardock Super Saiyan 3 ou Broly Super Saiyan 4. Elles s'achètent généralement dans les machines à sous (gashapons) généralement dans les environs de 200 ¥ / 1,50 € l'unité, et on s'en sert surtout de porte-clé ou de décoration pour sac, trousse, etc… Vous pouvez les acheter dans les machine à pièce (gashapon) au Japon, ou par exemple sur le Dragon Ball Store.
Au Japon, un gashapon (ガシャポン) ou gachapon (ガチャポン) est à la fois une machine à pièces distribuant des jouets, et les jouets qu'elle distribue. Les figurines Dragon Ball UDM Burst sont typiquement le genre de figurines que vous pouvez trouver facilement dans ces machines contre 200 ¥ / 1,50 €.
Et comme toujours, n'oubliez pas de suivre régulièrement le planning des futures sorties de figurines Dragon Ball sur notre forum pour être au courant des dernières annonces !