La famille des figurines Dragon Ball UDM (Ultimate Deformed Mascot) s'agrandit avec l'annonce des UDM The Best 13. Ces 5 nouvelles figurines ne vous sont peut-être pas inconnue car les UDM The Best sont justement un best of des figurines UDM Burst déjà sorties précédemment. Vous aurez donc reconnu :
Gogeta Super Saiyan 4 (UDM Burst 03)
Bardock Super Saiyan (UDM The Best 06)
Vegetto Super Saiyan (UDM The Best 05)
Omega Shenron (UDM The Best 03)
Broly Super Saiyan (UDM Burst 14)
En général, ces figurines coûtent environ 500 ¥ (~4 €) en boutique (ou 200 ¥ en tentant sa chance dans les machine à pièces) pour une hauteur de 40mm. On s'en sert principalement de porte-clé ou de décoration pour sac, trousse, etc… Et vous pouvez facilement vous les procurer dans les machine à pièce (gashapon) au Japon, ou par exemple sur notre Dragon Ball Store. Comme toujours, toutes ces infos sont à jour sur notre planning des sorties figurines Dragon Ball. Merci SSJGZetto !
Note culturelle : au Japon, un gashapon (ガシャポン) ou gachapon (ガチャポン) est à la fois une machine à pièces distribuant des jouets, et les jouets qu'elle distribue. Les figurines Dragon Ball UDM Burst sont typiquement le genre de figurines que tu trouveras facilement dans ces machines contre 200 ¥.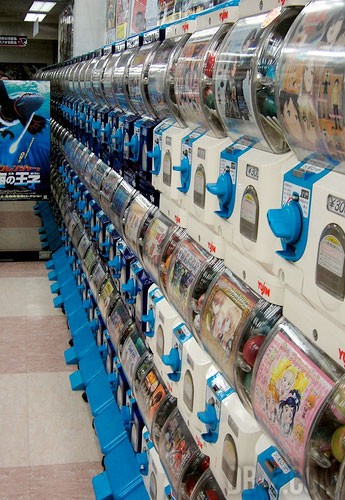 https://www.db-z.com/forum/index.php/topic,3640.0.html