Voici en vidéo le prototype de la prochaine résines Xceed Vol.6 du fabricant Xceed. Après la Xceed Vol 5 : The Great Saiyaman , voici la XRF Battle of Gods. Celle-ci sera exceptionnel en ce sens où la résine embarque avec elle un total de 3 figurines interchangeables :
Goku Super Saiyan God
Goku Super Saiyan Blue
Beerus
Avertissement : TOEI ANIMATION, le producteur et titulaire des droits d'auteurs des séries animées DRAGON BALL, DRAGON BALL Z et DRAGON BALL GT, rappelle que "Les figurines de XCEED sont fabriquées et commercialisées en totale violation des droits de TOEI puisque à aucun moment la société XCEED, n'a sollicité la moindre autorisation."

Vous n'avez donc ni le droit d'acheter leurs produits, ni d'en faire la promotion. Cet article n'a pour objectif que de vous montrer l'avancement de leur sculture à titre purement informatif, et sans indication sur comment vous les procurer, ce qui est illégal.
Voici le rendu 3D avec Goku Super Saiyan God vs Beerus :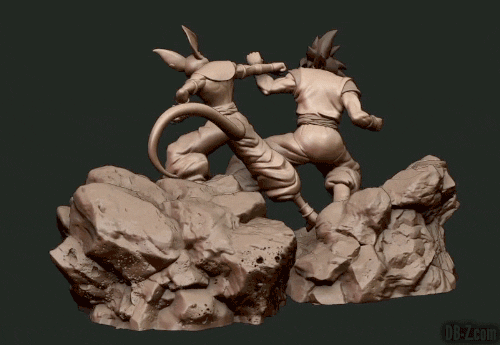 Informations complémentaires
Nom : Xceed Vol.6 Battle Of The God
Contient 2 Goku (Super Saiyan God + Super Saiyan Blue) + 1 Beerus
Personnages interchangeables
Goku Super Saiyan Blue peut même être disposé seul / indépendamment
Peut aussi être combiné avec le Vol.3 Super Saiyan Blue Vegeta
Echelle 1/6
Sortie en automne 2016
On rappelle que les résines de Xceed ne sont pas reconnues comme produits officiels. Nous présentons ces figurines car elles font figure d'exception. Nous ne touchons ni argent ni quoi que ce soit d'autres (vous êtes sur DB-Z.com, un site sans pub fait par des passionnés). Mais gardez bien à l'esprit que l'achat de produits non licenciés par la TOEI est illégal.