Une toute nouvelle figurine rejoint la gamme SHFiguarts : il s'agit de Goku Super Saiyan God (SSG) !
Les premières images de la SHFiguarts Goku Super Saiyan God ont été publiées ce matin. La transformation divine de Son Goku dans le film Dragon Ball Z Battle of Gods, et dans Dragon Ball Super, revient donc en figurine pour compléter la magnifique DXF Goku Super Saiyan God, sortie en 2013, et rééditée en 2015. Si vous suivez régulièrement le planning des sorties de figurines Dragon Ball, vous avez appris il y a quelques semaines l'officialisation de cette SHFiguarts Goku SSG qui arrive cette année au Japon. Le site officiel du fabricant Tamashii Nations s'est mis-à-jour ce matin et a publié les premières images de la figurine, avec en prime un prix et une date de sortie. On apprend donc que cette nouvelle SHFiguarts sortira au mois d'Octobre 2017 au prix recommandé de 5616 ¥ / 45 € en précommande (ce prix peut varier selon les sites proposant la figurine).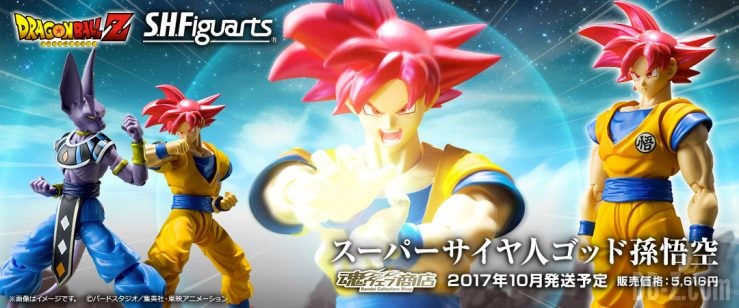 Tamashii Nations utilise depuis quelque temps déjà un nouveau mécanisme d'articulation permettant un rendu ultra réaliste et une flexibilité fidèle au corps humain. Cette nouvelle figurine de Goku SSJG représente notre héros lors de son affrontement contre Beerus, tel qu'on a pu le voir dans le film Battle of Gods et la série animée Dragon Ball Super. D'ailleurs, si vous avez la chance de posséder la S.H.Figuarts de Beerus, cela pourra être l'occasion pour vous de représenter les scènes de ce combat mythique, comme dans les images présentées par le fabricant ci-dessous.
Informations supplémentaires
Nom : SHFiguarts Son Goku Super Saiyan God (SSG)
Prix : 5616 ¥ / 45 € (hors taxe)
Date de sorties : Octobre 2017
Fabriquant : Bandai (Tamashii Nations)
Matière : PVC, ABS
Taille : 14cm
Où acheter : eBay / Yahoo Auctions / Nippon-Yassan / Amiami / etc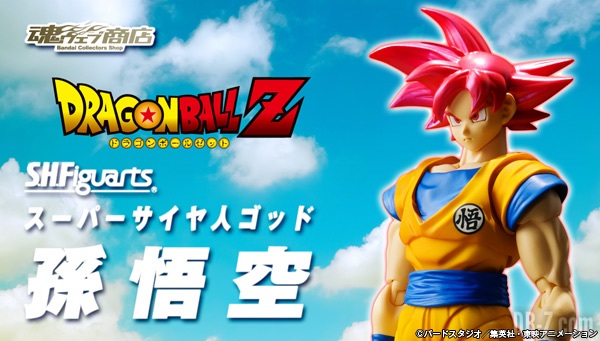 Figurines SHFiguarts en bref...
Les figurines Dragon Ball S.H.Figuarts sont une gamme de figurines qui mettent en avant la technologie et le design de pointe de Bandai en matière de figurines. Conçues pour imiter parfaitement l'amplitude des mouvements du corps humain, le nom de la série est une contraction des concepts de "Style Simple" et "Action Héroïque". Mesurant environ 14cm de hauteur, les S.H.Figuarts sont de vraies pièces de collection.