Faites de la place pour cette nouvelle Super Master Stars Piece The Son Goku ! Il va falloir faire avec, mais cette figurine porte exactement le même nom que la première SMSP The Son Goku sortie en 2016. C'est à l'occasion du 10ème anniversaire du BWFC (Banpresto World Figure Colosseum) que sortira cette nouvelle figurine de 30 cm. Comme les précédentes SMSP, et comme les anciennes Master Stars Piece, celle-ci proposera 4 versions différentes. Tout du moins pour l'instant, car on n'est pas à l'abri d'avoir de futures déclinaisons, comme les 8 SMSP The Son Goku Super Saiyan !

Cette nouvelle Super Master Stars Piece The Son Goku du fabricant Banpresto mesurera 30 cm. C'est plus petit que les précédentes Super Matser Stars Piece The Gogeta et SMSP The Son Goku, qui mesuraient toutes les deux 34 cm. L'explication est simple : cette fois, Goku n'est pas transformé. Il perd donc 4 cm puisque ses cheveux ne sont pas en l'air.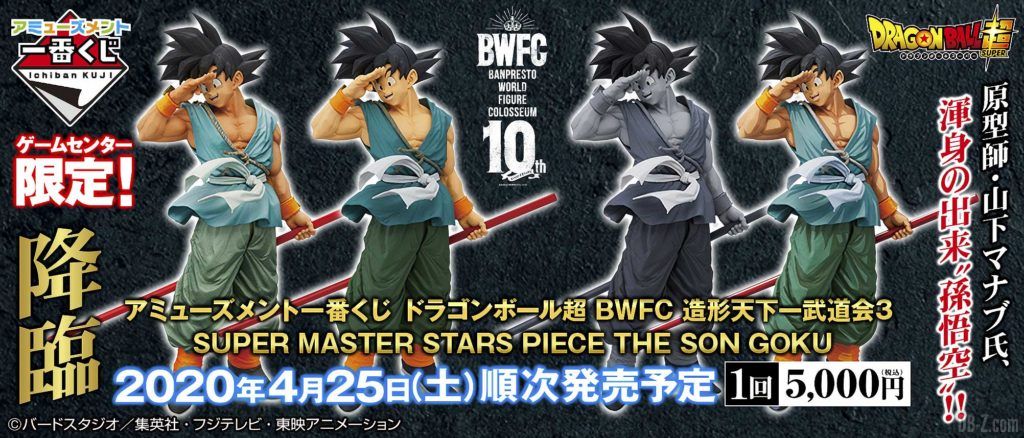 Super Master Stars Piece THE SON GOKU : 4 versions
Les quatre déclinaisons traditionnelles des SMSP sont de retour ! Notez le retour de la déclinaisons « The Tones » (en noir et blanc), qui avait disparu pour la SMSP The Gogeta. On retrouvera donc Son Goku sous les couleurs des versions :
A – The Brush : Elle propose une modélisation détaillée des ombres et de la lumière, qui suit attentivement les plis des vêtements et les contours des muscles. Les lignes de coloration sont de haute précision pour renforcer l'effet 3D. C'est le modèle le plus proche de la série des Master Stars Piece traditionnelles.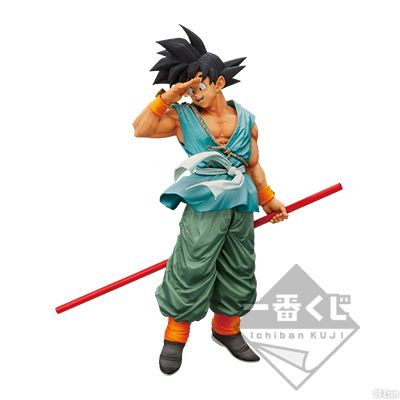 B – The Original : Un modèle de coloration qui exprime la force de la coloration originale du manga, avec des couleurs vives comme les couleurs des affiches et des illustrations dessinées par Akira Toriyama.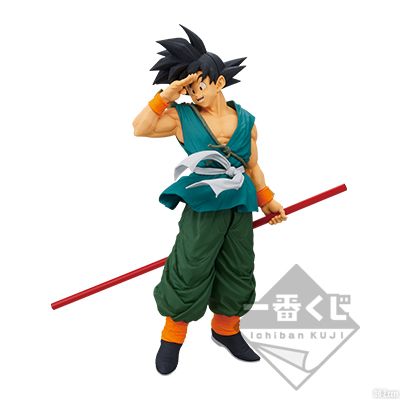 C – The Tones : En hommage aux couleurs monochromes (noires et blanches) du manga original et de l'encre, les contrastes entre le clair et le sombre mettent en évidence la qualité de la modélisation. C'est un style qui permet d'apprécier la modélisation de la figurine.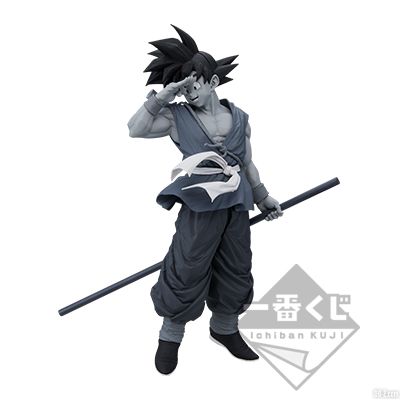 D – Two Dimensions : Un modèle de coloration délicat qui donne une coloration audacieuse en 2D, pour un plaisir visuel.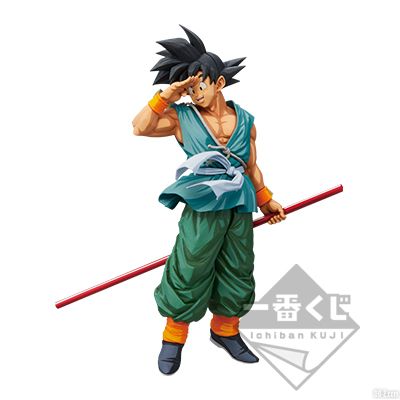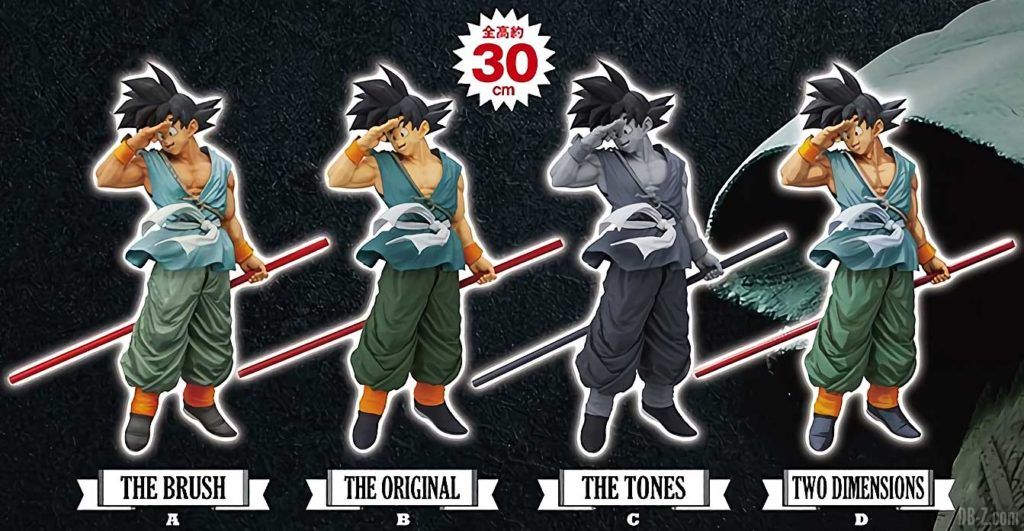 Fonctionnement de la Ichiban Kuji SMSP The Son Goku
Cette nouvelle Super Master Stars Piece The Son Goku sortira le 25 avril 2020 au sein d'une nouvelle loterie Ichiban Kuji. Vous pourrez précommander un ticket de loterie à partir du 13 décembre 2019, mais en réalité ça ne sert pas à grand chose, puisque vous pourrez trouver assez facilement des Game Centers participants le 25 avril sans trop forcer. Cette figurine ne sera disponible que via les loteries Ichiban Kuji, dans les salle de jeux au Japon (= les Game Centers). On ignore si cette loterie sortira en France, mais il est très probable que oui. Pour participer à une loterie Ichiban Kuji, il faut acheter un ticket de loterie au prix de 5000 ¥ / 40 €. Vous regardez la lettre qui apparaît sur votre ticket, et vous gagnez la figurine correspondant à la lettre A, B, C, ou D.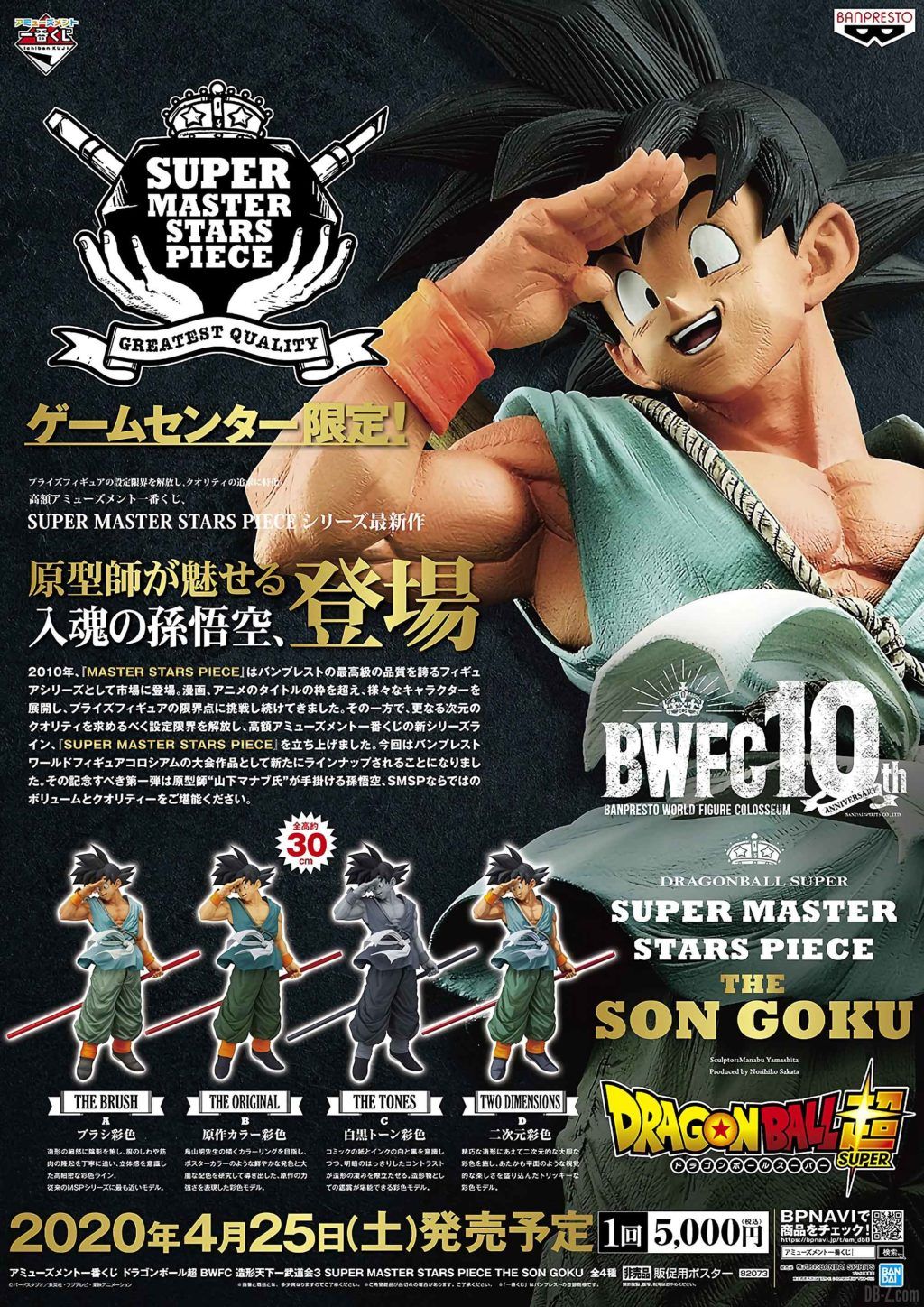 Les Super Master Stars Piece, en bref…
Les figurines Dragon Ball de la collection Super Master Stars Piece (SMSP) de Banpresto sont en quelques sortes les successeurs des Master Stars Piece (2010), et les cousines des Super Master Stars Diorama (2017). La collection est sorti en 2016 avec la première Super Master Stars Piece The Son Goku. Elles s'écoulent généralement très vite, et sont généralement difficiles à trouver dans le commerce. Les collectionneurs les recherchent principalement pour leur qualité du détail, mais aussi pour leur taille imposante qui avoisine les 30 cm.
Informations complémentaires
Nom Japonais

: アミューズメント一番くじ ドラゴンボール超 BWFC 造形天下一武道会3 SUPER MASTER STARS PIECE THE SON GOKU

Nom Français

: Amusement Ichiban Kuji Dragon Ball Super BWFC Zokei Tenkaichi Budokai 3 (litt. Championnat du Monde de modélisation) SUPER MASTER STARS PIECE THE SON GOKU

Prix

: 5000 ¥ / 40 €

Taille

: 30 cm

Fabricant

: Banpresto

Date de sortie

: 25 avril 2020

Date de précommande

: 13 décembre 2019

Où acheter

: Dans les Game Centers au Japon. Points de vente disponibles ici.

Plus d'informations

: Site officiel BPNavi