Le BotsNew Characters VR Dragon Ball Z de Megahouse se dévoile davantage dans un site officiel et une nouvelle publicité.
Le premier et prochain goodies Dragon Ball VR grand public approche ! On précise « grand public », car il existe déjà des attractions Dragon Ball en VR, comme au J-World de Tokyo par exemple. On vous en parlait en décembre 2016 lors de l'annonce officielle, Dragon Ball en VR, c'est pour bientôt ! Le fabricant Megahouse avait en effet annoncé un nouveau goodies pour juin 2017 au prix de 12960 ¥ / 100 €, sous le label BotsNew Characters VR DRAGONBALL Z. Désormais, une publicité a été annoncée (pensez à vous abonner à la chaîne), ainsi qu'un mini-site officiel qui reste encore très timide.
Les spécifications produit
Pour faire simple, le BotsNew Characters VR Dragon Ball Z est un casque de réalité virtuelle dans lequel il faut mettre son smartphone iOS / Android, et enfiler une manette à chaque main. Le casque pèse 435g, pour une dimension de 215mm (largeur) x 190mm (profondeur) x 120mm (hauteur). Il fonctionne sans batterie, car il se repose uniquement sur votre smartphone – qui communique avec les manettes.
BotsNew VR : Le champ de vision
L'expérience de jeu est totalement immersive, à 360°, sachant que le champ de vision du casque est à 120°. Notez que c'est mieux que le HTC Vive et l'Oculus qui n'offrent « que » 110°, et encore mieux que le PlayStation VR qui n'affiche « que » sur 100°, même si on doute que vous y voyez une quelconque différence en réalité. Pour rappel, les humains ont un maximum de champ de vision horizontal de 180°.
BotsNew VR : Les applications
Quelques jeux et applications compatibles sont déjà disponibles sur l'AppStore et le Google Play Store. En effet, ce casque est en fait une déclinaison de la gamme BotsNew VR déjà existante depuis août dernier, ce qui fait qu'il n'est pas propre à Dragon Ball et que vous aurez accès à plein d'autres contenus. En résumé : ils ont juste ajouté des stickers Dragon Ball sur le BotsNew Characters VR Dragon Ball Z pour nous faire plaisir. Bref, voici les applications déjà existantes, et qu'on vous laisse chercher sur vos stores :
BotsNew VR Player
BotsNew WARS
BotsNew Diver
BotsNew OF THE DEAD
Urban Coaster Mobile
Ajoutez à cette liste la prochaine application répondant au nom temporaire de « l'expérience du Kamehameha AR » (AR = réalité augmentée), qui sera également mise à disposition pour prolonger votre expérience avec le casque.
Contenu du BotsNew Characters VR Dragon Ball Z
Le pack BotsNew Characters VR Dragon Ball Z contient :
Un casque de réalité virtuelle (Le VR Simulator de Capsule Corporation),
Deux manettes (BotsNew Controller) à accrocher à chaque main,
Un nettoyant pour les lentilles du casque
Le manuel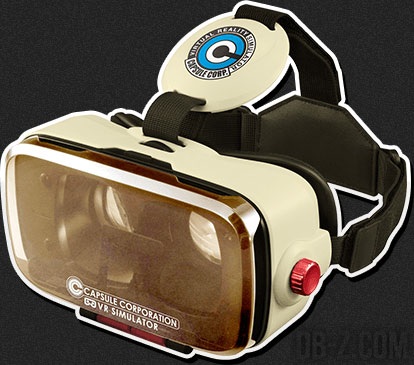 Le casque promet un confort optimal grâce à deux réglettes qui permettent d'ajuster :
La distance avec vos pupilles
Le focus
Il est également accompagné d'un repère pour la réalitée augmentée, et de deux manettes, les BotsNew VR Touch Controller. Elles vous permettront de bouger vos mains en VR, un peu comme le permettent les PlayStation Move de Sony.
En tout, vous pourrez :
Effectuez des Kamehameha
Evaluer la force de vos amis avec le mode Scouter
Voler
Explorer les lieux mythiques de Dragon Ball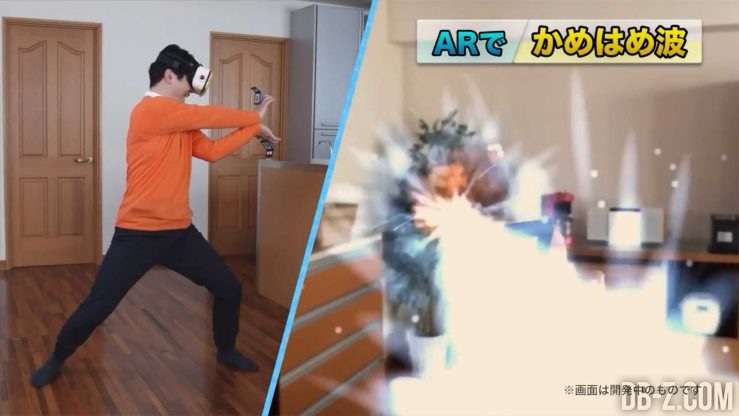 Informations complémentaires
Nom : BotsNew Characters VR Dragon Ball Z
Prix : 12 960 ¥ / 100 €
Date de sortie : Juin 2017
Poids : 435g
Dimensions : 215mm (largeur) x 190mm (profondeur) x 120mm (hauteur)
Matière : Polypropylène (une alternative au PVC)
Batterie : Inutile
De prochaines informations seront mises-à-jour au fur et à mesure ! Restez attentifs !