Surfant sur la vague de popularité actuelle de la licence Dragon Ball, c'est au tour de Nestlé Japon d'entrer dans la danse des produits dérivés du film Dragon Ball Z Battle of Gods. La firme commercialisera en effet à partir de 29 mars 2013 l'édition Dragon Ball de sa cafetière 'Nescafé Gold Blend Barista', en collaboration avec le film DBZ qui sortira le jour suivant. Elle est limitée à 3000 unités, et vendue à un prix de ¥ 9000 yens (75€). Les réservations se font uniquement sur le site de vente en ligne, et les premières livraisons sont annoncées pour la mi-avril.
Cette machine à café vous permettra de réaliser des café solubles, des expressos noirs, des cafés au lait, ou encore des cappuccinos, à raison d'une tasse à la fois. Il vous en coûtera environ ¥ 14 (0,12 €) pour un café noir, et de ¥ 24 (0,20 €) pour un café au lait. Depuis le lancement de cette gamme de machine en 2009, la société en a déjà écoulé 1,25 millions d'unités au mois de février 2013.
Aperçu de la cafetière Dragon Ball Nescafé
Capacité de réservoir

: 0.8 L.

Poids

: 3,6 Kg

Largeur

: 17,6 cm

Profondeur

: 28,5 cm

Hauteur

: 35,9 cm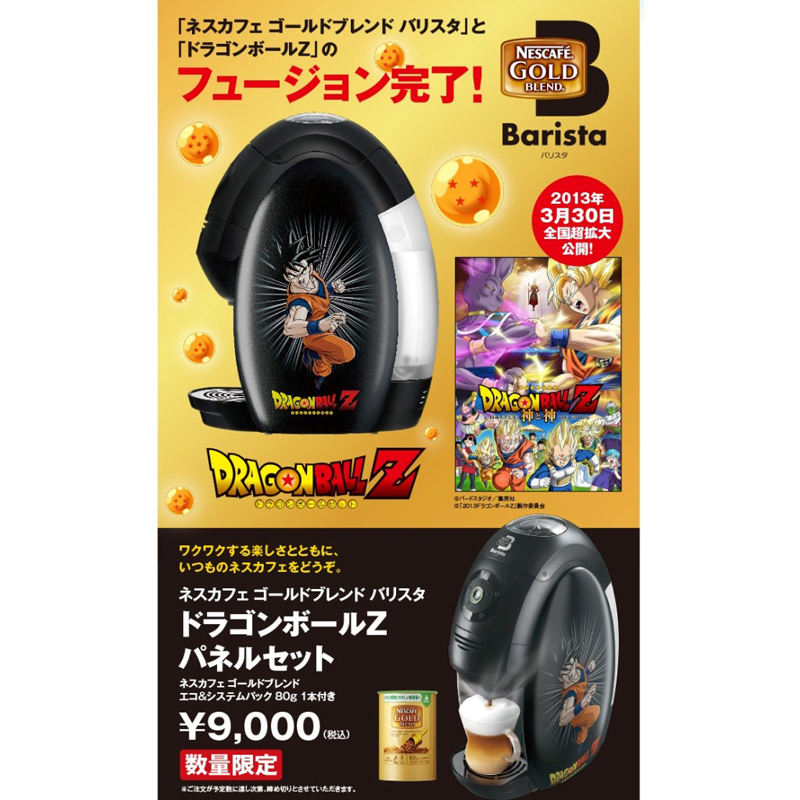 Pour vous dire la vérité, ce genre de news ne m'intéresse pas vraiment, mais ça permet au moins de rappeler que de la simple brosse à dents 'Battle of Gods' à la voiture Capsule Corportation, il apparaît des centaines de nouveaux produits dérivés à l'effigie de Goku depuis plusieurs semaines au Japon. Nous n'en présentons que très peu car honnêtement, ça n'a pas un grand intérêt de lister tout l'électroménager estampillé Dragon Ball, d'autant plus qu'ils sont toujours réservé au marché japonais.