L'Amérique latine siffle le coup d'envoi de la diffusion du film Dragon Ball Z 'Battle of Gods' à l'international. En fait, il ne s'agit pour l'heure que de simples annonces qui officialisent la chose, sans date précise, et par conséquent, ce n'est pas encore dit qu'ils seront les premiers servis. En effet, le distributeur Diamonds Films et le site Cinescape ont tous deux annoncé la diffusion du long métrage en Amérique latine. Diamonds Films a d'abord lâché la news sur son Facebook, en annonçant une sortie du film au Pérou, mais également au Mexique, au Paraguay, en Argentine, au Brésil, et au Chilie. La news a ensuite été reprise par Cinescape qui a publié un billet sur son site :
« Vous l'avez demandé ! Et apparemment personne n'a manqué de constaté le potentiel du film Dragon Ball Z 'Battle of Gods', alors lisez bien : le film va être diffusé dans notre pays !

En effet, le distributeur local Diamond Films a confirmé la news, puisqu'il aura la charge d'importer le film depuis le pays du soleil levant, film qui a rencontré un franc succès. Aucune date n'a été confirmée, et nous attendons plus de news sur cette sortie qui fera sûrement beaucoup de bruit en cette année 2013.

Vous pouvez respirer tranquillement, les péruviens pourront donc aussi voir Goku et Birusu sur grand écran ! »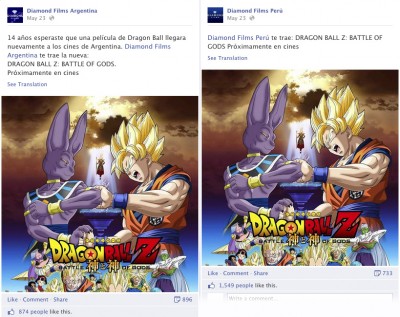 Dragon Ball Z 'Battle of Gods' au Mexique
Concernant le Mexique, c'est Cinepolis qui a lâché le morceau :
Espagnol

« ¡Alerta Super Saiyajin!

Dragon Ball: La Batalla de los Dioses llega a Cinépolis.

Espérala SÓLO aquí. »

Traduction

« Alerte, les Super Saiyajin !

Dragon Ball 'Battle of Gods' arrive chez Cinepolis.

Attendez-le seulement ici. »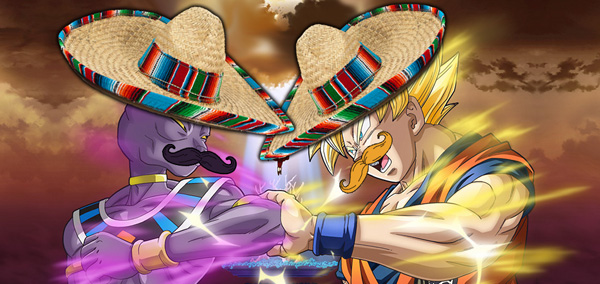 On apprend d'autre part sur ANMTV que la sortie serait approximativement prévue entre septembre et octobre 2013, bien que la page Facebook de Diamond Films Mexico nous annonce une sortie pour 2014. Un flou plane encore à ce niveau là. Nous en saurons probablement plus dans les prochains jours, en attendant quand même avec impatience notre localisation de Dragon Ball Z Battle of Gods en France !
https://www.db-z.com/forum/index.php/topic,2750.0.html