L'épisode 79 de Dragon Ball Super accueillera de nouveaux combattants. Début et suite de l'arc l'arc Survie de l'Univers !
Une première preview de l'épisode 79 de Dragon Ball Super, attendu le dimanche 19 février prochain, nous montre trois combattants de l'Univers 9 à apparence de loup. Ils seront les premiers adversaires de la team de l'Univers 7. Voici un premier avant-goût via le Weekly Shonen Jump de la semaine prochaine. La première information, c'est leur nom qui semblent être dérivés de noms de plantes :
Basil (de 'Basilic', le loup orange avec la cap)
Bergamo (de 'Bergamote', le loup gris avec l'écharpe)
Lavenda (de 'Lavende', le loup en bretelle)
L'hebdomadaire sortira lundi matin au Japon, et on rappelle que c'est l'épisode 78 de Dragon Ball Super qui sera diffusé ce week-end au Japon.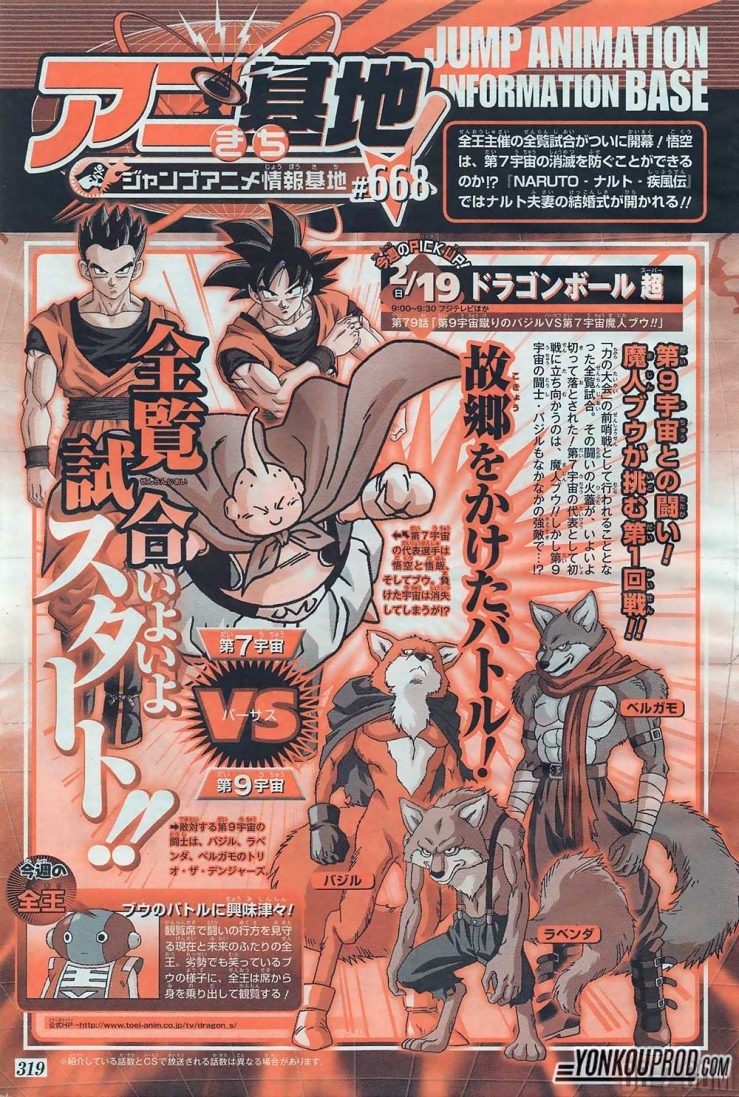 Dragon Ball Super Episode 79
Titre : Basil aux coups de pieds de l'Univers 9 VS Majin Boo de l'Univers 7 !!

Date de diffusion : 19 février 2017

Synopsis : Un combat contre l'Univers 9 !? Majin Boo entame le premier round !! Un match d'ouverture organisé par le Roi Suprême est tenu en guise de préliminaire au « Tournoi du Pouvoir ». Les combats sont enfin sur le point de commencer ! Le premier représentant de l'Univers 7 est Majin Boo !! Mais le combattant Basil de l'Univers 9 est aussi un puissant adversaire… !?

Un combat avec leur terre natale en jeu ! Univers 7 VS Univers 9

Le match de tous les présents commence enfin !! Les participants pour l'Univers 7 sont Goku, Gohan, et Boo. L'Univers perdant sera anéanti ? Leurs opposants sont les combattants de l'Univers 9, qu'on surnomme « Trio The Dangers« .

Cette semaine, le Roi Suprême : Il est très intéressé par le combat de Boo. Les Rois Suprêmes présent et futur regardent le tournoi depuis leur fauteuil dans le public. Les Roi est stupéfait sur son siège en regardant Boo sourire alors qu'il est à son désavantage !
Dragon Ball Super
Dragon Ball Super est un manga et une série TV diffusée sur Fuji TV et rediffusé sur d'autres chaines japonaises chaque dimanche à 09h00, à partir du 05 juillet 2015. Il s'agit de la première série TV Dragon Ball depuis Dragon Ball GT, diffusée de 1996 à 1997. L'histoire débute quelques années après le combat contre Majin Buu, et démarre par le scénario des films Dragon Ball Z : Battle of Gods et Dragon Ball Z : Résurrection F, en pleine période de paix.
Remerciements : @yonkouprod