En parallèle de la sortie du jeu vidéo Dragon Ball Xenoverse le 05 février au Japon sur PS4 / PS3 / Xbox One / Xbox 360 / Steam (et en France le 27 février), un guide du jeu sera disponible à l'achat : le Historia Guardians Guide (~Guide des Gardiens de l'Histoire). Il sortira également le 05 février, et sera probablement disponible dans les librairies d'import japonaises en France.
La fiche descriptive du Historia Guardians Guide sur le site de vente en ligne Hanmoto nous donne quelques informations inédites, à commencer par son prix : 1400¥ (~10€), et son format : A5 (14.5 X 21 cm, comme la Perfect Edition des mangas Dragon Ball).
Autre information de taille, le nombre de personnages jouables serait apparemment de 47 personnages, mais sans compter les DLC (et sans les transformations ?). Mais l'avenir nous réservera peut-être quelques surprises…
Le guide vous aidera également à résoudre quelques 50 quêtes secondaires en plus de l'histoire principale. Vous aurez aussi la liste d'environ 200 compétences et de 400 équipements, les items disponibles en boutique, un code pour télécharger Vegeta Super Saiyan 4 ainsi qu'un thème exclusif PS3 / PS4 (dont le fond d'écran est déjà ici).
Vous aurez un autre code à utiliser avec l'application mobile « Shonen Jump + », mais on vous en dira plus quand on aura mis la main sur ce Historia Guardians Guide !
Dragon Ball Xenoverse, en bref…
Dragon Ball Xenoverse sortira sur PC, PS4, PS3, Xbox One and Xbox 360. Il offrira notamment les transformations in-game, des personnages aux expressions faciales super détaillées, ainsi que de tout nouveaux graphismes. Les joueurs pourront créer et personnaliser leur propre personnage, et les faire combattre contre les protagonistes du monde de Dragon Ball, ainsi que contre d'autres joueurs en ligne.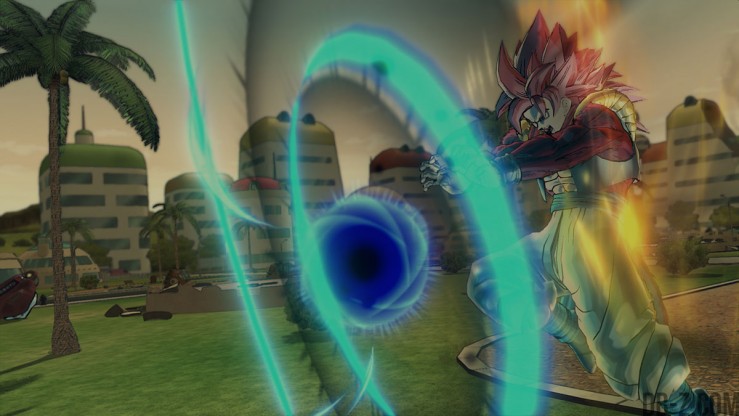 En effet, le Tenkaichi Budokai (Championnat du Monde des Arts Martiaux) de l'univers de Dragon Ball sera un élément majeur du prochain jeu vidéo de la licence, et ça, c'est énorme : Les combattants du Monde entier pourront régulièrement s'affronter dans des tournois organisés par Bandai Namco Games !
Le guide des joueurs sera bien Trunks, le voyageur temporel. C'est lui qui présentera votre personnage au Kaioshin du Temps dans la Salle de transfert de Toki, et qui vous permettra de rencontra les autres combattants, ainsi que de customiser vos tenues, accessoires, etc… Il vous permettra également de choisir votre maître au combat, et enfin, de participer à des quêtes en temps que Patrouilleur du Temps (mode Histoire) ainsi qu'à des quêtes parallèles (mode co-op). D'ailleurs, notez que le dernier film Dragon Ball Z Battle of Gods fera également partie du scénario.
Dragon Ball Xenoverse est développé par Dimps (qui a fait les Budokai) et est publié par Bandai Namco Games qui a mis en ligne le site officiel du jeu vidéo pour le marché Européen et Américain. La sortie est donc repoussée au 27 février 2015.
https://www.db-z.com/forum/index.php/topic,3832.0.html