Masayuki Hirano, le producteur du prochain jeu vidéo Dragon Ball Xenoverse que nous avons interviewé à plusieurs reprises cette année (à la Japan Expo, au Tokyo Game Show, au Paris Games Week, et à la Jump Festa), revient dans une nouvelle interview pour Coca-Cola Zero Gaming Zone. Pas sûr que vous appreniez quoi que ce soit de nouveaux, cependant il est toujours bon de ré-écouter ce qui vous attend dans ce prochain opus de Dragon Ball sur consoles et PC, qui sortira non plus le 13, mais le 27 février prochain.
Dragon Ball Xenoverse, en bref…
Dragon Ball Xenoverse sortira sur PC, PS4, PS3, Xbox One and Xbox 360. Il offrira notamment les transformations in-game, des personnages aux expressions faciales super détaillées, ainsi que de tout nouveaux graphismes. Les joueurs pourront créer et personnaliser leur propre personnage, et les faire combattre contre les protagonistes du monde de Dragon Ball, ainsi que contre d'autres joueurs en ligne.
En effet, le Tenkaichi Budokai (Championnat du Monde des Arts Martiaux) de l'univers de Dragon Ball sera un élément majeur du prochain jeu vidéo de la licence, et ça, c'est énorme : Les combattants du Monde entier pourront régulièrement s'affronter dans des tournois organisés par Bandai Namco Games !
Le guide des joueurs sera bien Trunks, le voyageur temporel. C'est lui qui présentera votre personnage au Kaioshin du Temps dans la Salle de transfert de Toki, et qui vous permettra de rencontra les autres combattants, ainsi que de customiser vos tenues, accessoires, etc… Il vous permettra également de choisir votre maître au combat, et enfin, de participer à des quêtes en temps que Patrouilleur du Temps (mode Histoire) ainsi qu'à des quêtes parallèles (mode co-op). D'ailleurs, notez que le dernier film Dragon Ball Z Battle of Gods fera également partie du scénario.
Dragon Ball Xenoverse est développé par Dimps (qui a fait les Budokai) et est publié par Bandai Namco Games qui a mis en ligne le site officiel du jeu vidéo pour le marché Européen et Américain. La sortie est donc repoussée au 27 février 2015.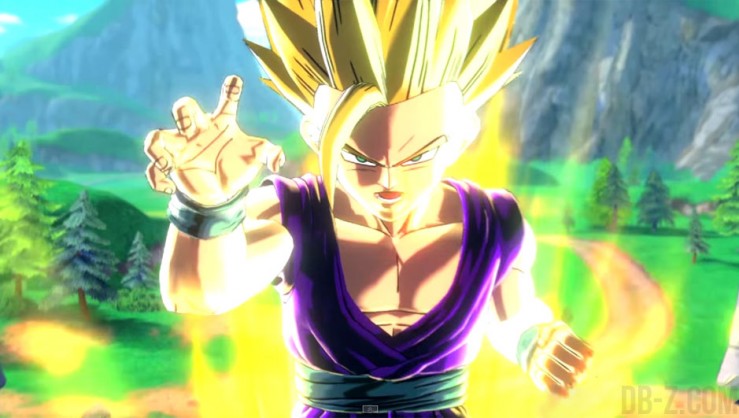 https://www.db-z.com/forum/index.php/topic,3832.0.html