Le magazine japonais V-Jump de février 2013 vient tout juste de sortir, et il nous a déjà dévoilé pas mal de surprises avec l'annonce d'une future édition couleur du manga Dragon Ball, ainsi que la sortie du 4ème chapitre du mini manga Dragon Ball Heroes, que nous mettrons en ligne avec la traduction dès que nous auront les pages en japonais. Mais ce n'est pas tout, puisque le V-Jump nous donne aussi quelques nouvelles informations sur le film Dragon Ball Z : Battle of Gods.
Ces informations sont réparties en 5 points, sous forme de questions / réponses. Vous le verrez, seule la dernière information apporte vraiment quelque chose, quoi qu'on s'en doutait un peu. La première information traite de Beerus, le "Dieu de la Destruction".
✪ Mystère 1 : Le personnage qui se bat contre Goku !! Quelle est donc son identité... !?
Ce combattant aux prises avec Gokû a du sang-froid !! Essayant de cacher quelque chose, cette créature est le Dieu suprême qui gouverne la Destruction, Beerus !!!
✪ Mystère 2 : Quand se déroule l'histoire ?
Quelques années après la défaite de Majin Buu. Il semble qu'elle se déroule également quelques années avant l'épisode final de la saga "Z".
✪ Mystère 3 : Au milieu d'une lutte acharnée, et pourtant ils ont tous… !?
Ils ont tous un verre à la main ?! On célèbre quelque chose… !?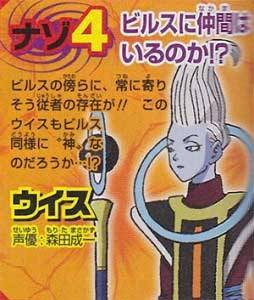 ✪ Mystère 4 : Beerus a un allié !?
Un personnage toujours aux côtés de Beerus !! Whis serait-il un dieu, comme Beerus… !?
✪ Mystère 5 : Franchement… Beerus est fort !?
Nous allons être clair sur ce point : Beerus est sans aucun doute l'être le plus puissant de toute la saga "Z" !!!
Pour rappel, Dragon Ball Z : Battle of Gods est le 18ème film animé Dragon Ball. Il se déroulera entre les chapitres 517 et 518 du manga Dragon Ball, dans les 10 ans qui s'écoulèrent après que Goku ait éliminé Buu, mais avant le 28ème Tenkaichi Budokai (=championnat du monde des arts martiaux), lors duquel Gokû affrontera Uub. Akira Toriyama est fortement impliqué dans la réalisation de ce film, aux côtés de Toei Animation, Fox International Productions Japan, Shueisha, Fuji TV, Bandai, et Namco Bandai Games. Dragon Ball Z : Battle of Gods sera diffusé dans les cinémas japonais à partir du 30 mars 2013, mais on n'a toujours aucune date pour le reste du monde, bien qu'on ait eu la confirmation que ce film Dragon Ball Z : Battle of Gods sera diffusé en Amérique et en Europe, les marchés où Dragon Ball s'exporte le mieux.
https://www.db-z.com/forum/index.php/topic,2750.0.html