On vous annonçait récemment que l'une des plus belles figurines Dragon Ball sorties cette année au Japon, la Super Master Stars Piece The Son Goku de Banpresto, s'apprêtait à être commercialisée en France dans quelques semaines. Sauf qu'il s'agissait uniquement de la version « 01 THE BRUSH », et on ne savait pas si les 3 autres déclinaisons allaient passer la frontière.
Désormais, c'est officiel : la Loterie ICHIBAN KUJI qui permettra de gagner l'une des 4 déclinaisons, et qui a fait beaucoup de bruit en avril au Japon, débarquera prochainement en France, et en version ultra-limitée, puisque seuls 1000 exemplaires seront à gagner !
« On vient de confirmer que les lots seront en quantité ultra-limitée : 1000 figurines Ichiban Kuji pour toute la France ! Quant à la date de sortie exacte et les boutiques participantes à la loterie, elles seront postées sur la page officielle de Banpresto France ! » – (Banpresto France)
Pour rappel, deux dates sont à marquer dans votre agenda.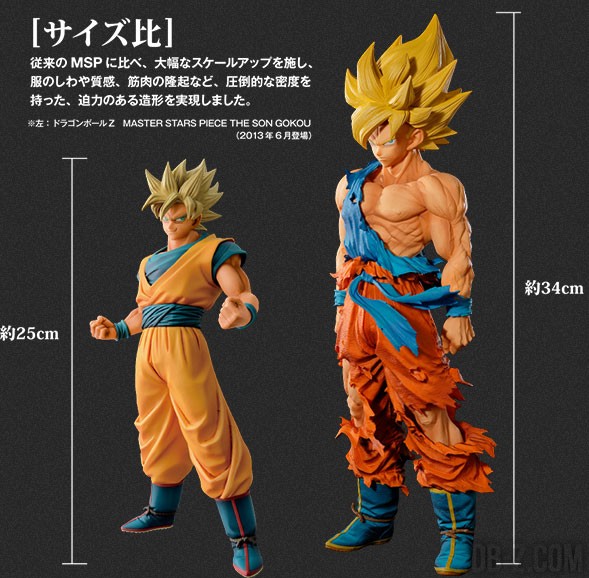 Deux dates à retenir en France
Tout d'abord, les 4 déclinaisons de la Super Master Stars Piece The Son Goku seront officiellement présentées en France à la Japan Expo 2016 qui aura lieu du 07 au 10 juillet 2016. Pour l'occasion, un nombre très limité de la « 01 THE BRUSH » sera mis en vente sur place !
La seconde date à retenir, c'est la date de commercialisation en boutique (donc hors-loterie) de la Super Master Stars Piece The Son Goku qui devrait probablement débarquer d'ici fin 2016. Pour l'heure, on sait juste que la version « 01 THE BRUSH » sera concernée. La loterie ICHIBAN KUJI sera donc votre seule chance d'obtenir les 3 autres déclinaisons !
Retrouvez toutes les dernières informations sur le planning des figurines Dragon Ball et échangez avec de vrais passionnés !