L'OST de Dragon Ball Super est sortie ce 24 février, et son compositeur, Norihito Sumitomo, en a profité pour glisser quelques mots sur la nouvelle série Dragon Ball Super entre les deux disques de l'album. Merci à Kanzenshuu pour la traduction :
Tout d'abord, en tant que fan de Dragon Ball, je voudrais partager ce sentiment de « Hourra, il y a une nouvelle série ! » avec tout le monde.

Enfin, Dragon Ball Super a été lancé. Je ne peux pas contenir mon excitation à l'idée d'une nouvelle histoire qui se déroule en continu de la main de Toriyama-sensei.

Chacun d'entre nous dans l'équipe de création musicale se sont unis d'une seule voix dans un travail acharné pour faire ces musiques, de sorte qu'elles aillent à la perfection avec les personnages et les histoires. J'espère que les gens apprécient également les subtilités de la production qui font que les dialogues et effets sonores restent audibles pendant la diffusion de l'épisode.

Dragon Ball est une franchise universelle, transmise de parents à enfants (comme c'est le cas chez moi), et d'enfants à petits-enfants dans le monde entier. Tout en assumant la grande responsabilité de travailler en tant que créateur en charge d'une partie de ce projet, je vais continuer à faire de mon mieux pour vous sortir des pistes originales, cools, et je vous demande à tous votre soutien !
Norihito Sumitomo
Norihito Sumitomo (住友 紀人) est un musicien / compositeur / et chef d'orchestre japonais. Il est surtout connu pour ses compositions de musiques de séries TV et de films. Il a déjà travaillé sur la bande originale des films Dragon Ball Z Battle Of Gods (2013) et Dragon Ball Z Résurrection F (2015), ainsi que pour la Saga Buu de Dragon Ball Kai (2014), et on le retrouve désormais sur Dragon Ball Super.
Photos lors de l'enregistrement de l'OST de DBS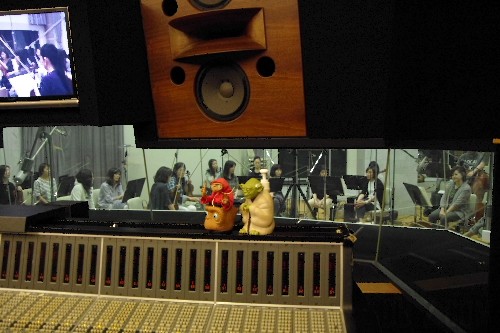 Dragon Ball Super
Dragon Ball Super est diffusé sur Fuji TV et rediffusé sur d'autres chaines japonaises chaque dimanche à 09h00, à partir de juillet 2015. Il s'agit de la première série TV Dragon Ball depuis Dragon Ball GT, diffusée de 1996 à 1997. Son histoire débute quelques années après le combat contre Majin Buu, et après les 2 derniers films Dragon Ball Z : Battle of Gods et Dragon Ball Z : Résurrection F, en pleine période de paix…
Akira Toriyama est crédité en tant qu'auteur original de l'histoire et des personnages. Côté Toei Animation, Kimitoshi Chioka (Hakaba Kitarō, Kamisama Kazoku) est le directeur de la série, et Naoko Sagawa (Yomiko Advertising, Inc.) ainsi que Atsushi Kido (Toei Animation) rejoignent Nozaki en tant que producteurs. Kido a rejoint la Toei lorsque le groupe produisait la saga Namek de Dragon Ball Z.