Le site officiel de Toei Animation dévoile l'annonce prochaine d'un nouveau film Dragon Ball Super ! C'est en tout cas ce que laisse apparaître le site européen du studio japonais. L'information a été découverte par LMS, et relayée par SaikyoDevin dans sa dernière vidéo, à découvrir ci-dessous. En effet, comme il l'explique dans sa vidéo, un article dans le bloc des « articles similaires » annonce clairement l'annonce d'un nouveau film Dragon Ball Super.
D'après le titre de l'article en question, cette annonce devrait être faite ce dimanche, à l'occasion du Goku Day, au festival international d'animation annuel MIFA. L'article en question est encore visible en vous rendant sur cette page de Toei Animation Europe.
Titre en Anglais : « Toei Animation Marks Goku Day with Surprise Announcement of New Dragon Ball Super Movie in 2022 »

Titre en Français : « Toei Animation marque le Goku Day avec l'annonce surprise d'un nouveau film Dragon Ball Super en 2022 »
Note importante : Même s'il vaut mieux attendre la confirmation officielle dans un communiqué officiel, nous pensons qu'il est légitime de donner du crédit à cette fuite, car elle est vérifiable, puisque l'article en question existe encore sur le site officiel de Toei Animation Europe à l'heure où nous écrivons ces lignes. D'autre part, on imagine très mal Toei Animation faire de l'humour sur un sujet comme celui-ci, mais encore une fois, attendons un éventuel teaser ce dimanche 09 mai.
L'article est visible, mais en lecture privé
L'article est encore inaccessible, et il renvoi sur une page d'erreur. En effet, on peut penser qu'il est en lecture privée avant publication, comme c'est le cas pour des sites d'actualités qui préparent parfois leurs articles à l'avance. Cependant, voici la copie de la page, au cas où elle serait supprimée. On peut notamment y lire que Toei Animation Europe participera au festival international d'animation annuel MIFA, qui se déroulera à Annecy (France) du 15 au 18 juin. Ce sera l'occasion pour Toei Animation Europe de présenter son large catalogue de séries animées, mais aussi de présenter les dernières (notamment son titre Dragon Quest The Adventure of Dai) et les productions à venir, ainsi que les nouvelles séries et suites de films.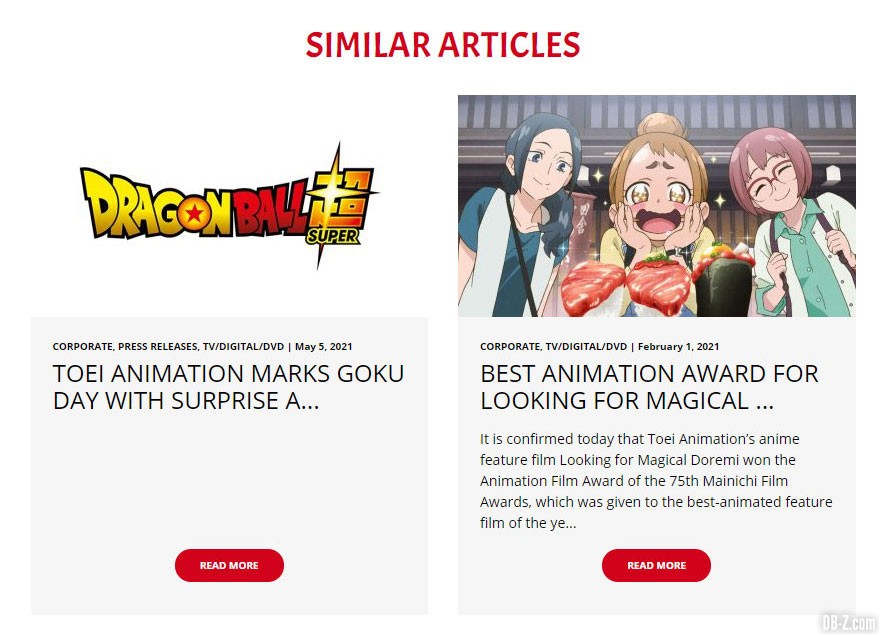 Dragon Ball Super
Dragon Ball Super est la première série inédite de Dragon Ball en 18 ans. C'est la suite directe de Dragon Ball Z. L'histoire se situe entre la défaite de Majin Buu et le 28e championnat du monde des arts martiaux. Elle couvre ainsi la soi-disant « décennie perdue », autrement dit les dix années d'histoire jamais décrites dans la série originale. Le manga est conçu par Toyotarō sous la supervision de Akira Toriyama. A l'heure où nous écrivons ces lignes, nous en sommes actuellement au chapitre 71 de Dragon Ball Super. Il s'agit de l'arc du prisonnier galactique.
La maison d'éditions Glénat publie l'édition française du manga Dragon Ball Super. Nous en sommes actuellement au tome 13 de Dragon Ball Super en France, depuis le 3 février 2021. Commandez-le dès maintenant via notre lien sponsorisé !