Les UDM The Best 16 sont également disponibles au Japon dès ce mois de septembre 2016 ! Nous disons « également », car Bandai sort ces figurines conjointement avec la gamme des UDM Burst 20. Pour rappel, la collection UDM The Best est un best-of de figurines Dragon Ball UDM Burst, rééditées pour l'occasion.
Cette nouvelle série UDM The Best 16 collection comprendra 5 personnages :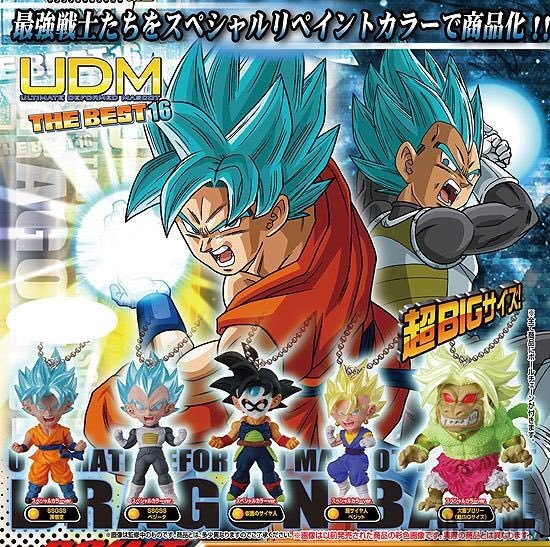 Informations complémentaires
Titre

: UDM The Best 16 (Ultimate Deformed Mascot)

Date de sortie

: Septembre 2016

Prix

: 300 ¥ / 2,50 €

Taille

: 5 cm

Fabricant

: Bandai

Où acheter

: Dragon Ball Store / Boutiques d'imports / …
Figurines UDM en bref…
Les UDM Burst / UDM The Best sont de petites figurines Dragon Ball – en réalité des portes-clés Dragon Ball – fabriquées par Bandai. Beaucoup de personnages représentés dans cette série sont issus de Dragon Ball Z, Dragon Ball GT, ou particulièrement encore de Dragon Ball Heroes, comme Bardock Super Saiyan 3 ou Broly Super Saiyan 4. Elles s'achètent généralement dans les machines à sous (gashapons) généralement dans les environs de 200 ¥ / 1,50 € l'unité, et on s'en sert surtout de porte-clé ou de décoration pour sac, trousse, etc… Vous pouvez les acheter dans les machine à pièce (gashapon) au Japon, ou par exemple sur le Dragon Ball Store.
Au Japon, un gashapon (ガシャポン) ou gachapon (ガチャポン) est à la fois une machine à pièces distribuant des jouets, et les jouets qu'elle distribue. Les figurines Dragon Ball UDM Burst sont typiquement le genre de figurines que tu trouveras facilement dans ces machines contre 200 ¥ / 1,50 €.