C'est avec ce titre ultra racoleur, auquel je ne crois pas moi-même, que nous nous penchons aujourd'hui sur la suite du teasing de Namco Bandai au sujet d'un éventuel futur Dragon Ball Z sur console de salon. C'est sur la page Facebook officielle Dragon Ball Games de Namco Bandai que ça se passe. Après un énigmatique statut évoquant un « Plan de conquête du monde bientôt achevé », voici que l'éditeur poste une nouvelle fois sur sa page Facebook une image floutée, sur laquelle on retrouve la mention de « Plan to conquer the world », accompagnée d'un planning (si vous savez lire le « flouté ») qui semble assez rempli en avril, mai, et juin, ce qui vous donne une raison supplémentaire de vous abonner dès maintenant à leur page Facebook. Le chiffre '100 000' est également évoqué : peut-être une surprise lorsque leur page atteindra les 100 000 fans ?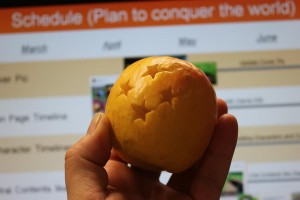 Beaucoup assimilent forcément ces annonces au prochain jeux vidéo Dragon Ball sur console de salon. La frustration de n'avoir eu qu'un DBZ for Kinect et un portage HD en 2012 y est sans doute pour quelque chose, toujours est-il que l'attente des joueurs est au rendez-vous. Quoi qu'il en soit, si Namco Bandai a estimé nécessaire de ralentir les sorties pour s'investir d'avantage dans la conception du jeu, ou pour éventuellement essayer de nouveaux genres, c'est tout à leur honneur.

Nous évoquons dans notre titre un Dragon Ball Z sur PS4 et Xbox 3, et il n'en est évidemment pas question à l'heure actuelle puisque rien n'a été annoncée. Même sans ça, je ne pense pas que Namco Bandai prenne le risque de miser sur le faible nombre d'acheteur des PS4 / XBOX 3 à leur sortie (si elles sortent cette année) pour rentabiliser son futur hit, à une heure où les PS3 / XBOX 360 dominent le marché des consoles de salon. Mais je peux me tromper. Et c'est peut-être l'occasion de bien prendre conscience que plus nous idéaliserons ce futur opus, et moins nous aurons de chance d'en être pleinement satisfait au final. Sachez donc rester prudents et rationnels dans tout ce que vous lirez sur le net, et suivez bien la page Dragon Ball Games avec attention pour avoir de vraies infos officielles avant tout le monde !