C'est confirmé, il y aura du Dragon Ball FighterZ à l'EVO 2023 ! Le mythique tournoi a déjà accueilli à de nombreuses reprises le jeu de combat de Bandai Namco, et DBFZ s'apprête une nouvelle fois à faire trembler le public de Las Vegas au son des hurlements de Cell.
L'Evolution Championship Series se déroulera du 4 au 6 août 2023 au Mandalay Bay Resort and Casino à Las Vegas, et la programmation officielle des jeux qui seront joué a été dévoilé ce soir lors d'une courte vidéo d'annonce sur Twitch. Comme le souligne le tweet du compte officiel de l'événement, le line-up fait donc apparaître Dragon Ball FighterZ, considéré comme l'un des meilleurs jeux de versus fighting du moment.
Dragon Ball FighterZ est de retour pour une autre compétition monumentale à l'Evo 2023 !

Ne réglez pas encore la Machine à Gravité sur 100X. Il y a plus à voir lors du show d'annonce de l'évenement !

Rejoignez-nous sur http://twitch.tv/evo !

Compte Twitter EVO
Quels jeux seront joués à l'EVO 2023 ?
La liste officielle des titres en compétition est la suivante :
Dragon Ball FighterZ (4ème participation à l'EVO)
Guilty Gear: Strive (2ème participation à l'EVO)
The King of Fighters XV (2ème participation à l'EVO)
Melty Blood : Type Lumina (2ème participation à l'EVO)
Mortal Kombat 11 Ultimate (3ème participation à l'EVO)
Street Fighter 6 (1ère participation à l'EVO)
Tekken 7 (7ème participation à EVO)
Ultimate Marvel vs Capcom 3 (7ème participation à l'EVO)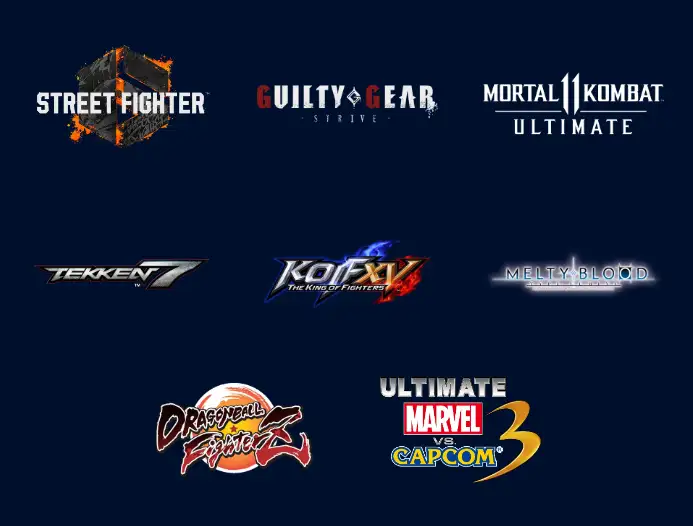 Comme le relève Gematsu, d'autres annonces ont été faites ce soir :
Les phases finales du « Top 8 » ont été raccourcies en « Top 6 ».
Chaque jeu principal aura un prize pool de 25 000 $.
Cygames organisera un tournoi de pré-sortie pour Granblue Fantasy: Versus Rising lors de l'événement. Nous aurons davantage d'informations sur le sujet dans les semaines à venir.
Et pour finir, les inscriptions à l'EVO 2023 sont ouvertes sur leur site officiel.
Quelles seront les règles pour Dragon Ball FighterZ ?
Comme toujours, et pour des raisons d'équité, les règles suivantes (en date du 16/02/2023) ont été définies pour tous les joueurs qui voudront entrer en compétition sur DBFZ :
Les matchs se joueront sur Playstation 4.
Les joueurs sont devront emmener leur propre manette.
Double élimination.
Le jeu se jouera avec les paramètres par défaut.
2/3 jeux par set.
3/5 jeux pour les gagnants, les perdants et les grandes finales.
Le gagnant d'une manche doit conserver les mêmes personnages et Z-Assist au combat suivant.
Le perdant d'une manche peut changer de personnage et de Z-Assist.
La sélection de la map est aléatoire.
Un nouveau record pour Dragon Ball FighterZ ?
En août 2018, Dragon Ball FighterZ avait battu le record d'audience de l'EVO, 8 mois après sa sortie mondiale. On espère que le titre conservera la hype qu'il avait réussi à généré au lancement du jeu, mais ce n'est pas gagné. En effet, depuis la sortie du dernier DLC de C-21 (blouse de labo) en février 2022, l'actualité du jeu est relativement faible.
Dragon Ball FighterZ est un jeu vidéo Dragon Ball de combat en 2,5D, édité par Bandai Namco. Il est sorti le 26 janvier 2018 en Europe, et le 01 février au Japon sur PS4, Xbox One et PC. Il est développé par Arc System Works, le studio à l'origine de Dragon Ball Z Extreme Butoden sur Nintendo 3DS.
L'EVO, en bref…
L'EVO (Evolution Championship Series) est un événement américain de sport électronique concernant exclusivement des jeux vidéo de combat en un contre un (versus fighting). Il a été créé en 2002, et il propose les plus grands et les plus longs tournois de jeux de combat dans le monde. L'événement réunit le meilleur des meilleurs du monde entier dans une compétition éblouissante d'habileté et de plaisir. C'est un lieu de rassemblement pour les joueurs et les fans qui se réunissent pour honorer l'esprit de compétition, et déterminer un champion.
L'EVO est ouvert à quiconque, des bornes jouables sont mises librement à votre disposition pour vous détendre, et vous offrir l'opportunité de rencontrer des gens de différents pays et de différents horizons qui partagent cette même passion du versus fighting. Des champions de renommés se retrouvent face à de nouveaux challengers totalement inconnus, et des rivalités qui n'auraient pu naître qu'en mode online se créent.