Après deux premières saisons, Bandai Namco a présenté ce mardi 30 mai le contenu de la saison 3 de Dragon Ball The Breakers. Elle sera lancée le 9 juin 2023 sur toutes les plateformes, et elle sera surtout marquée par l'arrivée d'un nouveau Méchant (aka Raider en anglais).
Le nouveau méchant sera le Commande Ginyu
Le nouveau Raider (Méchant) de la Saison 3 de Dragon Ball The Breakers est le Commando Ginyu ! Et comme toujours dans ce jeu, il sera possible de le débloquer gratuitement en échange de Médailles TP, la monnaie virtuelle du jeu qu'il est possible de farmer.
En choisissant le méchant "Commando Ginyu", vous commencerez à jouer Guldo (niveau 1), puis Reacum (niveau 2), puis Jeese et Butta (niveau 3), et enfin Ginyu (niveau 4). Chaque personnage aura des capacités bien spécifiques. Par exemple, Guldo pourra arrêter le temps pendant quelques secondes, et ainsi figer tous les survivants autour de lui. Concernant Ginyu, il pourra lancer son attaque "Body Change" pour voler le corps de son adversaire (en réalité, l'âme du guerrier qui sommeille en lui, comme Goku ou Gohan), pour retourner la situation. Pour résumer, voici l'évolution du méchant Commando Ginyu lors d'une partie :
Niveau 1 : Guldo
Niveau 2 : Reacum
Niveau 3 : Butta + Jeese
Niveau 4 : Ginyu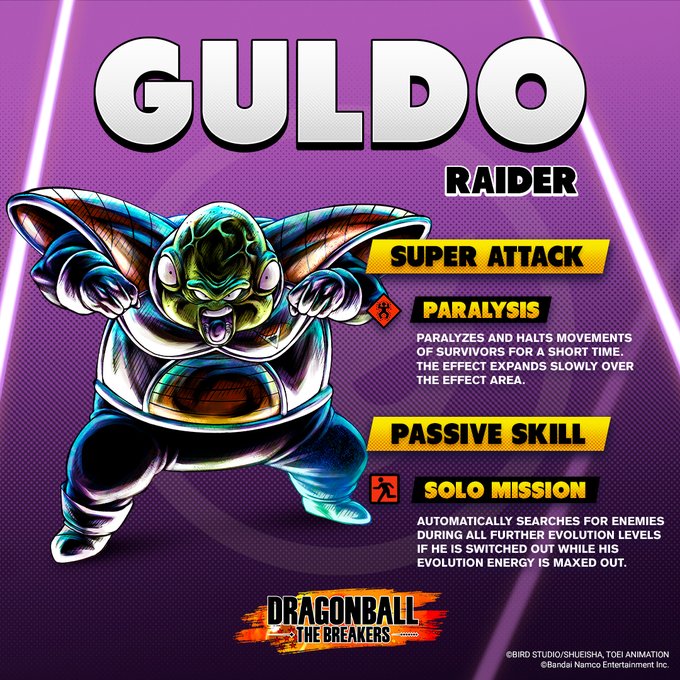 Ce nouveau "Méchant" (composé d'un roulement de 5 personnages) sera disponible avec la saison 3 de Dragon Ball The Breakers qui sortira le vendredi 9 juin 2023, mais il est déjà possible de le tester lors de la beta publique qui est actuellement en cours sur console et PC. Et pour l'avoir testé, le personnage est extrêmement jouissif à jouer. Dans Dragon Ball The Breakers, le gameplay est très clairement différent d'un méchant à un autre, et le commando Ginyu ne déroge pas à la règle.
De nouveaux survivants et de nouvelles transphères
Trois nouveaux skins de survivants ont également été annoncés pour la saison 3 de The Breakers. Il s'agit de Dende, Kaio, et Baba. Comme toujours, chacun d'eux possède des capacités bien spécifiques, et c'est ça qui est vraiment excellent dans ce jeu.
De nouvelles transphères arrivent également ce 9 juin. Il s'agit de Bardock Super Saiyan, Gohan Super Saiyan 2, et Goten Super Saiyan. Chacun d'eux a une capacité active et passive.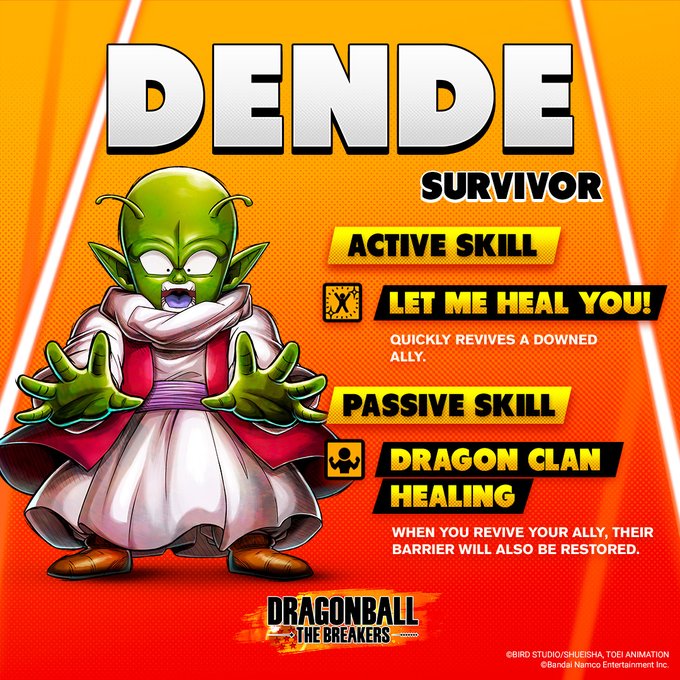 Comment farmer les médailles TP dans Dragon Ball The Breakers ?
Les médailles TP sont la monnaie premium du jeu. Elles sont très convoitées par les joueurs, car elles sont très rares, mais elles permettent surtout d'acheter des objets inaccessibles autrement, tels que des nouveaux personnages ou des tenues. Les seules méthodes pour farmer les médailles TP dans Dragon Ball The Breakers sont la montée de niveau de votre personnage, la progression dans le Palier Dragon, les défis en crossover avec Dragon Ball Xenoverse 2, et les rares codes ou messages qui arrivent dans la boîte aux lettres du hall au début du jeu. Et malheureusement, vous n'en aurez qu'au compte-goutte. Il est donc très important de les économiser et des les utiliser à bon escient.
Le jeu propose aussi une autre monnaie plus facile à farmer : les Zeni, la monnaie du monde de Dragon Ball (dans le manga, l'anime, et les autres jeux). Cependant, elle ne permet pas de tout acheter. Toutefois, elle est beaucoup plus facile à farmer, puisque vous en gagner automatiquement à chaque partie.
Ce qui est important de noter, c'est qu'il est possible de débloquer tous ces nouveaux contenus grâce à la monnaie du jeu que vous pouvez farmer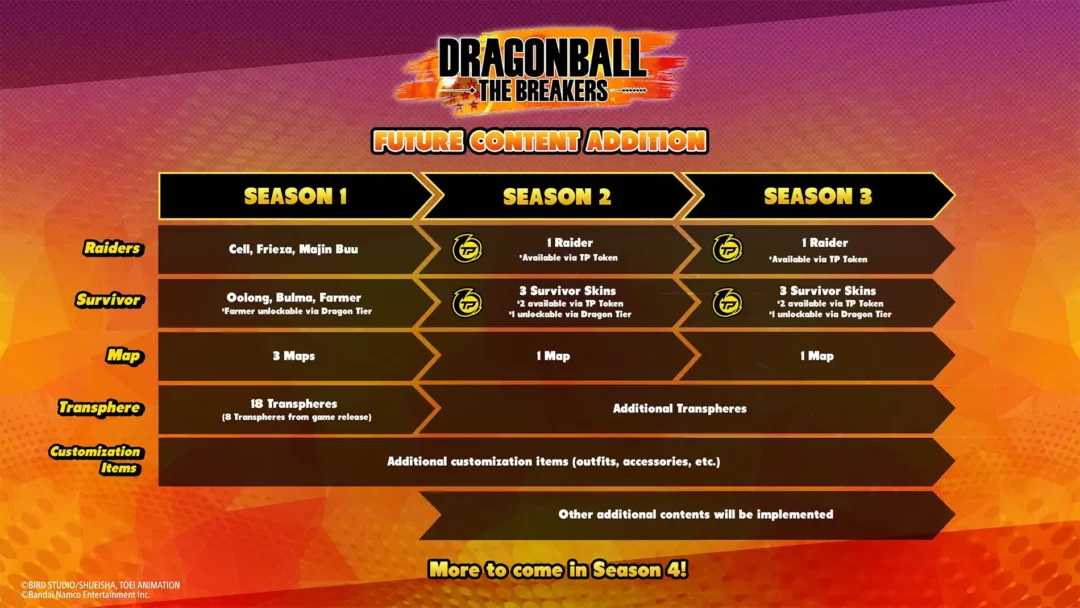 Dragon Ball The Breakers, en bref…
Dragon Ball The Breakers est un jeu d'action asymétrique développé par Dimps, et édité par Bandai Namco. L'action se déroule dans le même univers que les jeux Dragon Ball Xenoverse 1 et 2. L'histoire suit des civils humains, pris au piège dans une faille temporelle avec certains des méchants les plus emblématiques de Dragon Ball. Les survivants doivent s'entraider s'ils veulent survivre, car les méchants viennent les chercher.
Le jeu se déroule également dans le même univers que les jeux Dragon Ball Xenoverse, d'où l'apparition de failles temporelles mélangeant des ennemis des différentes époques de Dragon Ball. Plusieurs DLC ont déjà été annoncés par Bandai Namco. The Breakers bénéficiera de contenu additionnel et de mise à jour régulières qui sauront réjouir les fans. Les joueurs peuvent gagner du contenu gratuit via le Dragon Tier en jouant au jeu. Le pallier 50 de la première saison est le personnage jouable du "Fermier" pour les Survivants.