Si vous suivez l'actualité de Dragon Ball Xenoverse 2, vous devez savoir que le prochain rendez-vous que tous les joueurs attendent est la sortie du prochain DLC dédié au film DBS Super Hero. Et après un teasing qui aura duré pendant plus de quatre mois, Bandai Namco dévoile enfin la date de sortie du DLC Hero of Justice Pack 2, fixée au 11 mai 2023.
Mais ce n'est pas tout, puisqu'en plus de la date de sortie, l'éditeur dévoile le troisième et dernier personnage qui rejoindra le pack cette semaine. Le secret de polichinelle est enfin dévoilé : Gohan Beast sera officiellement le prochain personnage jouable de Dragon Ball Xenoverse 2. Ce n'est clairement pas étonnant, puisque les deux autres personnages du pack sont les deux autres nouvelles transformations du film : Piccolo (potentiel éveillé), et Orange Piccolo. Il était donc naturel que le héros ultime du film soit mis en avant dans Xenoverse 2, et comme le montre ce comparatif, le travail de la CGI du jeu vidéo est vraiment fidèle à celle du long métrage de Toei Animation.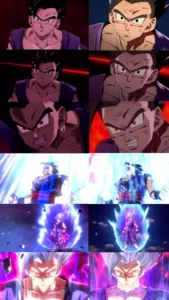 C'est cet après-midi, en plein Goku Day, que Bandai Namco a annoncé la date de sortie du Dragon Ball Xenoverse 2 Hero of Justice Pack 2. Le groupe a publié une nouvelle vidéo pour présenté les nouveautés que les joueurs pourront prendre en main dès le 11 mai 2023 sur toutes les plateformes où le jeu vidéo est disponible.
En tant que personnages jouables, Orange Piccolo, Piccolo (éveil du potentiel), et Gohan de Beast seront inclus dans le prochain contenu téléchargeable. En plus de cela, il y aura un tout nouveau scénario basé sur le film Dragon Ball Super Super Hero, avec visiblement une fin "légèrement" alternative, si on en croit le trailer ! Comme toujours, Fu sera certainement à l'origine d'une nouvelle faille temporelle qui modifiera l'histoire de nos héros.
Personnages jouables du DLC Hero of Justice Pack 2
En plus de la mise-à-jour gratuite sortie en avril, le prochain DLC qui sort le 11 mai comprend :
Gohan Beast
Orange Piccolo
Piccolo (Potentiel éveillé)
Nouveaux contenus supplémentaires
Quatre quêtes parallèles
Deux missions supplémentaires
Une arène
Cinq costumes et accessoires
Sept compétences
Cinq super âmes
15 illustrations d'écran de chargement
Dragon Ball Xenoverse 2
Dragon Ball Xenoverse 2 est un jeu édité par Bandai Namco Entertainment, et développé par Dimps, tout comme Xenoverse 1. Le scénario commence 2 ans après la fin de Xenoverse. Cette fois, le joueur évolue dans la ville de Conton City, 7 fois plus grande que la ville de Toki Toki City vue dans Xenoverse.
Elle offre plus de quêtes annexes, plus d'objets, plus de costumes, et plus de fun. Tous les avatars pourront voler, et pour les paresseux, des véhicules  seront mêmes disponible comme l'hoverboard, ou le pilier de Taopaipai (offert en précommande avec le personnage de Goku Black). Le jeu est sorti le 28 octobre 2016 sur PS4, Xbox One et PC (Steam) ! Notez qu'au Japon, le jeu n'est sorti que sur PS4. Les ventes de la Xbox One étant très faible au Pays du Soleil Levant, Bandai Namco n'avait pas souhaité investir sur cette plateforme.