La flamme de Dragon Ball Xenoverse 2 s'apprête à se raviver cette semaine avec deux nouveautés. En effet, le jeu aux 9 millions de copies va recevoir cette semaine un DLC gratuit, et un DLC payant. Le DLC gratuit prendra la forme d'une mise-à-jour gratuite, qui aura lieu sur toutes les plateformes le 9 novembre. Elle apportera du nouveau contenu pour les joueurs, mais elle aura aussi pour mission de poser le socle qui accueillera le DLC payant le jour suivant. Le DLC payant (Hero of Justice Pack 1) sortira le lendemain, le 10 novembre. Il apportera trois nouveaux personnages jouables, des quêtes, et d'autres contenus.
Nouveaux personnages jouables : Gamma 1, Gamma 2, et Son Gohan (DBS Super Hero)
Les trois super-héros qui se sont affrontés dans le film Dragon Ball Super SUPER HERO rejoindront le roster de Dragon Ball Xenoverse 2 en tant que personnages jouables. Ils possèderont de nombreuses techniques qui permettront de reproduire les scènes d'action du film.
Contenus du DLC payant

4 Quêtes parallèles
7 Techniques
4 Costumes & Accessoires
4 Super âmes
15 Ecrans de chargement
Contenu de la mise-à-jour gratuite
Un nouveau costume sera disponible pour tous les avatars. Il s'agira de la tenue de Pan en uniforme de maternelle. Le site officiel met en avant la forme originale du chapeau, et la présence du petit patch au niveau de la poitrine, fidèlement reproduit à partir du film.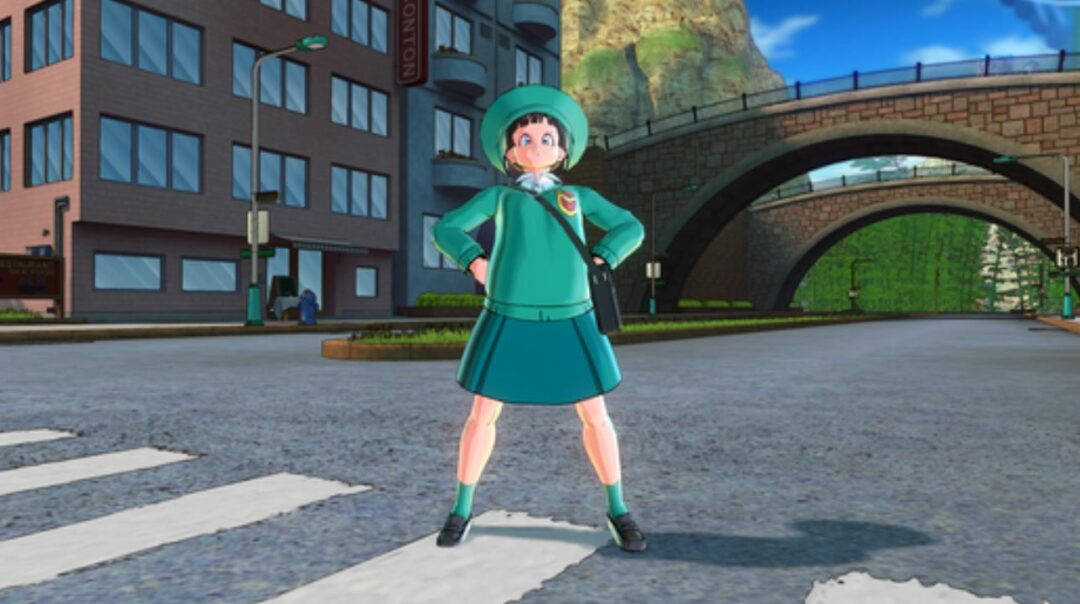 Contenus du DLC gratuit

2 Costumes & Accessoires
5 Attaques ultimes doubles
3 Super âmes
61 Ecrans de chargement
64 figurines du Hero Colosseum
Trailer de lancement du DLC Hero of Justice (Pack 1)
Le dernier DLC en date proposera aux joueurs de prendre en main de nouveaux personnages jouables, des quêtes parallèles, de nouveaux costumes, et plus encore. De plus, à la fin du trailer, un premier aperçu des informations du deuxième pack « Hero of Justice » est teasé, et Orange Piccolo est confirmé dans Dragon Ball Xenoverse 2.
Dragon Ball Xenoverse 2
Dragon Ball Xenoverse 2 est un jeu édité par Bandai Namco Entertainment, et développé par Dimps, tout comme Xenoverse 1. Le scénario commence 2 ans après la fin de Xenoverse. Cette fois, le joueur évoluera dans la ville de Conton City, 7 fois plus grande que la ville de Toki Toki City vue dans Xenoverse. Elle offrira plus de quêtes annexes, plus d'objets, plus de costumes, et plus de fun. Tous les avatars pourront voler, et pour les parresseux, des véhicules seront mêmes disponible comme l'hoverboard ou le pilier de Taopaipai (offert en précommande avec le personnage de Goku Black). Le jeu est sorti le 28 octobre 2016 sur PS4, Xbox One et PC (Steam) ! Notez qu'au Japon, le jeu ne sortira que sur PS4. Les ventes de la Xbox One étant très faible au Pays du Soleil Levant, Bandai Namco n'avait en effet peut-être pas intérêt à investir sur cette plateforme.