Dragon Quest – The Adventure of Dai est la nouvelle adaptation animée du manga de Koji Inada et de Riku Sanjo. L'épisode 1 a vu le jour le 03 octobre 2020 au Japon sur TV Tokyo. De plus, il sera diffusé chaque samedi à 09h00. L'épisode 1 est intitulé « Daï, le petit héros« . Vous pouvez d'ailleurs le visionner gratuitement et légalement au choix sur Anime Digital Network, ou sur Crunchyroll. La série est en HD (1080p), et en version originale sous-titrée français (VOSTFR).
Au fait, si vous cherchez encore le lien entre Dragon Quest et Dragon Ball, il n'y en a presque pas. Akira Toriyama a « juste » supervisé les environnements graphiques, ainsi que la création des personnages de Dragon Quest.
Présentation de la série TV
Daï vit sur l'île de Dermline, et malgré son admiration pour les héros, il suit un entraînement pour devenir mage auprès de son père adoptif, le magimol Brass. Un jour, l'arrivée d'une bande de compagnons menée par un héros à bord d'un bateau remplit Daï d'excitation, mais il s'agissait malheureusement d'un faussaire. Son objectif ? S'emparer d'une créature mythique unique en son genre, le gluant de métal doré, Goméchan.
Afin de récupérer son meilleur ami, Dai part à la poursuite du faux héros et de sa bande, armé des tubes magiques que lui a donnés Brass. Pendant ce temps, sur le navire, Dérolin se vante de la capture de Goméchan au roi de Romos, mais Daï le rattrape et parvient à récupérer Goméchan avec l'aide des monstres enfermés dans les tubes magiques.
Ému par le courage de Daï au combat, le roi de Romos félicite ce dernier et lui confère la Tiare du conquérant, mais il doit bien vite revenir à son entraînement de magie. C'est alors qu'un autre navire arrive sur l'île, avec à son bord l'évêque Temjin, Baron le sage et la princesse Léona.
L'histoire est tirée d'un manga écrit par Riku Sanjo, dessiné par Koji Inada, et supervisé par le créateur de Dragon Quest, Yuji Horii. de plus, le manga original a été publié dans le magazine Weekly Shonen Jump entre 1989 et 1996. Sachez d'ailleurs que Delcourt-Tonkam l'avait édité pour le marché francophone.
Les plus anciens se souviennent certainement de la première adaptation de Dragon Quest – The Adventure of Dai. Elle a été réalisée entre 1991 et 1992, et diffusée en France sur TF1 sous le titre Fly. D'ailleurs, cette nouvelle série est toujours produite par Toei Animation.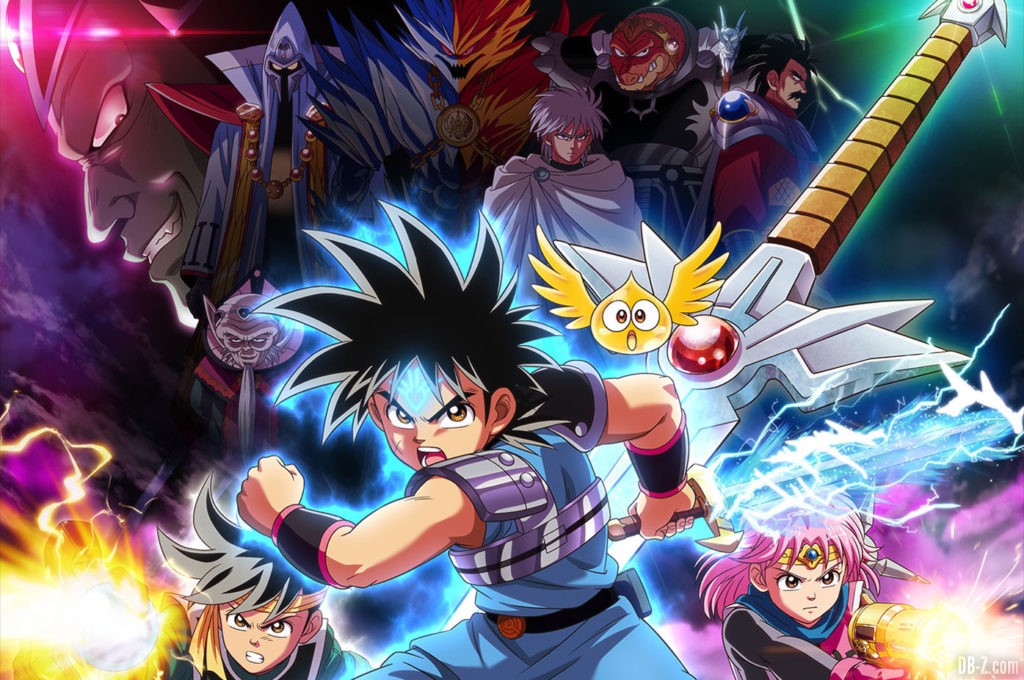 Informations complémentaires
Titre original : Dragon Quest – Dai no Daibôken (ドラゴンクエスト ダイの大冒険)
Genres : action, aventure, fantasy
Année : 2020
Auteurs originaux : Riku Sanjô, Kôji Inada
Réalisateur : Kazuya Karasawa
Studio de production : Toei Animation
Attention : La série TV n'est pas le jeu vidéo
Il ne faut pas confondre la série TV Dragon Quest (aka « Fly », ou « The Adventure of Dai »), et la série de jeux vidéo Dragon Quest. En effet, Dragon Quest – The Adventure of Dai est adaptée du manga de Koji Inada et Riku Sanjo. Par contre, ce manga est lui-même librement inspiré de la série de jeux vidéo Dragon Quest, sous la supervision du créateur du jeu : Yuji Horii. Le jeu a inspiré le manga (et implicitement la série TV), mais c'est tout.