La figurine SHFiguarts de Gohan Beast a été dévoilée à l'expo Tamashii Nation 2022, qui se déroule actuellement à Tokyo pendant trois jours. L'exposition qui présente les futures figurines à paraître dans les prochains mois se déroule du vendredi 18 novembre au dimanche 20 novembre, à deux pas de la station Akihabara, si vous êtes dans le coin.
Côté Dragon Ball, la figurine la plus attendue par les collectionneurs est probablement la SHFiguarts Gohan Beast. Le personnage est issu du film Dragon Ball Super SUPER HERO, et on ignore absolument (absolument) tout de cette nouvelle transformation, si ce n'est qu'elle a permis à Gohan de vaincre Cell Max. Son Gohan a les cheveux gris, les yeux rouges, et une aura blanche et violette. Akira Toriyama avait expliqué cette nouvelle transformation Gohan Beast en disant que « la bête sauvage en lui s'est éveillée ».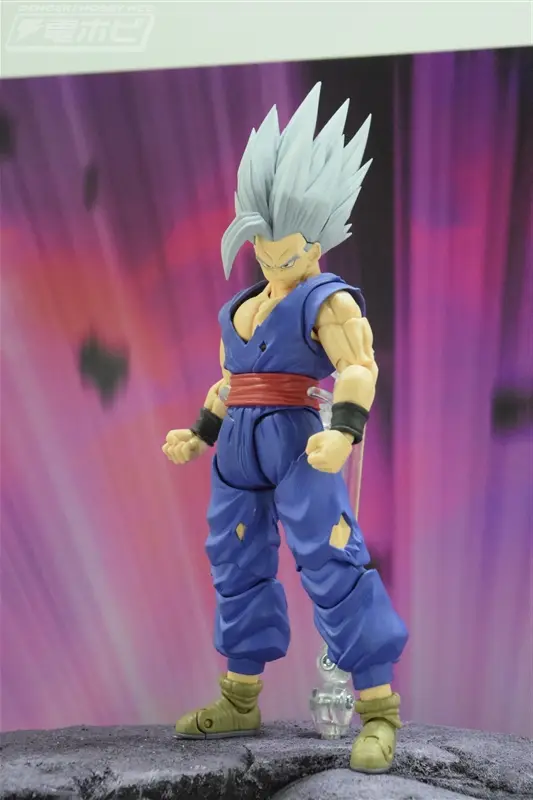 D'autres figurines SHFiguarts Dragon Ball pour 2023
Son Gohan Beast n'est pas la seule nouvelle figurine SHFiguarts à venir. En effet, le fabricant Tamashii Nations (filiale de Bandai Spirits) expose également les nouvelles SHF de C-19, C-20, Orange Piccolo, Pan (DBS Super Hero), Vegeta, Trunks (Futur), et Yamcha. Mais le salon n'est pas exclusivement dédié à Dragon Ball, et d'autres figurines de grosses licences telles que Jujustsu Kaisen, Saint Seiya, Gundam, ou Kamen Raider sont aussi à découvrir pendant ces trois jours.
Les figurines ci-dessous sont, dans l'ordre d'apparition :
SHFiguarts Super Saiyan Vegeta – Awakened Super Saiyan Blood : Avril 2023 / 3960 yens (27 €)
SHFiguarts Vegeta (normal) : Date et prix inconnus
SHFiguarts Super Saiyan Trunks – The Boy from the Future : Avril 2023 / 7150 yens (50 €)
SHFiguarts Pan Super Hero: Mai 2023 / 5720 yens (40 €)
SHFiguarts Orange Piccolo : Date et prix inconnus
SHFiguarts Android 20 : Date et prix inconnus
SHFiguarts Android 19 : Date et prix inconnus
SHFiguarts Yamcha : Date et prix inconnus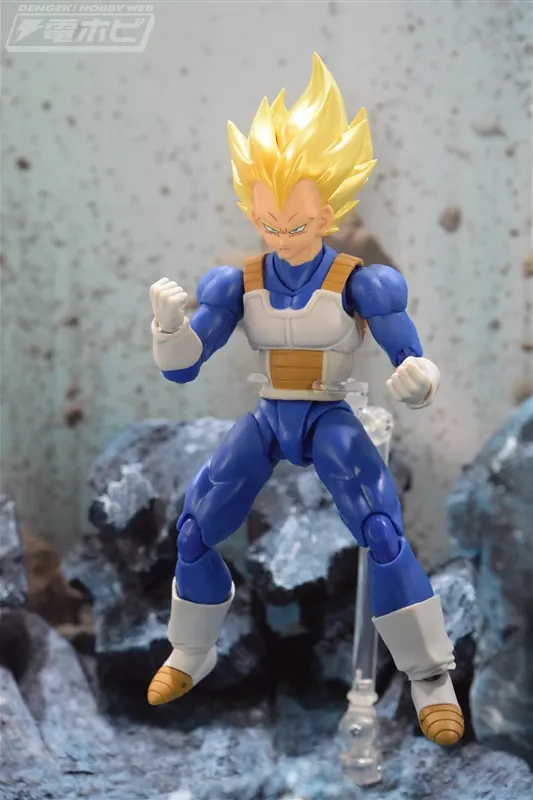 Toutes ces figurines articulées SHF Dragon Ball sortiront en 2023. Si certaines vous semblent familières, c'est parce qu'elles sont déjà sorties dans de précédentes versions. En effet, Tamashii Nations actualise régulièrement sa gamme avec des figurines de qualités toujours meilleures (c'est la marque qui le dit), en s'appuyant sur les dernières avancées technologiques en terme de création de figurines.
Les figurines Dragon Ball S.H.Figuarts sont une gamme de figurines qui mettent en avant la technologie et le design de pointe de Bandai en matière de figurines. Conçues pour imiter parfaitement l'amplitude des mouvements du corps humain, le nom de la série est une contraction des concepts de « Style Simple » et « Action Héroïque ». Mesurant environ 14cm de hauteur, les SHFiguarts sont de vraies pièces de collection.
Remerciements : Dengeki Hobby