Tsume a dévoilé sa résine HQS+ de Broly face à Goku, et en deux versions.
Elle coûtera un bras, à l'image de ce bras surpuissant qui empoigne Goku dans le 8ème film Dragon Ball Z : voici la nouvelle HQS+ Broly du fabricant Tsume. Souvenez-vous, ce sont les mêmes qui avaient pondu la HQS+ Majin Vegeta ou encore la HQS Goku vs Nappa. Le fabricant vient tout juste de dévoiler sa nouvelle statue en résine au cours d'un live (qui n'en était pas un, puisque c'était déjà enregistré et monté à l'avance), et la bête prend enfin vie. Pour rappel, les HQS+ (High Quality Statue Plus) sont des statues au format 1/4, principalement en résine, et en édition limitées et numérotées.
Vous reconnaissez la scène : il s'agit du passage où Broly tient Goku par la tête dans le film d'animation de Shigeyasu Yamauchi sorti en 1993 : Dragon Ball Z Broly le super guerrier (JAP : Moetsukiro!! Nessen • Ressen • Chogekisen / FR : Consume-toi !! Combat ardent • Lutte acharnée • Intense bataille) :
Le prix qui tue…
Comme prévu, cette HQS+ Broly fait autant mal à la rétine qu'au portefeuille, mais comme le dirait tout bon fan d'Apple devant l'iPhone X : quand on aime, on ne compte pas. C'est clairement le genre d'achat que seule une niche de passionnés pourra s'offrir. Deux versions sont disponibles en précommande, pour une livraison fin 2018 :
HQS+ Broly & Goku :

999 €

HQS+ Broly & Goku « Edition KING OF DESTRUCTION » :

1399 €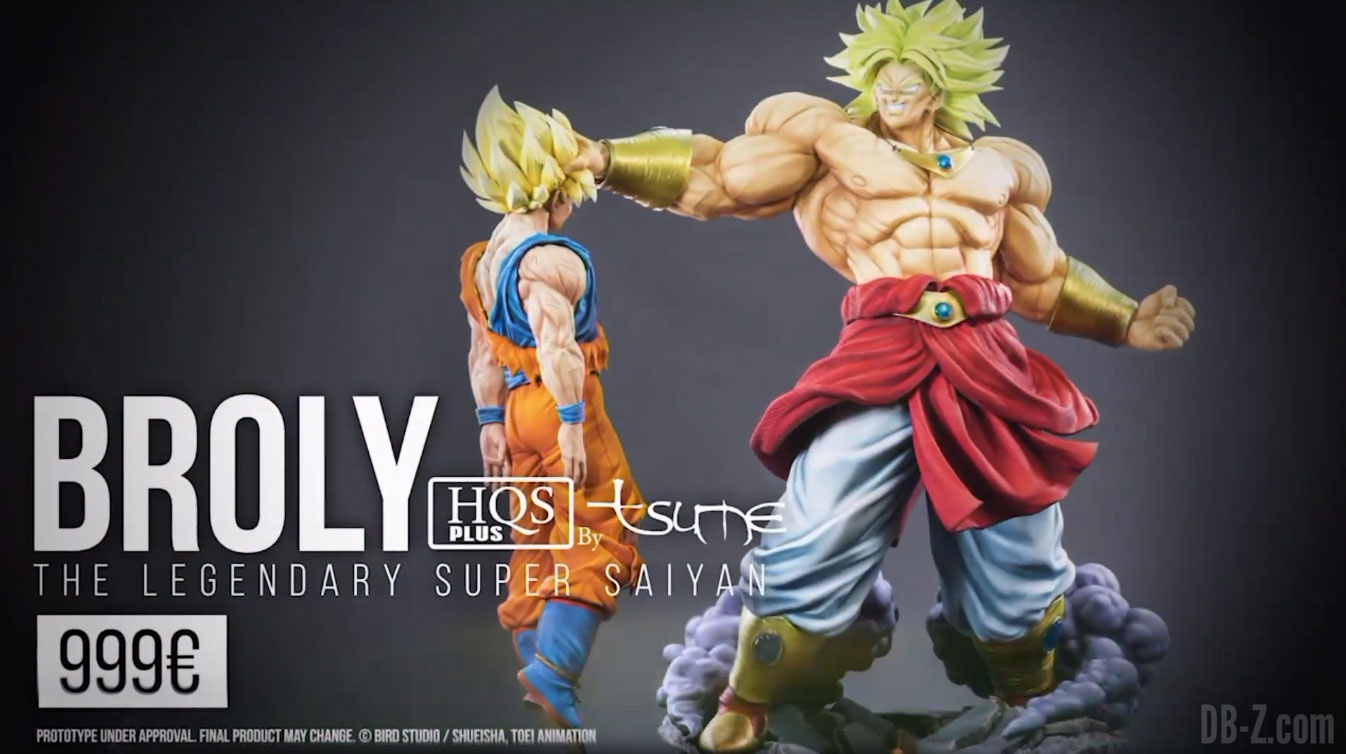 La différence entre les deux versions
Pour faire simple :
LA VERSION À 999 € CONTIENT LA HQS+ BROLY & GOKU.
LA VERSION À 1399 € CONTIENT LA HQS+ BROLY & GOKU, ET UN 2ND BUSTE DE BROLY, BOULE DE KI À LA MAIN.
Voici les présentations officielles de Tsume pour chacune de ses figurines.
HQS+ Broly – Le Super Saiyan Légendaire (
999 €

)

Informations

Designé par Akira Toriyama mais créé par Shigeyasu Yamauchi, Broly apparaît pour la première fois dans le film « Dragon Ball Z : Broly le super guerrier ». Sa popularité lui vaudra un retour dans un autre film : « Dragon Ball Z : Rivaux dangereux ».

Nous avons voulu rendre hommage à sa puissance en adaptant la scène où il domine le combat contre Goku et maintient le héros inerte par la tête.

L'échelle 1/4 met en valeur la stature imposante du guerrier de l'espace et permet d'affiner les détails et les textures des différents éléments du diorama.

Une édition collector est aussi disponible et comprend en plus un buste alternatif qui le montre en train de préparer un Kikoha.

Informations matériaux

Certains éléments restent à confirmer (voir photo). Des tests usine permettront de déterminer quels matériaux sont les mieux adaptés. Une confirmation des matériaux utilisés pour les éléments « TBC » sera mise en ligne en début d'année 2018.
HQS+ Broly – Legendary Super Saiyan « King of Destruction » (
1399 €

)

Cette édition « King of Destruction » contient en plus un buste alternatif qui le montre en train de préparer l'un de ses Kikoha dévastateurs. Des LEDs reproduisent l'effet lumineux de l'énergie qui se concentre dans sa main et illuminent ses yeux, libérant la puissance du Super Saiyan Légendaire .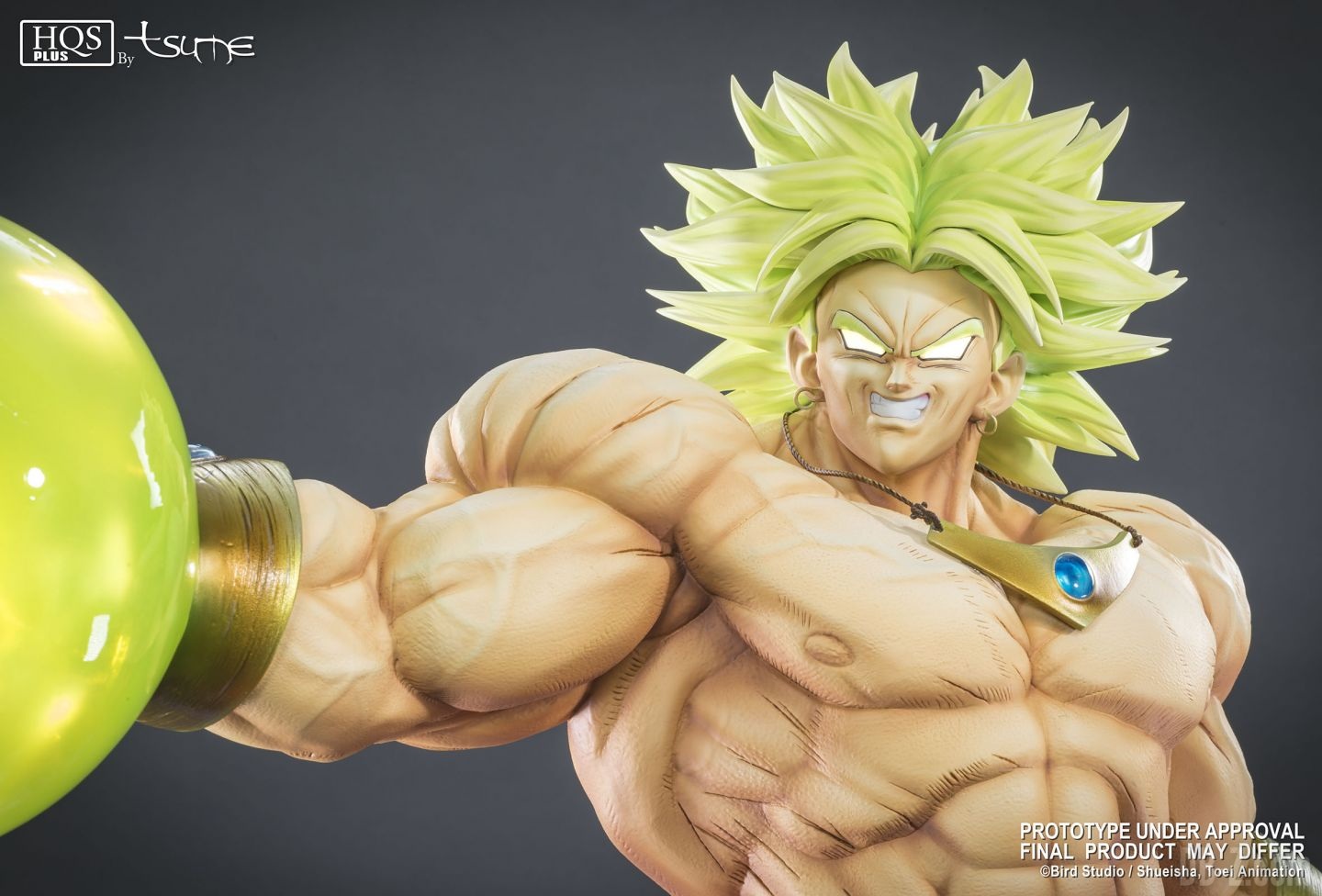 HQS+ Broly en images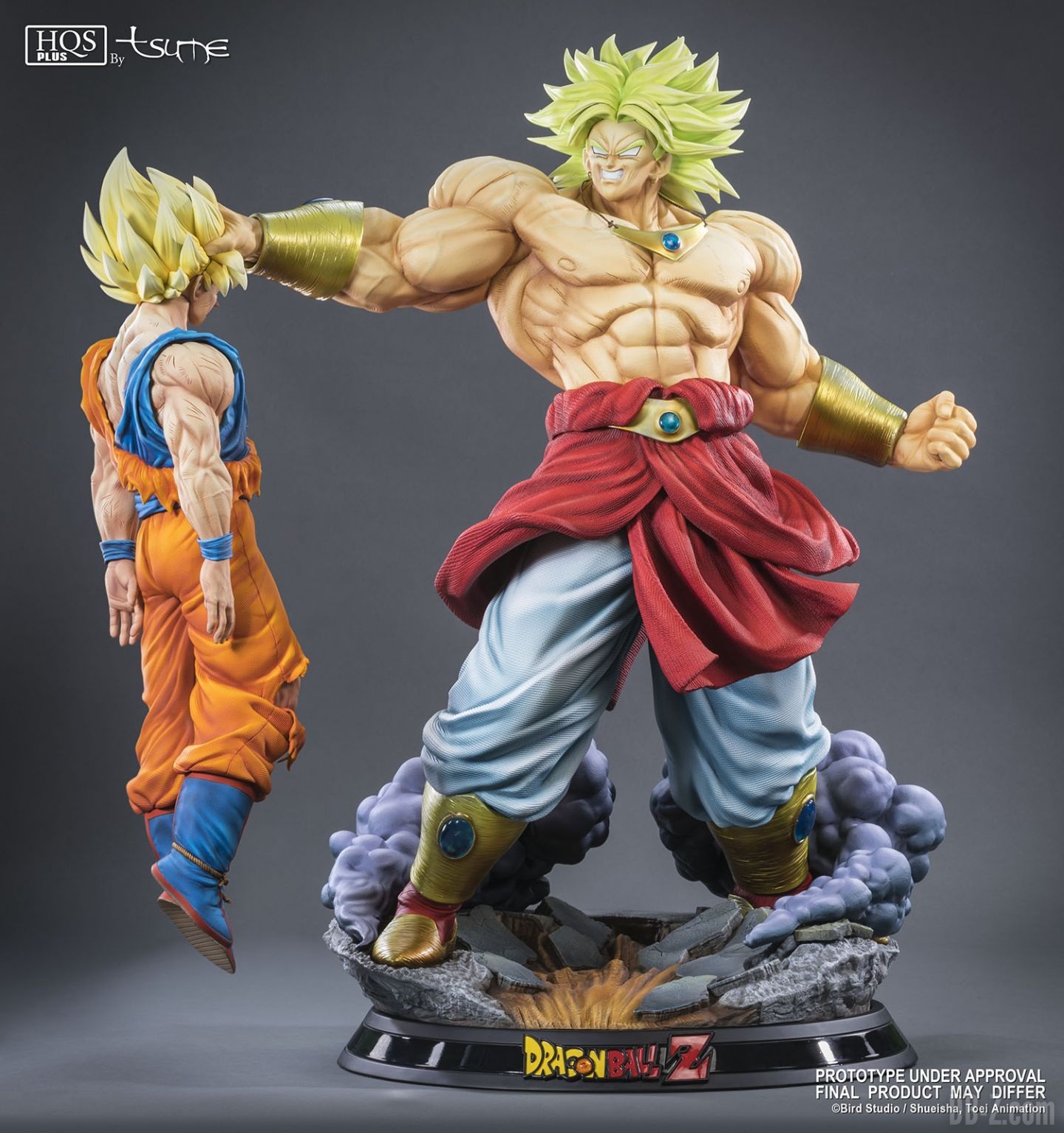 Enzan Showcase : La gamme de vitrines de Tsume
Avec cette HQS+ Broly, vous pourrez également toujours vous procurer une vitrine de chez Tsume, au prix de 99 €. Vous pouvez acheter un socle avec ou sans vitrine, et quelques nouveautés sont à noter par rapport au précédent modèle, comme une épaisseur de verre de 6mm au lieu de 4mm, ou encore la possibilité de loger une dalle de LED.
Composition de la vitrine:

Ossature: Profilés Aluminium laqué Noir Satiné
Angle: Pièces d'angle injection en Polyamide Noir
Plateau: HPL Laminé haute pression épaisseur 6 mm Noir
Cloche: PMMA coulé épaisseur 4 mm

Composition du socle:

Ossature: Profilé aluminium
Plateau: HPL Laminé haute pression épaisseur 6 mm Noir
Housse: Spandex 250 Grammes
Pieds: caoutchoux mi dur

Spécificités:

Dimensions intérieures: Larg 48 cm , Prof 48 cm, Haut 50 cm
Dimensions extérieures: Larg 50.5 cm Prof 50,5 cm Haut 136 cm
Deux vitrines sont empilables l'une sur l'autre (pourrait varier dans le future)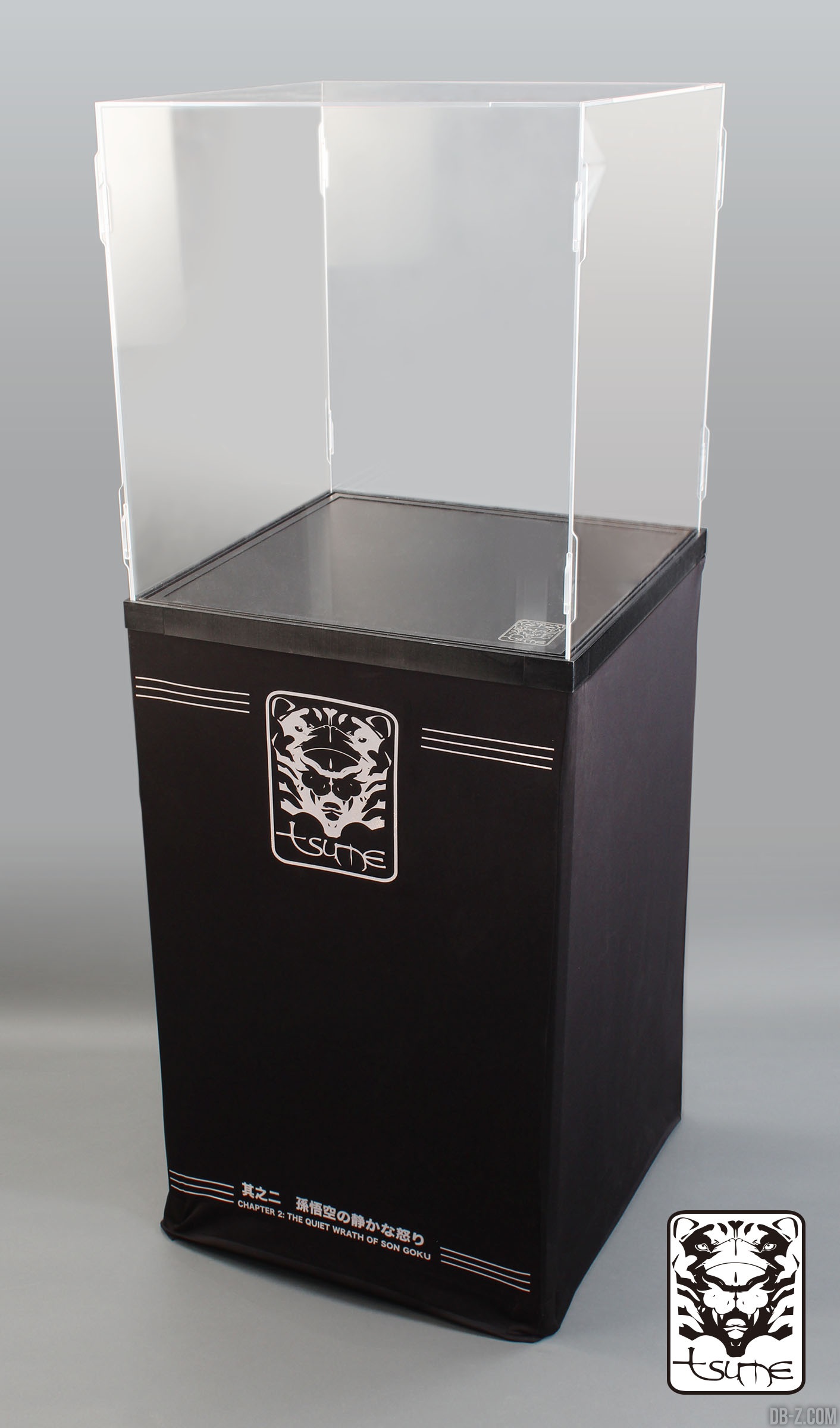 Informations complémentaires
Nom

: HQS+ Broly The Legendary Super Saiyan

Echelle

: 1/4

Hauteur

: 76,1 cm

Largeur

: 68,4 cm

Profondeur

: 43,6 mm

Date de précommande

: 27/10/2017

Date de livraison

: 4e trimestre 2018

Prix

: 999 € / 1399 €