手に入れろ!ドラゴンボール!アプリ, c'est le nom de cette nouvelle appli mobile qui vient de voir le jour sur les stores japonais iTunes (3,5/5) et Google Play (3,8/5). Ne la cherchez pas sur vos stores français, elle n'y est pas. Cette application au nom à rallonge (='Attrapons-les ! Les Dragon Balls ! L'appli'), est en fait un Dragon Radar qui vous permettra de localiser les supermarchés Lawson et Ministop, et les Dragon Balls qui s'y trouvent, tant qu'à faire. Cette opération s'inscrit dans le cadre de la promotion du film DBZ Battle of Gods, dont participent Lawson et Ministop en distribuant des snacks promotionnels Dragon Ball Z : Battle of Gods.
Le but du jeu est bien sûr d'obtenir les 7 Dragon Balls, afin d'invoquer Shenron qui vous offrira un fond d'écran pour votre mobile. Vous aurez aussi peut-être la chance de gagner une des 100 figurines de Goku mises en jeu. Cette campagne s'étale du 12 mars au 08 avril 2013.
Edit : Et voilà ! Après avoir réuni les 7 boules de cristal, Shenron apparaît pour offrir un fond d'écran (plutôt laid) de Goku, que vous pouvez voir en fin d'article.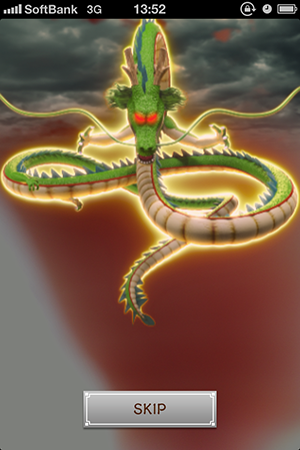 Lien iTunes : 手に入れろ!ドラゴンボール!アプリ
Lien Google Play : 手に入れろ!ドラゴンボール!アプリ