Le LIVE Dragon Ball Xenoverse 2 de Bandai Namco US aura lieu aujourd'hui aux Etats-Unis – en réalité cette nuit en France – sur la chaîne Twitch de Bandai Namco US. Bien que le programme n'ait pas été annoncé, une question s'impose : cela vaut-il vraiment le coup de veiller jusqu'à 01h00 du matin pour ça ? La réponse dépendra de votre niveau de connaissance sur Xenoverse 1 et 2. En effet, à la question d'un fan « Pouvons-nous nous attendre à des nouveautés ? Ou est-ce juste une démo ? », Bandai Namco US répond qu'il s'agira uniquement de la démo, « pour ne pas tout montrer et ruiner la surprise ».
@Brydakai This will be a demo! We don't want to show everything and ruin the surprise~

— Bandai Namco US (@BandaiNamcoUS) 10 août 2016
Il s'agira probablement de la même démo de Dragon Ball Xenoverse 2 que vous avez pu apercevoir et tester – en exclusivité mondiale – à la Japan Expo 2016. En clair, si vous faites partie de ceux qui ont déjà visionné des dizaines de vidéos de gameplay, qui ont lu toutes les interviews de Xenoverse 2, et qui ont épluché la démo sous tous ses angles, il y a de gros risques pour que ce live ne vous apporte rien. D'un autre côté, il serait étonnant que Bandai Namco ne profite pas de ce live pour nous glisser quelques petites confidences… Une date pour une éventuelle bêta de Dragon Ball Xenoverse 2 par exemple ?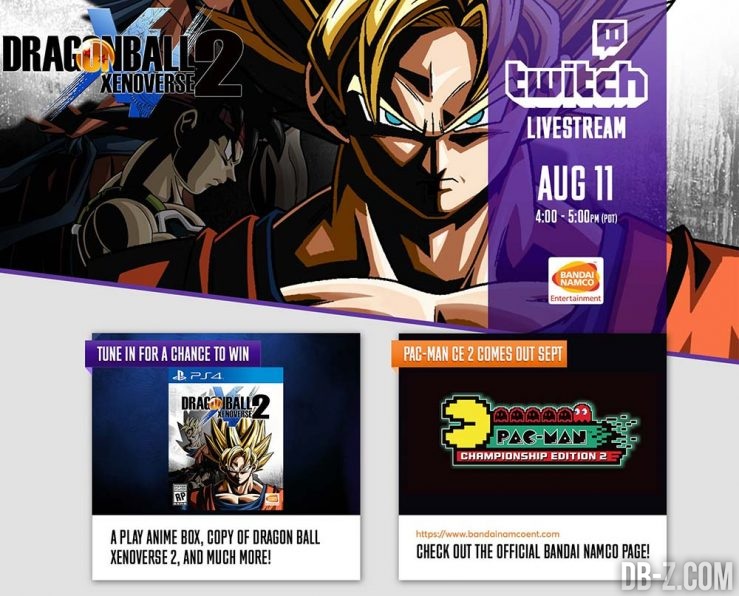 Informations complémentaires
Il s'agira d'un live des jeux Dragon Ball Xenoverse 2 et Pac-Man Championship Edition 2 (prévu pour le 13 septembre). Le stream aura lieu le 11 août à 4:00PM PDT, soit le 12 août à 01h00 du matin en France. Pour rappel, Dragon Ball Xenoverse 2 sortira le 25 octobre en Amérique, le 28 octobre en Europe, et le 02 novembre au Japon sur PS4, Xbox One, et PC.