Toyotaro dessine Bardock Oozaru ! Toyotaro-sensei, co-auteur et dessinateur du manga Dragon Ball Super, nous offre une nouvelle illustration inédite. En effet, comme tous les mois, le site officiel de DB publie une image d'un personnage plus ou moins populaire de Dragon Ball, mais qui n'est jamais apparu dans Dragon Ball Super. Et pour ce 33ème croquis du projet « Toyotaro l'a dessiné !!« , voici Bardock Oozaru. Notez que « oozaru » se traduit littéralement du japonais par « singe géant », mais on va continuer de dire oozaru pour avoir l'air plus cool.
On ne le présente plus, Bardock est le père de Son Goku. Il apparaît dans le chapitre spécial Dragon Ball Minus, en bonus de fin du manga Jaco the Galactic Patrolman d'Akira Toriyama.
Toyotaro dessine Bardock Oozaru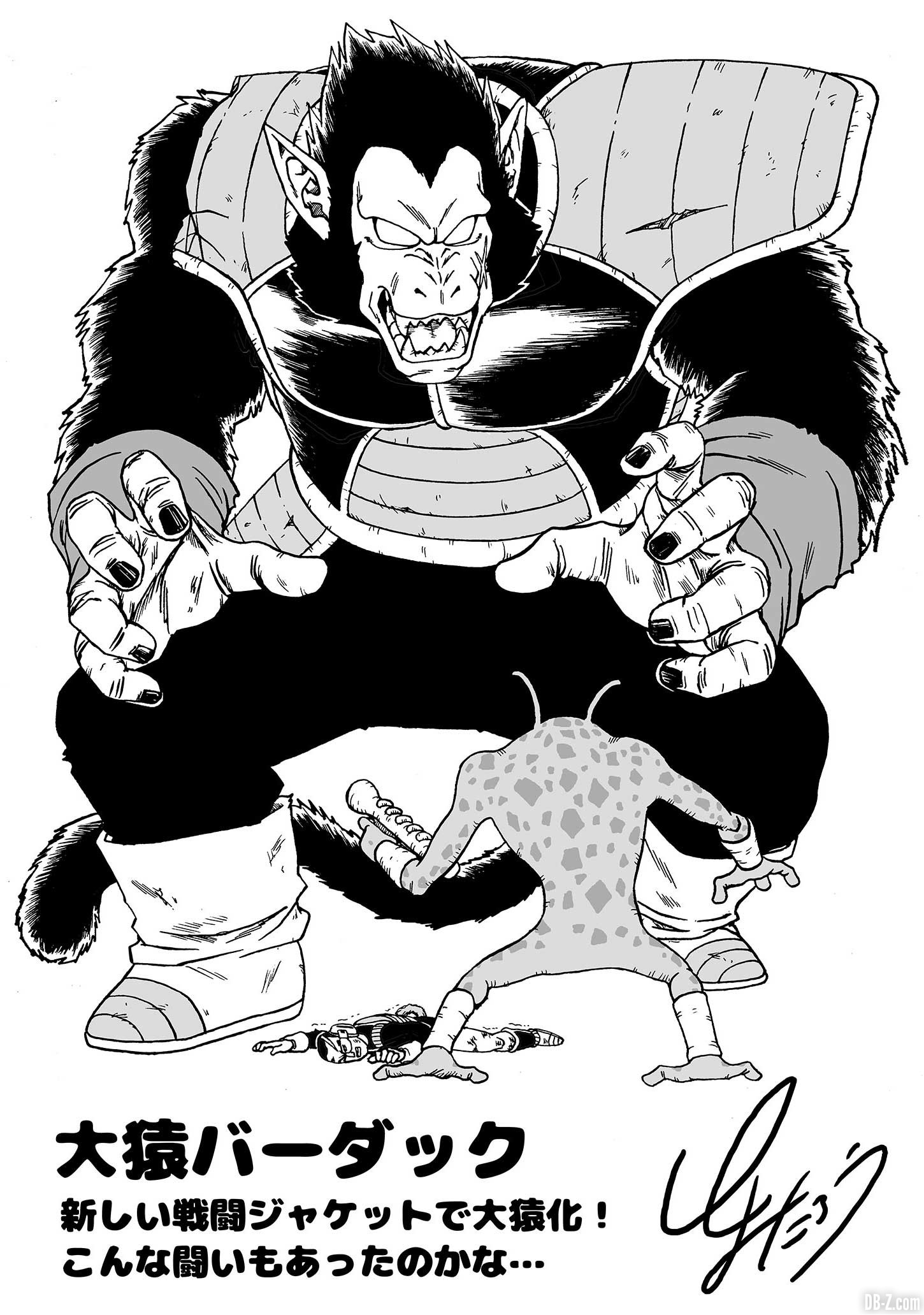 Vous aurez peut-être reconnu la scène ? Il s'agit d'un clin d'oeil à la toute première page de Dragon Ball Minus. En effet, Bardock et son acolyte Leek affrontent des monstres armés. Dans le chapitre, on ne voit jamais la suite de ce combat, et c'est donc ce qu'a voulu imaginer Toyotaro dans son illustration mensuelle.
Chaque mois donc, Toyotaro propose un dessin d'un personnage de DB, accompagné d'un commentaire, sur le site officiel japonais. Voici le message du mois d'août
Traduction du message de Toyotaro
Oozaru Bardock

Il se transforme en singe géant dans sa nouvelle armure de combat ! Peut-être qu'il y a déjà eu un combat comme celui-ci…

Toyotaro
La nouvelle armure de combat dont parle Toyotaro fait référence à la nouvelle tenue qu'on a aperçu lors de l'apparition de Bardock dans le chapitre complet de Dragon Ball Minus. En effet, ce chapitre sortait en 2014 en bonus de Jaco the Galactic Patrolman, et ce nouveau design est conçu par Akira Toriyama. En fait, il a légèrement modifié l'apparence de Bardock dans l'épisode TV spécial de 1990. A l'origine, le design du Bardock des années 90 est le fruit de la conception de Katsuyoshi Nakatsuru, et retouché par Akira Toriyama déjà à l'époque.
Bardock, ce héros…
Bardock est un guerrier Saiyan de classe inférieure. Il est le mari de Gine, et le père de Raditz et de Goku. Il fait ses débuts en tant que protagoniste de l'épisode télévisé spécial de 1990 Dragon Ball Z : Bardock – Le père de Goku.
L'enfance de Bardock depuis ses premières années jusqu'à l'âge adulte, est inconnue. Toutefois, on découvre qu'il dirige sa propre équipe au combat, et qu'ils réussissent parfaitement à accomplir leurs tâches. Il est un soldat dévoué de l'armée Saiyan sous les ordres de Freezer, jusqu'à ce qu'il réalise que l'empereur tyrannique prévoit d'annihiler la race des Saiyans.