En commémoration de son 60ème anniversaire, Toei Animation a lancé depuis ce matin une chaîne spéciale « 60th Anniversary YouTube Channel » qui mettra en vedette des épisodes et des films de séries animées populaires au cours des 60 dernières années.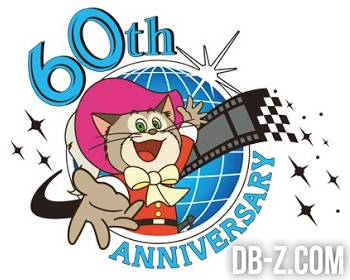 Le lancement de la chaîne a été officiellement annoncé sur le site officiel de Dragon Ball Super ce matin, en même temps que les annonces du retour de Trunks dans Dragon Ball Super et de la collaboration entre Dragon Ball Super et l'équipe de baseball des Saitama Seibu Lions. Tout ceci s'inscrit dans le cadre du Goku Day que le Japon célèbre ce 09 mai. Pour l'occasion, la chaîne des 60 ans de Toei Animation a posté deux films Dragon Ball entièrement gratuits – pour une durée limitéee :
✪ Le film commémoratifs des 10 ans de Dragon Ball

✪ Le second animé TV spécial Dragon Ball Z sur l'Histoire de Trunks (comme par hasard)
Toutes les vidéos postées sur cette chaîne sont bloquées si vous êtes en dehors du Japon, mais un proxy ou un bon VPN gratuit vous permettra de passer outre.
Vous trouverez également sur la chaîne des épisodes gratuits, et pas n'importe lesquels : Les premiers épisodes de Dragon Ball, Dragon Ball Z, Dragon Ball GT et Dragon Ball Kai. Cette chaîne sera ouverte jusqu'en Juillet 2017, et continuera à mettre en avant d'autres séries dont Dr Slump, Fist of the North Star, Slam Dunk, Digimon Adventure, Kinnikuman, Saint Seiya, et beaucoup d'autres films et épisodes.
Remerciements : Hujio pour Kanzenshuu.com