Dites bonjour aux UG Dragon Ball The Best 01 !
C'était prévisible, les figurines UG Dragon Ball se payent également une gamme « The Best« . A l'instar des figurines UDM Burst avec les UDM The Best, les UG Dragon Ball proposeront très bientôt leur première compilation UG Dragon Ball The Best 01. En clair, il s'agit d'une compilation des meilleures figurines précédemment sorties, et rééditée pour l'occasion avec de nouvelles couleurs. C'est tout du moins ce qu'annonce la fiche promotionnelle. C'est toujours le fabricant Bandai qui est aux manettes, et qui aligne pour ce premier volume les UG (Ultimate Grade) suivantes :
Elles seront commercialisées en juin 2018 au Japon, et cette nouvelle série de Gashapon de 75 mm sera vendue au prix de 500 ¥ / 4 € l'unité dans les machines à pièces que l'on trouve un peu partout au Japon (dans les ruelles, dans les supermarchés, dans les centres commerciaux, les aéroports, les Game Centers, etc…).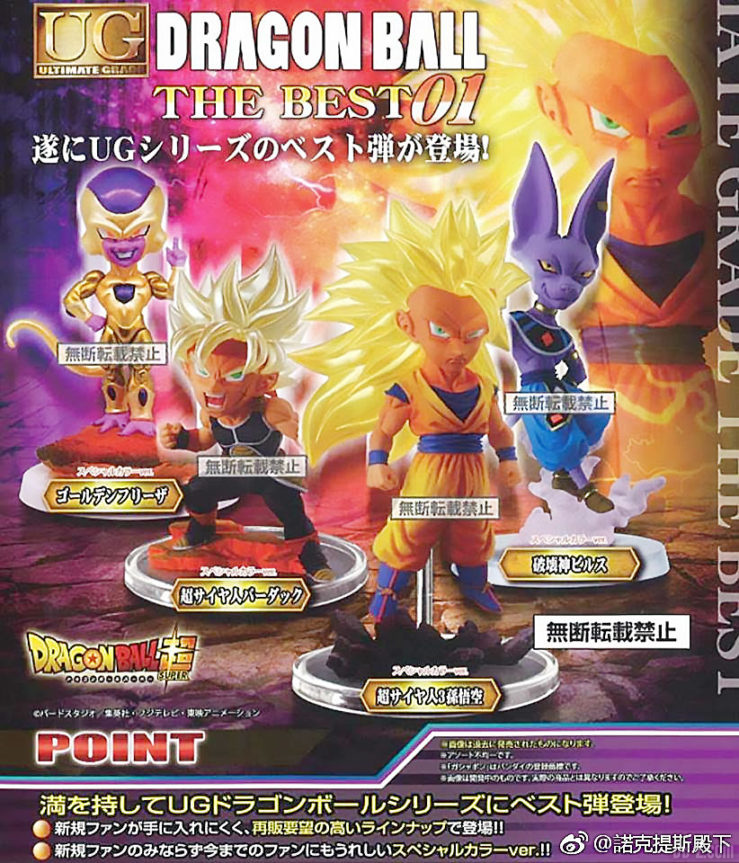 Informations complémentaires
Nom : UG Dragon Ball The Best 01
Prix : 500 ¥ / 4 €
Taille : 75 mm
Date de sortie : Juin 2018
Matière : PVC / ABS
Fabricant : Bandai
Les figurines UG Dragon Ball, en bref…
Les figurines UG Dragon Ball (Ultimate Grade) sont une série de figurines Dragon Ball produites par Bandai. Elle mesurent 75 mm, et valent environ 500 ¥ / 4 €  l'unité. Elle ont vu le jour fin 2015 au Japon, et elles continuent régulièrement de s'agrandir par portée de 3 à 4 personnages par nouveau volume.