Deux ans plus tard, on se retrouve pour l'unboxing de l'Anime Comics du dernier film Dragon Ball Z La Résurrection de F, qui suit directement celui de l'Anime Comics du film Dragon Ball Z Battle of Gods. Ça va être rapide, la réalisation de ce nouvel opus est exactement la même que le précédent. Même matériaux, même format, même nombre de page, même prix, même restitution des plans au format manga, bref : on ne change pas une formule qui gagne, et le résultat est excellent. Seul hic, il faudra quand même débourser 23 € si vous le prenez en librairie d'import comme chez Junku, au lieu de son prix normal au Japon de 1350 ¥ / 10 €. Mais c'est légitime en ce sens où ces librairies payent beaucoup de charges contrairement à l'escroc de base qui vous les revendra 4x plus cher sur Facebook ou ailleurs.
Cet Anime Comics Dragon Ball Z La Résurrection de F a été réalisé à partir des images clés de l'animé, auxquelles l'éditeur a ajouté des effets spéciaux et autres onomatopées pour lui donner un style typiquement manga. Si on suit la logique, une sortie en VF pourrait être envisagée en France en 2016 pour 9,60 €, comme le précédent Anime Comics de Battle of Gods qui était sorti en février 2015 en France, presque 1 an et demi après la sortie japonaise en octobre 2013.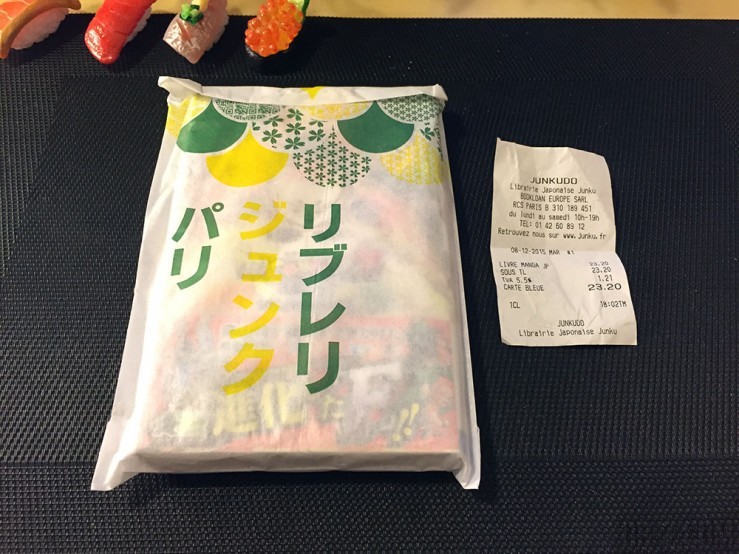 Couverture de l'Anime Comics La Résurrection de F
Extraits de l'Anime Comics La Résurrection de F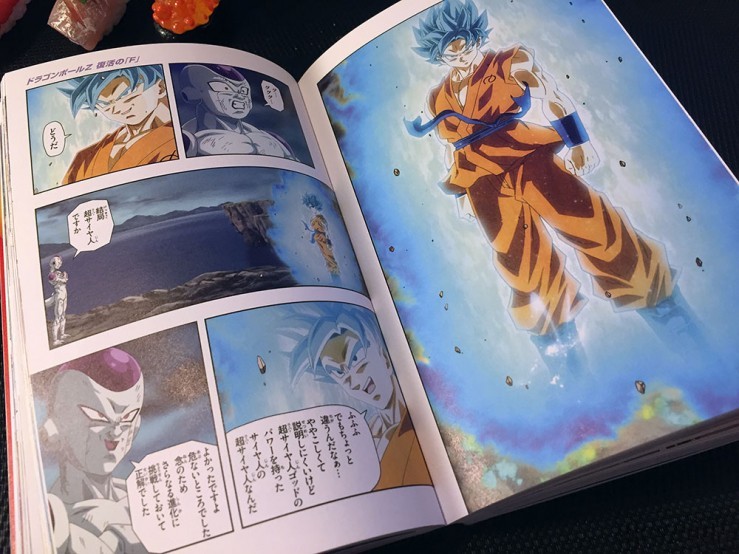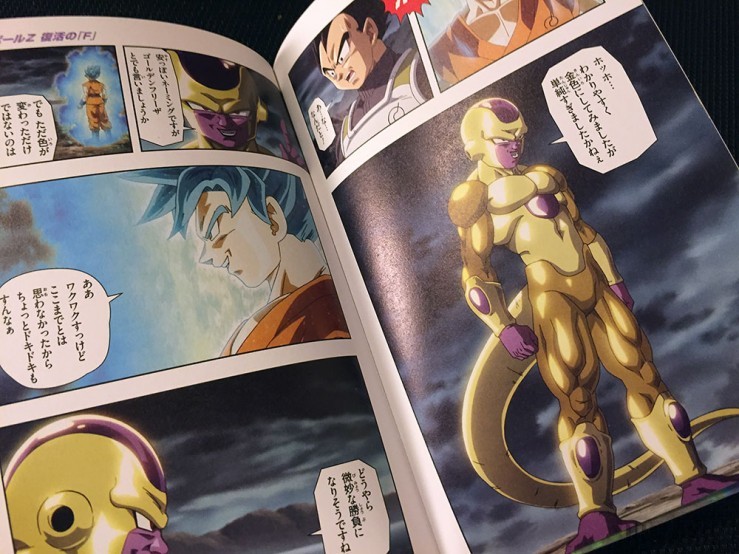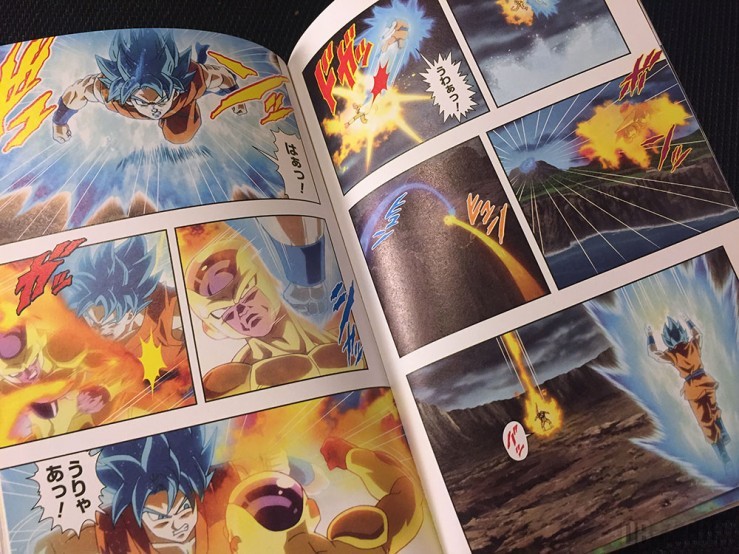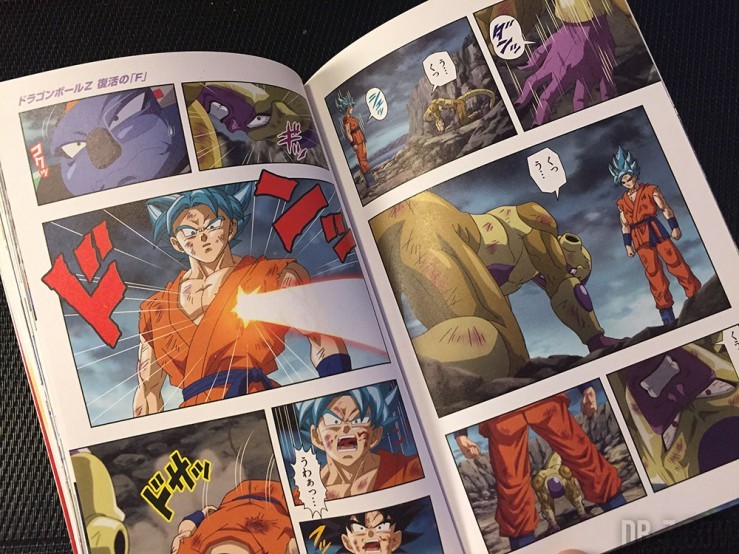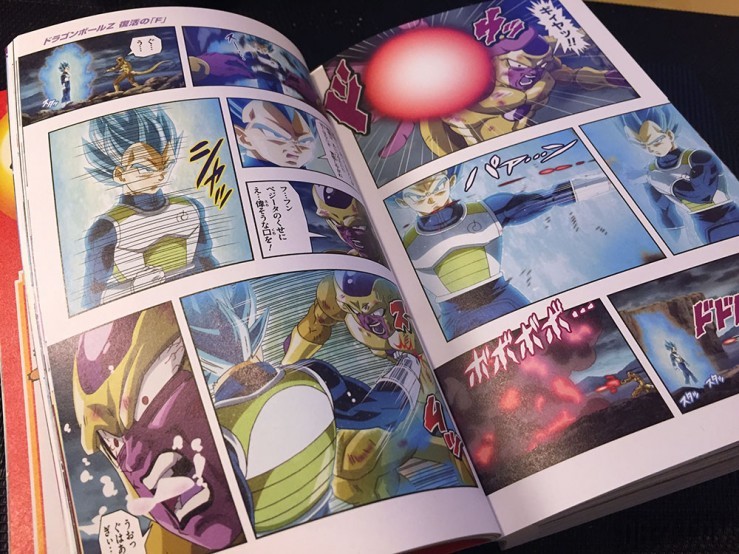 Annexes de l'Anime Comics La Résurrection de F
Comparaisons avec d'autres mangas Dragon Ball
Informations complémentaires
Nombre de pages : 350 pages
Prix Japon : 1350 ¥ / 10 €
Prix Junku : 23 €
Date de sortie (Japon) : 04 décembre 2015
Date de sortie (France) : Non communiqué
Faconnage : Souple
Format : 115 mm x 180 mm
Editeur Japonais : Shueisha
Dragon Ball Z La Résurrection de F
Dragon Ball Z Résurrection F est le 19ème film Dragon Ball, sorti le 18 avril 2015 au Japon, et diffusé sur 658 écrans en 2D, 3D, et 4D dans les salles de cinéma compatibles. Le film est d'ailleurs le premier film japonais à être diffusé en IMAX 3D numériques et en 4D ! Akira Toriyama, le créateur du manga Dragon Ball est crédité pour le concept, le scénario et les dessins originaux des personnages du nouveau film « que l'univers entier attend avec impatience !! » C'est Tadayoshi Yamamuro, directeur de l'animation de Dragon Ball Z qui a dirigé ce nouveau film. le film a été programmé en France pour la première fois le 29 juin 2015 au Grand Rex (Paris), suivi de plusieurs diffusions ponctuelles dans tout le pays ainsi qu'en Belgique.
https://www.db-z.com/forum/index.php/topic,5468.0.html