On y arrive, après tant d'années d'attente. Le créateur de Dragon Ball, Akira Toriyama, a été officiellement nominé pour le prix Eisner (disons Eisner Award, pour avoir l'air plus cool). Toriyama a été nominé dans la catégorie "Choix des votants" pour les "Eisner Hall of Fame Awards", comme le révèle le site web de la San Diego Comic-Con.
Inutile de dire que cette reconnaissance est attendue depuis longtemps, mais comme le dit le dicton, mieux vaut tard que jamais. Voici le communiqué de presse qui a été inclus sur le site de la SDCC au sujet de la nomination d'Akira Toriyama :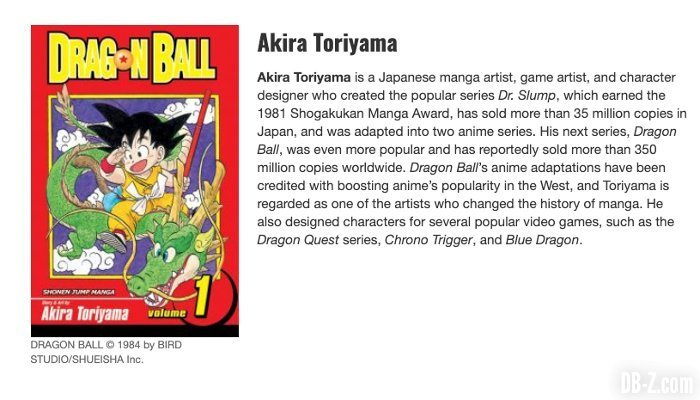 "Akira Toriyama est un mangaka, dessinateur de jeux vidéo, et concepteur de personnages japonais qui a créé la série populaire Dr. Slump, qui a remporté le prix Shogakukan Manga en 1981, qui s'est vendue à plus de 35 millions d'exemplaires au Japon et qui a été adaptée en deux séries animées. La série qui avait suivi, Dragon Ball, était encore plus populaire et a été vendue à plus de 350 millions d'exemplaires dans le monde. Les adaptations animées de Dragon Ball ont contribué à renforcer la popularité des animes en occident, et Akira Toriyama est considéré comme l'un des artistes qui a changé l'histoire. Il a également créé des personnages pour plusieurs jeux vidéo populaires, tels que la série Dragon Quest, Chrono Trigger, ou encore Blue Dragon."

Comic Con de San Diego
Les Eisner Awards, c'est quoi ?
Si les Eisner Awards ne vous disent rien, sachez que ce sont des prix récompensant les réalisations créatives dans l'univers de la bande-dessinée, principalement des bandes dessinées américaines. C'est un peu l'Oscar des bandes-dessinées. Il a été lancé en 1988 et porte le nom du célèbre dessinateur de bandes dessinées Will Eisner (The Spirit). La cérémonie de remise des prix a toujours eu lieu dans le cadre du San Diego Comic-Con depuis 1991. Le fait que les Eisner Awards soient centrés sur la bande dessinée américaine est un peu devenu sujet de controverse au cours des dernières années - principalement en raison du fait que les bandes-dessinées, on en trouve partout au niveau mondial. C'est un peu la même controverse qu'avait subit le Festival d'Angoulême en 2013, au sujet d'Akira Toriyama.
Du coup, la nomination d'Akria Toriyama pour entrer dans le "Hall of Fame" des Eisner Awards ne pouvait pas tomber mieux. Dragon Ball a connu une montée en puissance exceptionnelle ces dernières années, et la licence est devenue une source de revenus de plusieurs milliards d'euros grâce à la série animée Dragon Ball Super, aux mangas, aux jeux vidéo, et aux trois derniers films qui ont propulsés la série vers de nouveaux sommets en terme de visibilité. C'est aussi le 30ème anniversaire de la série TV Dragon Ball Z, qui est le média de la franchise qui a réellement fait de Dragon Ball rencontre un tel succès sur les marchés extérieurs au Japon.
Remerciements : ComicBook