Le magazine V-Jump du mois arrive dans les librairies japonaises le 21 octobre. Il n'y aura toujours pas de chapitre 88 de Dragon Ball Super, mais l'actualité Dragon Ball bat son plein, avec énormément d'actualités à venir ! Que ce soit sur borne d'arcade, sur mobile, PC, ou console de salon, Dragon Ball est partout, et le magazine V-Jump nous présente ces quelques nouveautés à venir.
SDBH UGM5 et bientôt les 12 ans de SDBH
Une nouvelle classe d'avatar est annoncée. Les avatars vont enfin pouvoir se transformer en Super Saiyan 4, ce qui marquera la première apparition de personnages féminins en SS4 dans Dragon Ball.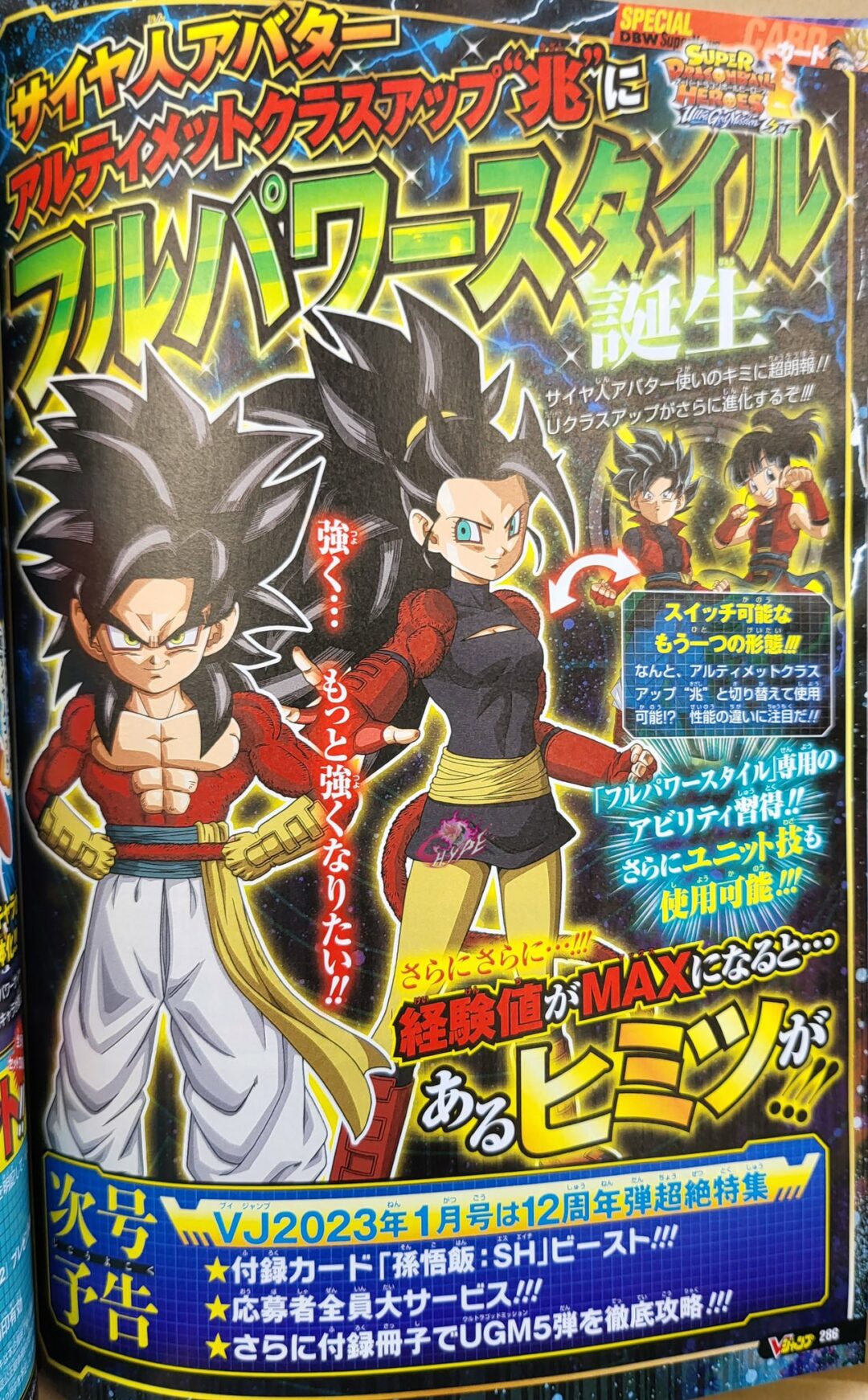 Toujours en parlant de Super Dragon Ball Heroes, un visuel de la couverture du prochain livre anniversaire est dévoilée. Rien de fou, elle reprend des visuels déjà connus. Ce guide Super Dragon Ball Heroes 12th Anniversary Super Guide sortira le 10 novembre au Japon (disponible sur Amazon Japon partout dans le monde). Au passage, l'émission LIVE (en direct) anniversaire des 12 ans de Super Dragon Ball Heroes aura lieu le 23 octobre, avec certainement un tas de révélations sur l'avenir du jeu.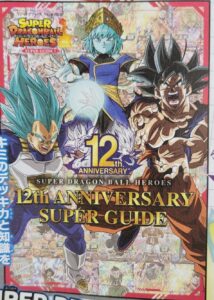 Pas de chapitre de Dragon Ball Super !
Pour le deuxième mois consécutif, il n'y a toujours pas de chapitre 88 de Dragon Ball dans ce V-Jump. Mais pour qu'il n'y ait pas de malentendu, il ne s'agit pas d'une pause de la part de Toyotaro, puisqu'il l'auteur de Dragon Ball Super travaille toujours sur son manga depuis le mois d'août. On ignore encore la date du retour de DBS dans le V-Jump, mais elle ne saurait tarder. Peut-être d'ici la fin d'année ?
Pour patienter, le magazine propose un « intervalle spécial » comme le mois dernier. Il s'agit de quelques pages autour d'un thème. Le mois dernier, il s'agissait de faire le focus sur les Univers de Dragon Ball, et cette fois, cette section porte le sous-titre de « Section sur les personnages ».
Concernant les jeux vidéo, Dragon Ball The Breakers est à l'honneur. Le jeu est sorti le 14 octobre, et il promet de bonnes parties de rigolade à 8 joueurs. Le principe est celui d'une chasse à l'homme où un joueur doit pourchasser et mettre KO les sept survivants avant qu'ils ne puissent s'échapper.
Mais la nouveauté de ces 3 pages du V-Jump, c'est qu'on découvre que les 7 citoyens auront la possibilité d'acquérir le pouvoir du méchant. On nous annonce également un nouveau véhicule (le pod de Freezer), et de nouveaux objets, comme Bée (le chien de Buu) dans un sac en forme de la maison de Buu. Cet « objet » aura la faculté de vous réveiller d'un KO.
Dragon Ball The Breakers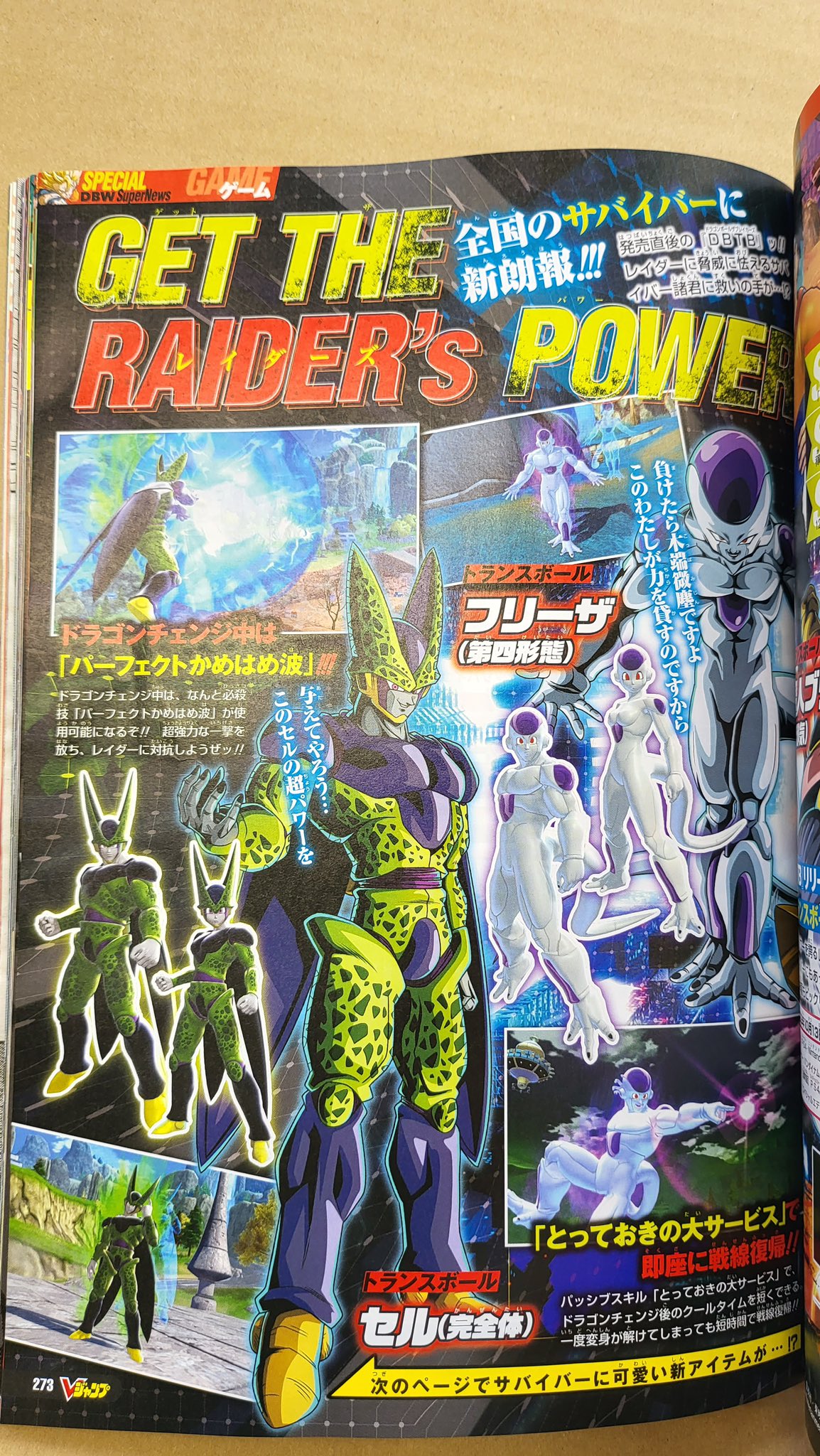 Dokkan Battle et Dragon Ball Legends
Dokkan Battle accueillera Gamma 1 et Gamma 2. Les deux cyborgs du film Dragon Ball Super SUPER HERO seront en vedette de la prochaine loterie « Dokkan Festival ». D'autres événements liés au film ainsi que des bonus de connexion seront implémentés pour cette collaboration avec le jeu.
De son côté, Dragon Ball Legends on a une page dédiées aux personnages de rareté ULTRA, mais on notre surtout le très attendu Zenkai du Goku Super Saiyan 4 [vert].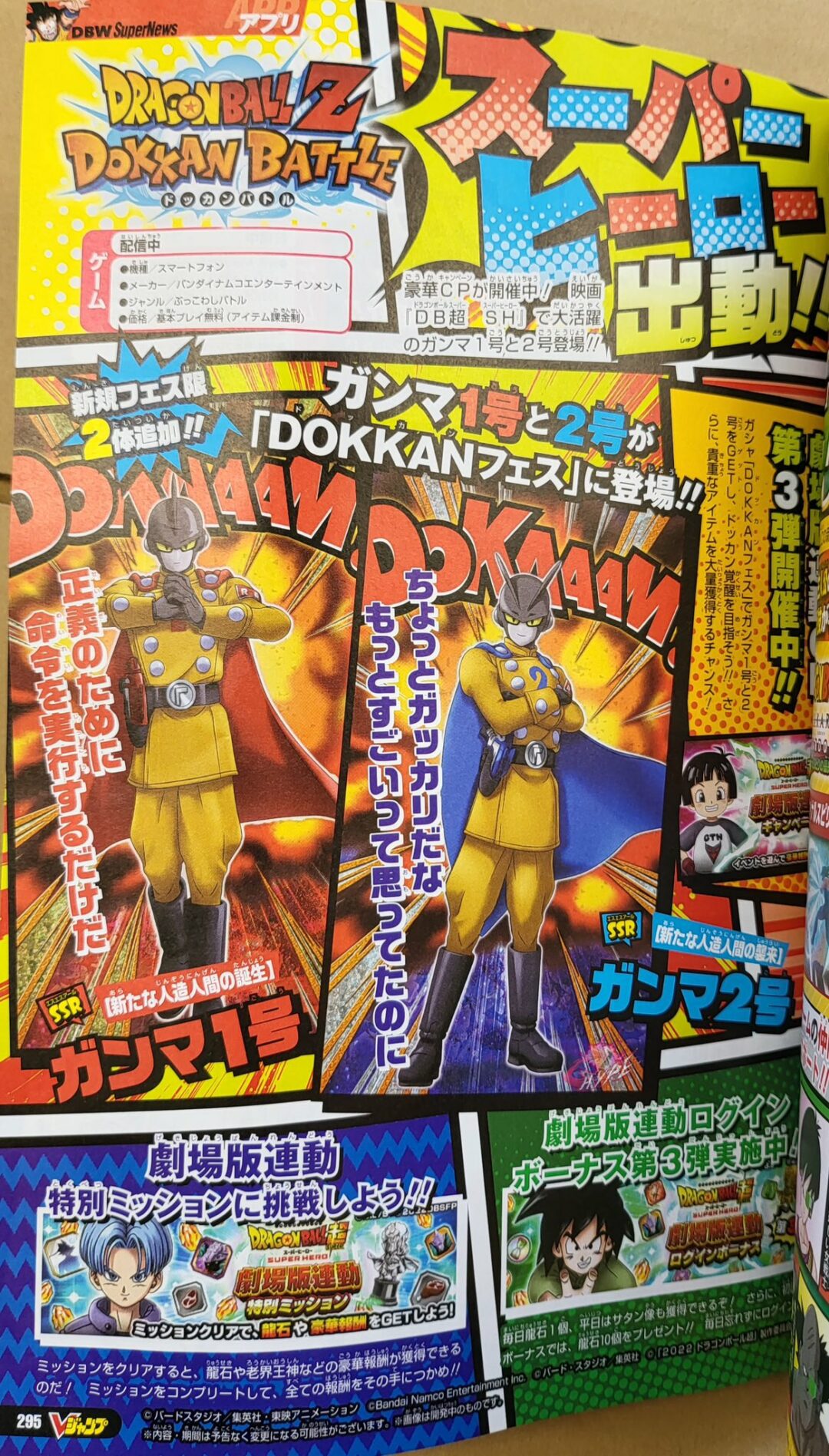 Dragon Ball Xenoverse 2 célèbre DBS Super Hero
Dragon Ball Xenoverse 2 promeut la promotion du prochain DLC en collaboration avec le film DBS Super Hero. Gohan, Gamma 1, et Gamma 2 seront les prochains personnages jouables du Hero of Justice Pack 1, en attendant le second pack à venir en 2023. Il y aura également de nouveaux costumes, écrans de chargement, et figurines du Hero Colosseum, comme présenté dans le précédent article.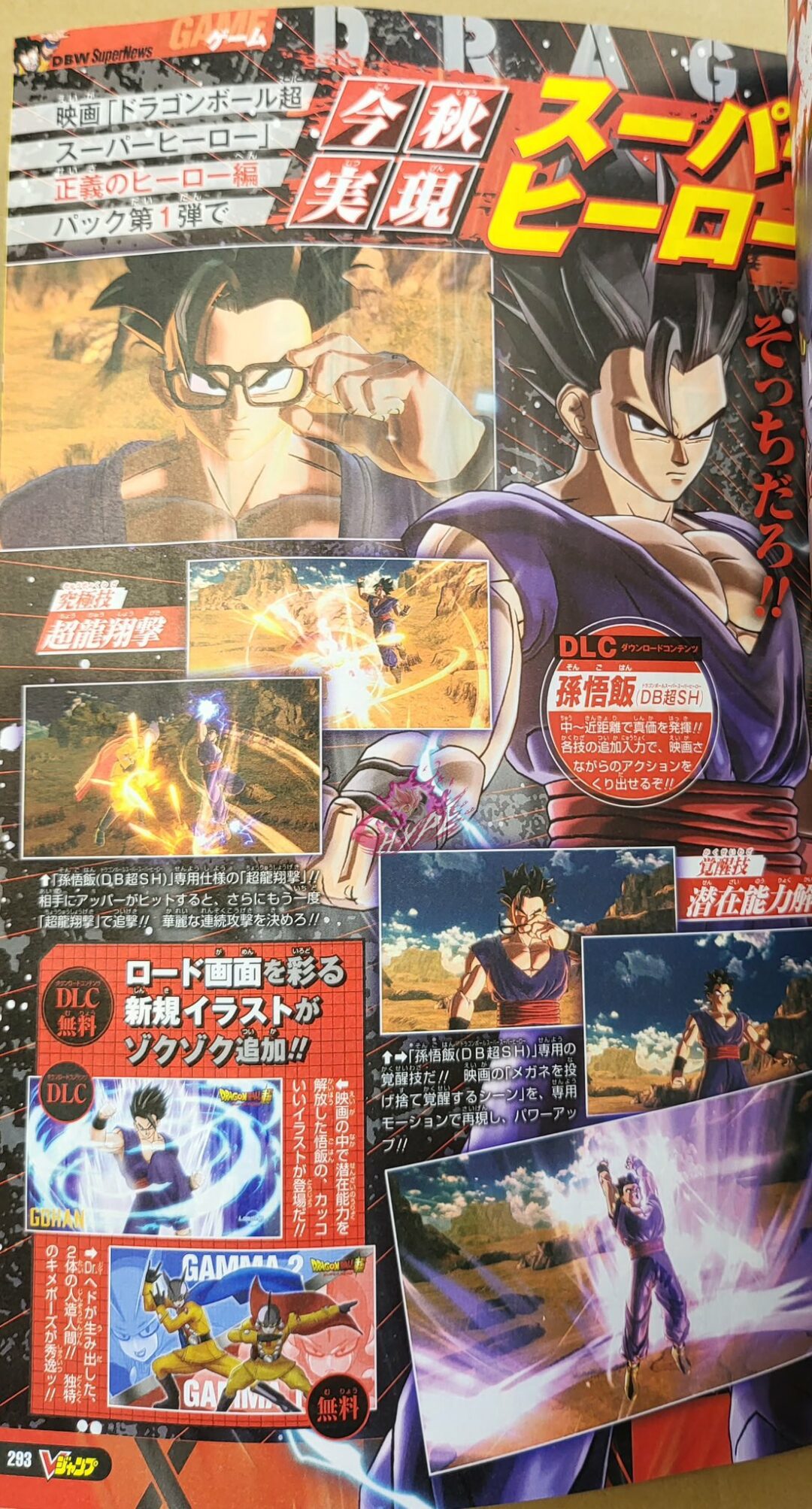 Dragon Ball Z Kakarot
Du coté de Dragon Ball Z Kakarot, c'est le DLC de l'Histoire de Bardock qui est mis en avant. On a déjà tout dit sur ce prochain volet, où vous pourrez même explorer la planète Vegeta pour la première fois. Ce 4ème DLC fera revivre aux joueurs l'histoire de Bardock, telle que racontée dans l'épisode spécial de Dragon Ball Z.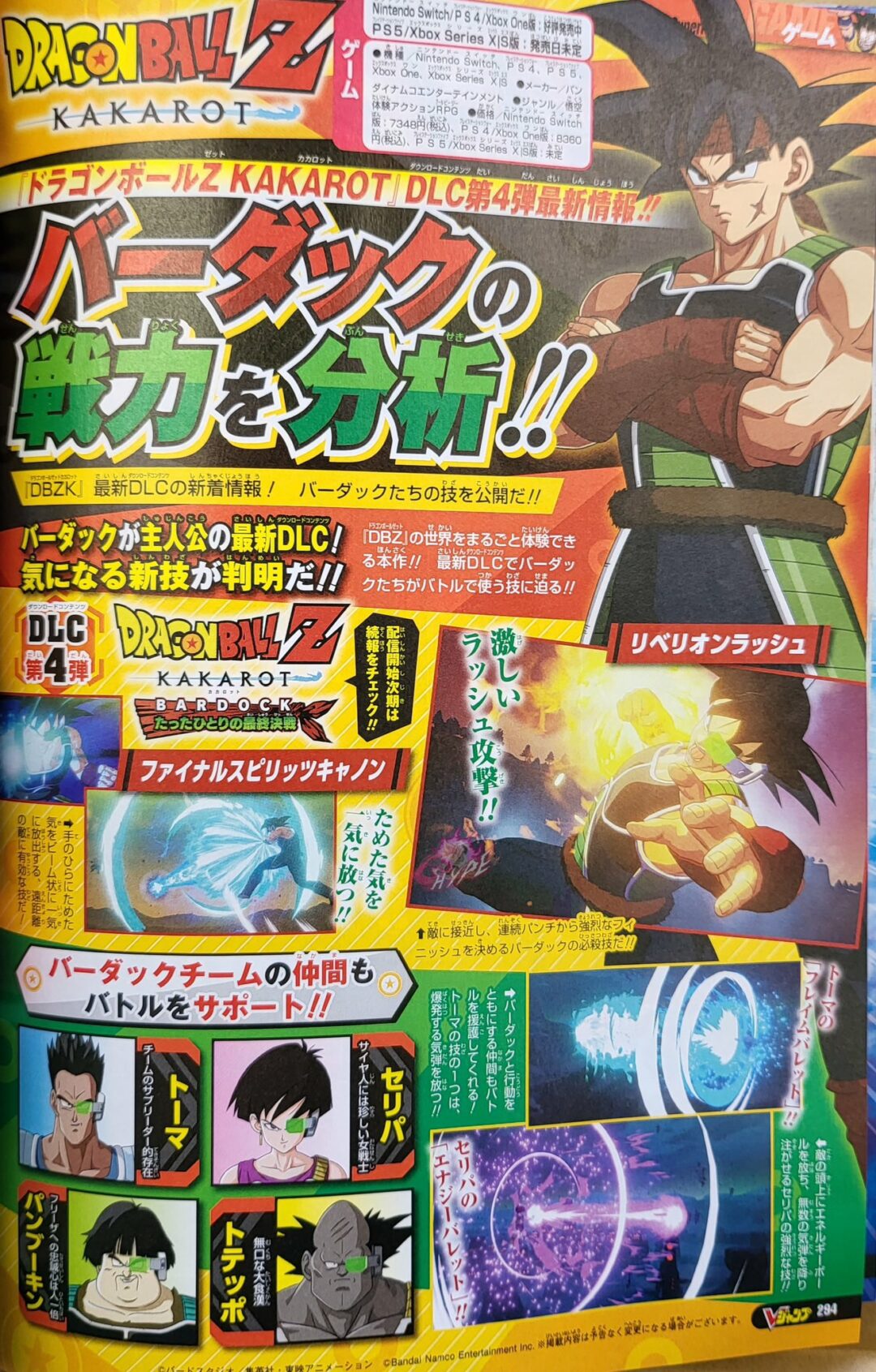 Remerciements : @DBSHype sur Twitter