Encore une palier historique de franchi pour Dragon Ball en France ! Pour la toute première fois, une plateforme de VOD (vidéo à la demande) s'apprête à proposer légalement la série Dragon Ball avec toutes ses composantes en streaming légal à partir du 15 décembre 2022, en France. C'est ADN (Animation Digital Network) qui a réussi cet exploit (= qui a mis la main au portefeuille), bien que Netflix avait déjà exprimé sa volonté de vouloir proposer Dragon Ball sur sa plateforme. Dans les faits, l'intégralité de la série Dragon Ball et DBZ étaient déjà sorti sur Netflix en 2017, mais seulement au Japon, bien qu'ils aient été retirés depuis.
EDIT 31/12/2022 : Voici le lien de la plateforme où est diffusé la série. Les 7 premiers épisodes sont gratuits, et pour regarder les autres, un compte ADN est nécessaire.
Netflix avait tenté !
En septembre 2014, Netflix avait réussi à proposer 3 films Dragon Ball en France : Dragon Ball Z : Fusions, L'Attaque du Dragon, et Attaque Super Warriors. Ils ont été supprimés depuis, puisque les droits de diffusion sont temporaires. Puis en novembre 2017, Netflix proposait les films DBZ Battle of Gods et La Résurrection de F, soulignant une nouvelle fois son intérêt pour la franchise. C'est donc la plateforme ADN qui hébergera Goku et ses potes à partir du 15 décembre, avec des mises à jour déjà programmées comme suit :
D'abord la VF, ensuite la VO
Dans son communiqué, ADN informe que les premières séries à paraître proposeront d'abord en streaming la version française en exclusivité, et ensuite la version originale japonaise sous-titrée (VOSTFR) dès 2023.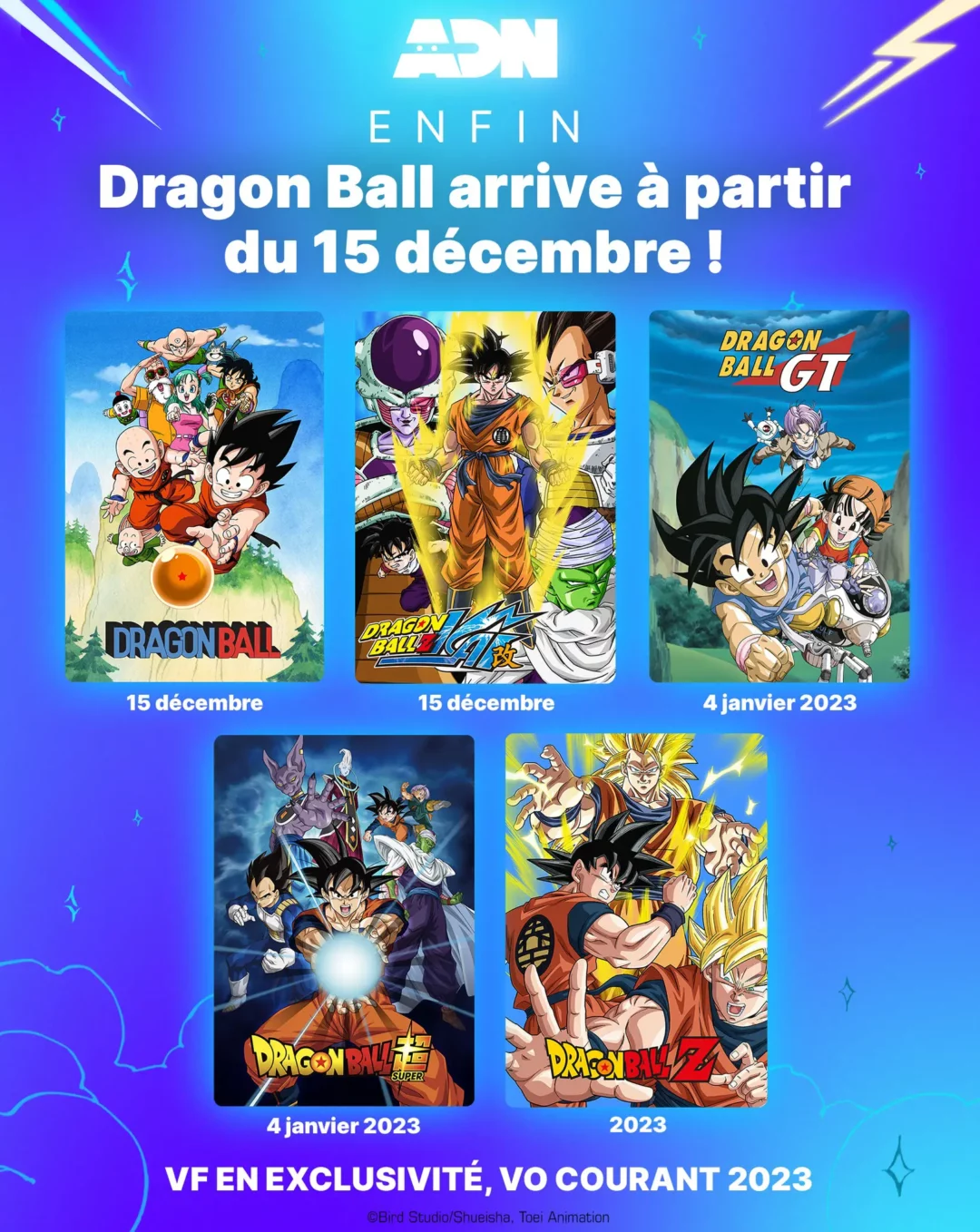 En savoir plus sur ADN
Quels genres de vidéo manga propose ADN ?
ADN propose un très large choix d'animés en ligne, disponible en quelques clics seulement. Le manga s'est aujourd'hui largement démocratisé et c'est ainsi que l'on retrouve une multitude de genres et de sous-genres. Retrouvez par exemple le Shonen, le fer de lance de l'animation japonaise. Le Shojo quant à lui vise un public plus féminin. Vous retrouverez également les indémodables mangas de sport, dont le coté initiatique fonctionne toujours à merveille. Mais les mangas, c'est aussi une bonne dose d'humour et de bonne humeur, avec le très original Assassination Classroom par exemple. Il existe aussi des mangas orientés pour les plus jeunes. Ils représentent une très bonne porte d'entrée dans le monde des animés en streaming. Vous l'aurez compris, il y en a pour tous les goûts sur ADN.
Quelles sont les possibilités de paramétrage des dessins animé en streaming d'ADN ?
Pour une expérience réussie, vous pouvez paramétrer précisément de nombreux critères. Vous retrouverez vos animés répartis en 3 catégories : Simulcast, Téléchargement ou visionnage gratuit.
Choisissez la langue qui vous convient entre manga VOSTFR ou VF. Nos dessins animés en streaming sont disponibles en HD, choisissez ainsi entre 720p et 1080p. Évidement, l'expérience ADN est complètement personnalisable. Créez ainsi vos propres watchlist, séries coups de cœur et déposez votre avis ou commentaire concernant l'animé de votre choix. Plusieurs types d'abonnements sont disponibles selon vos envies, chacun multi-supports.
Quelles sont les têtes d'affiche anime streaming d'ADN ?
ADN propose quelques-uns des mangas incontournables de notre époque et d'avant. Quel que soit le genre et le style de vidéo manga, vous retrouverez un certain nombre de classiques. Envie d'un shonen de qualité ? Naruto shippuden en streaming vous attend sur notre site. Ou bien orientez-vous vers My hero academia en streaming. ADN, c'est aussi des mangas plus anciens, mais toujours aussi indémodables : Albator, Captain Tsubasa, Nicky Larson et bien d'autres… ADN c'est aussi les meilleurs mangas actuels, avec notamment The Promised Neverland.
Chacun de ces animés est entièrement personnalisables pour une expérience entièrement sur mesure.