Bandai a dévoilé la dernière carte Secret Rare (SCR) de la prochaine extension officielle de Dragon Ball Super Card Game : Unison Warrior Series BOOST Set 7, BT16 – Realm of the Gods. Habituellement, on avait droit à la révélation des cartes secrètes pendant les vacances, mais cette dernière s'accompagne d'excuses : l'ensemble, sorti en mars 2022 en tant que seizième set principal et septième extension sous la bannière « Unison Warrior Series », sera retardé d'une semaine.
L'ensemble du « Royaume des Dieux » à venir gardera comme toujours son appellation anglophone de Realm of the Gods, le nom complet étant Unison Warrior Series BOOST – Realm of the Gods. Comme son nom l'indique, ce set se concentre sur les divinités de Dragon Ball. Les deux premières cartes secrètes BT16-147 et BT16-148 nous offrent du Super Saiyan Blue Vegeta, et la fusion maléfique de Super Mira. De nombreux fans s'attendaient à une SCR de Goku Ultra Instinct, en raison de l'accent mis sur l'aspect « divin », mais Bandai semble avoir misé davantage sur des personnages issus des franchises Xenoverse et Super Dragon Ball Heroes.
BT16-149 SCR : Kaioshin du Temps, lavage de cerveau
Le Royaume des Dieux avec la toute nouvelle série BT16 – Realm of the Gods sera complété par la carte secrète BT16-149 SCR : Kaioshin du Temps, lavage de cerveau. Elle rejoindra les nouvelles cartes supplémentaires disponibles, avec une rareté ultime qui fait son apparition : les God Rare ! Il n'y aura qu'une seule carte de cette rareté God Rare de disponible avec cette série, pour la toute première fois de l'histoire de Dragon Ball Super Card Game.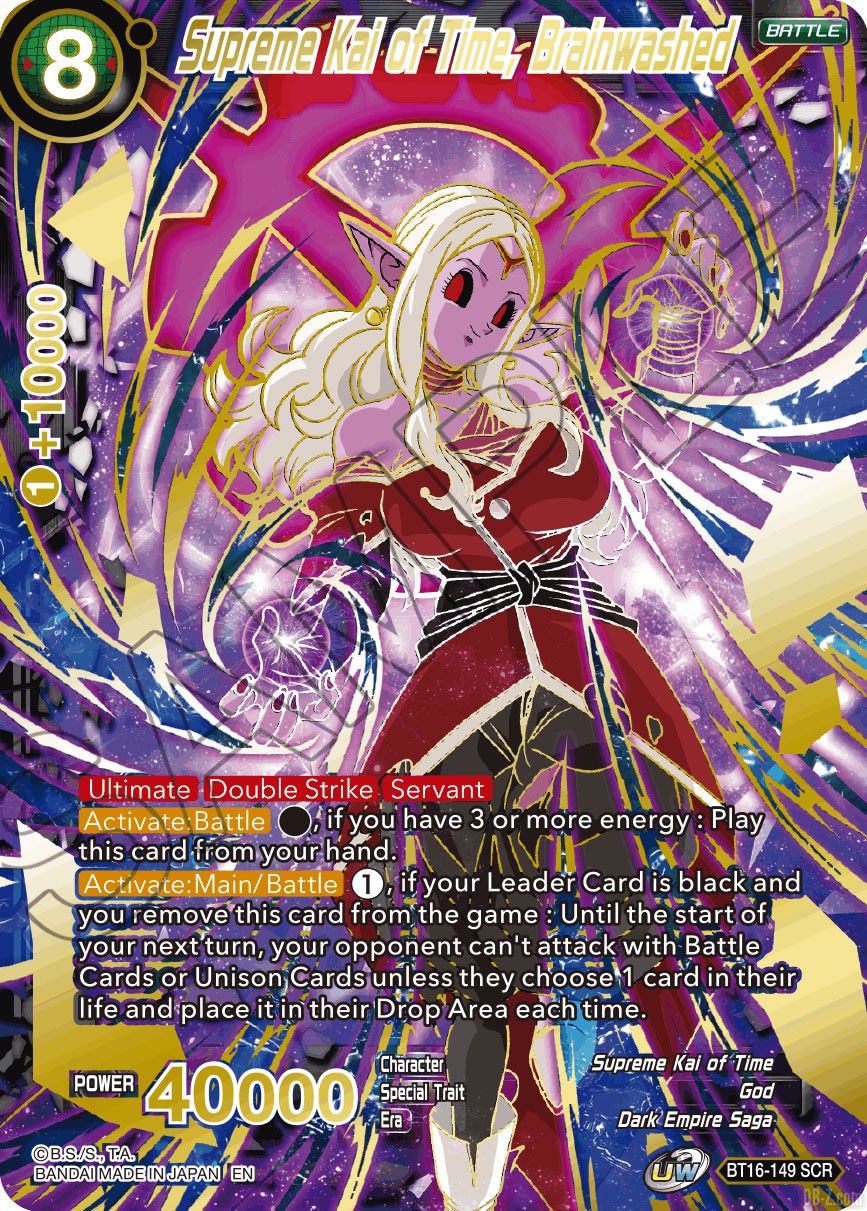 C'est une jolie carte qui utilise des feuilles dorées pour un joli rendu. L'effet reste très différent des cartes brillantes de SDBH, mais c'est certainement pour que la carte reste un minimum lisible. En effet, avec les DBSCG, le texte joue un rôle majeur dans le jeu de carte, tandis que dans SDBH, tout se joue sur l'écran de la borne d'arcade.
Des difficultés d'approvisionnement
Actuellement, de nombreuses difficultés logistiques rencontrées par les réseaux de fret mondiaux continuent d'avoir un impact sur le calendrier de lancement des produits Bandai, DBSCG inclus. En raison d'un retard de livraison, Bandai annonce le report de la sortie mondiale des BT16 d'une semaine comme suit :
Série Unison Warrior BOOST Set 07 – Realm of the Gods – [DBS-B16]
Pré-sortie mondiale : 4 mars 2022
Sortie mondiale : 11 mars 2022
Rareté : 292 cartes au total

Commun (normal/holo) x60
Pas commun (normal/holo) x38
Rare (normal/holo) x30
Super Rare x18
Special Rare x14
Secret Rare x3
God Rare x1
La BT16 – Realm of the Gods est une toute nouvelle série qui fait son apparition dans Dragon Ball Super Card Game, la 7ème des séries Unison Warrior Series. Elle introduit pour la première fois la Capacité Empower permettant à une Unisson d'entrer en jeu avec un certain nombre de marqueurs présents sur celle qu'elle remplace.