Le Tokyo Game Show bat son plein au Japon, et Bandai Namco a décidé de centrer ses sujets Dragon Ball autour de ses jeux de salon et mobile. En effet, comme l'annonçait le line-up du TGS 2022 de Bandai Namco, l'éditeur a présenté les nouveautés pour ses principaux jeux du moments : Dragon Ball The Breakers et Dragon Ball Z Kakarot. D'un côté, nous avons vu le trailer de Majin Buu et du Fermier dans Dragon Ball The Breakers. D'un autre côté, nous avons eu le trailer du DLC Bardock et du Season Pass 2 de Dragon Ball Z Kakarot.
Dragon Ball Z Kakarot : Comparaison PS4 vs PS5 de la MAJ gratuite
Mais l'autre information concernant l'action RPG sorti en 2020, c'est que que Dragon Ball Z Kakarot arriveront sur PS5 et Xbox Series X|S très prochainement ! La mis-à-jour vers PS5 et Xbox Series S|X sera gratuite. A ce titre, Bandai Namco a publié ce matin une très courte vidéo comparative, en nous invitant à « profiter de graphismes améliorés et de 60 images par seconde » dans cette version dédiée aux nouvelles générations de console de salon.
Avec des graphismes améliorés et de meilleures performances, les joueurs pourront revivre les aventures de Goku à partir de l'arrivée de Raditz sur Terre, et jusqu'à la fin de l'arc Majin Buu. Les joueurs pourront aller plus loins grâce aux DLC des films DBZ Battle of Gods et DBZ La Résurrection de F (estampillés DBZ et non DBS).
La mise à niveau vers la nouvelle génération sera disponible et gratuite pour tous les possesseurs de DBZ Kakarot jouant sur PlayStation 4 et Xbox One. Le résultat est séduisant, mais la transition n'est pas exceptionnelle. En effet, on a connu des upgrades bien plus spectaculaires, notamment sur des jeux au rendu beaucoup plus réalistes, tels que les Resident Evil. Mais là, on est dans le cadre d'une adaptation d'anime, alors les ajouts de textures et de lumière sont peut-être moins spectaculaires. Mais rappelons que le jeu était déjà magnifique de base !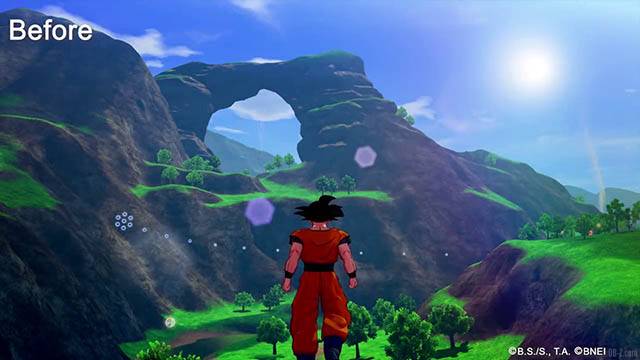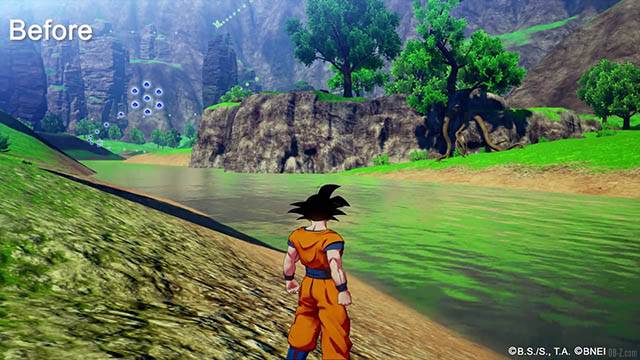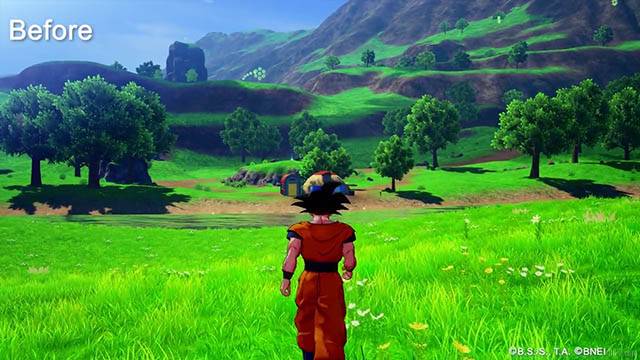 En plus de cette passionnante nouvelle, un 4e DLC du Season Pass 2 a été annoncé : après avoir suivi l'histoire de DBZ incluant tous les héros de la saga, les joueurs pourront bientôt découvrir l'histoire du père de Goku, Bardock. Le DLC « Bardock : Seul face au destin » est le nouveau contenu payant qui permettra aux joueurs d'incarner le brave Saiyan, qui s'est vaillamment battu seul pour protéger la planète natale des Saiyans de la cruauté de Freezer. Préparez-vous pour encore plus d'histoires dans ce Season Pass 2, avec déjà 2 autres DLC d'annoncés, et la promesse d'ajouter encore plus d'aventures et de personnages emblématiques à notre série bien-aimée ! Dragon Ball Z Kakarot et le Season Pass 2 sortiront en 2023 sur PlayStation 5 et XBOX Series X|S.
Dragon Ball Z Kakarot
Dragon Ball Z Kakarot est un jeu vidéo développé par CyberConnect2 (studio connu pour les séries .hack, Naruto Shippuden Ultimate Ninja Storm, ou Demon Slayer). C'est un Action-RPG qui offre « une réinterprétation épique de l'histoire de Dragon Ball » dans laquelle les fans peuvent revivre « comme jamais auparavant » l'histoire du Saiyan Kakarot, mieux connu sous le nom de Son Goku, à la recherche d'un pouvoir toujours plus grand. D'autre part, on nous décrit un voyage qui le conduira à défendre la Terre contre de terribles ennemis. DBZ Kakarot guide le joueur à travers les sagas Saiyan, Freezer, Cyborg, Cell et Buu, dans un semi open world gigantesque et riches en quêtes secondaires, de quoi découvrir quelques visages familiers.
Le titre est sorti en France sur PlayStation 4, Xbox One; et PC via Steam le 17 janvier 2020, et sur Nintendo Switch le 24 septembre 2021. D'ailleurs, les différentes versions de Dragon Ball Z Kakarot sont à découvrir dans une édition Standard, Deluxe, Ultimate et Collector, offrant de vastes cartes librement explorables parsemées de missions secondaires et d'objectifs parallèles. Enfin, vous pouvez retrouver plus d'informations sur le site officiel de Dragon Ball Z Kakarot.