Daum Cafe est la plateforme communautaire du portail coréen Daum, quatrième site du pays en termes de trafic. Sur cette plateforme, un fan coréen de Dragon Ball Super est entré en contact avec le vaisseau mère de Toei Animation au Japon. FoReVeRDB a en effet souhaité savoir si la Toei envisageait de corriger les dessins de l'épisode 5 de Dragon Ball Super dans les DVD et Blu-Ray, à paraître le 02 décembre au Japon, et voici son récit :
« Par curiosité, je suis allé sur le site officiel de la Toei.
Il faut s'inscrire pour pouvoir poser ses questions.
Dans la rubrique contact, j'ai demandé s'ils allaient corriger l'épisode 5 dans les Blu-Ray, et s'ils allaient proposer les sous-titres en japonais.
Réponse : Rien de prévu à ce jour.
Point… Inutile de dépenser son argent pour ça. »
Nous avons donc retranscrit + traduit la capture de son e-mail en japonais pour comprendre en détail la réponse de Toei Animation :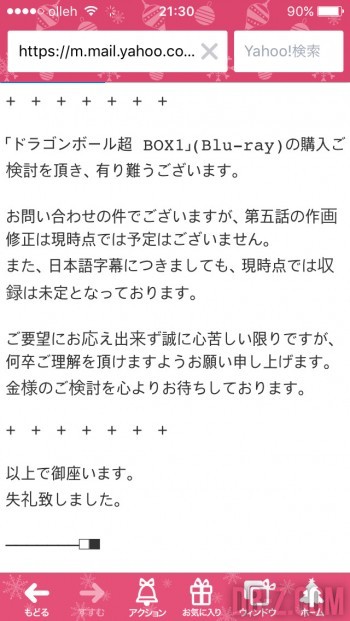 Toei Animation : 「ドラゴンボ一ル超 Box1」(Blu-Ray)の購入ご検討を頂き、有り難うございます。
お問い合わせの件でごぎいますが、第五話の作画修正は現時点では予定はございません。
また、日本語字幕につきましても、現時点では収録は未定となっておいます。
ご要望にお応え出来ず誠に心苦しい限りですが、何卒ご理解を頂けますようお願い申し上げます。
金様のご検討を心よりお待ちしております。
以上で御座います。
失礼致しました。
---
Traduction : Merci de votre intérêt pour l'achat de la BOX 1 de Dragon Ball Super.
Nous avons pris en compte votre requête, mais il n'y a « à ce jour » aucune mesure de prévue pour modifier les dessins de l'épisode 5.
Idem au sujet des sous-titres en Japonais, rien n'est décidé « à ce jour » sachant que les Box sont encore en cours d'édition.
Nous sommes sincèrement désolés de ne pas pouvoir répondre [avec exactitude] à vos requêtes, et vous remercions de votre compréhension.
C'est tout pour l'instant.
Cordialement,
Pour avoir longtemps travaillé au Japon avec des Japonais, je vous conseille d'interpréter leur réponse comme ceci :
« Désolé, on ne peut rien dire pour le moment, d'une part parce que le boss nous l'a interdit, mais surtout parce qu'on n'en sait rien« .
En tout cas, ça semble mal parti pour une correction des épisodes, comme l'avait imaginé Salvamakoto dans notre image de une. Pourtant la demande – et l'attente générale – était légitime car le cas s'est déjà présenté ces derniers mois.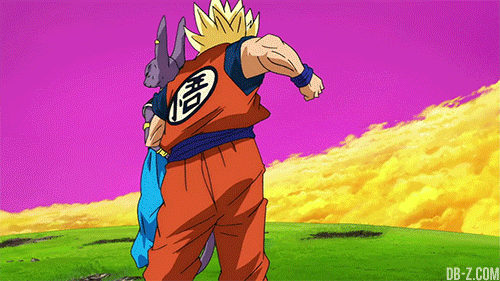 Des animés déjà corrigés à leur sortie DVD / Blu-Ray
Si le public de Dragon Ball Super était en droit d'attendre des corrections sur certains épisodes, c'est car deux autres récentes séries de Toei Animation ont subi le même traitement. Sauf que contrairement à Dragon Ball Super qui est une série TV, ces deux séries ont été produites pour le WEB, et ça fait toute la différence (en terme de budget, contrat, etc…) :
Sailor Moon Crystal (diffusé sur NicoNico)
Saint Seiya : Soul of Gold (diffusé sur Daisuki)
Sailor Moon Crystal et Saint Seiya : Soul of Gold ont en effet subi quelques corrections lors de leur passage en DVD / Blu-Ray, mais ça semble mal parti pour Dragon Ball Super :
On risque quoi ?
Si la Toei ne fait rien sur ses DVD, les premiers épisodes resteront avec les coquilles qu'on leur connait, notamment pour l'épisode 5 de Dragon Ball Super qui avait fait un énorme bad buzz.
Dragon Ball Super
Dragon Ball Super est un manga et une série TV diffusée sur Fuji TV et rediffusé sur d'autres chaines japonaises chaque dimanche à 09h00, à partir du 05 juillet 2015. Il s'agit de la première série TV Dragon Ball depuis Dragon Ball GT, diffusée de 1996 à 1997. On sait juste que l'histoire débutera quelques années après le combat contre Majin Buu, et après les 2 derniers films Dragon Ball Z : Battle of Gods et Dragon Ball Z : Résurrection F, en pleine période de paix…
Akira Toriyama est crédité en tant qu'auteur original de l'histoire et des personnages. Côté Toei Animation, Kimitoshi Chioka (Hakaba Kitarō, Kamisama Kazoku) sera le directeur de la série, et Naoko Sagawa (Yomiko Advertising, Inc.) ainsi que Atsushi Kido (Toei Animation) rejoignent Nozaki en tant que producteurs. Kido a rejoint la Toei lorsque le groupe produisait la saga Namek de Dragon Ball Z.