On vous annonçait au début du mois que Norihito Sumitomo a été choisi pour composer les musiques (BGM/OST) de la nouvelle série Dragon Ball Super qui débutera dimanche 05 Juillet sur Fuji TV au Japon. C'était Hikari, un membre de son staff, qui avait publié l'information sur le blog du musicien, et cette même personne publie aujourd'hui de nouvelles photos des séances d'enregistrement des musiques de Dragon Ball Super. Au programme, l'OST de la série comprendra 36 nouvelles musiques.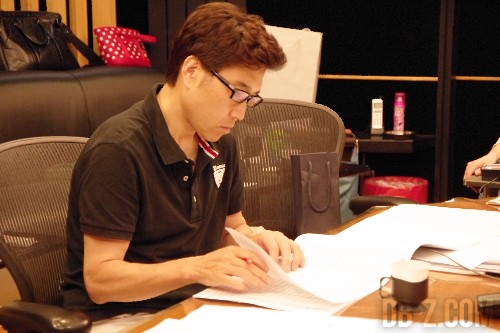 Norihito Sumitomo
Norihito Sumitomo (住友 紀人) est un musicien / compositeur / et chef d'orchestre japonais. Il est surtout connu pour ses compositions de musiques de séries TV et de films. Il a déjà travaillé sur la bande originale des films Dragon Ball Z Battle Of Gods (2013) et Dragon Ball Z Résurrection F (2015), ainsi que pour la Saga Buu de Dragon Ball Kai (2014). Désormais, tu le retrouveras tous les dimanches à partir de Juillet pour Dragon Ball Super à 09h00 sur Fuji TV ! Extrait de ses compositions sur le dernier film DBZ.
Dragon Ball Super
Dragon Ball Super sera diffusé sur Fuji TV et rediffusé sur d'autres chaines japonaises chaque dimanche à 09h00, à partir de juillet 2015. Il s'agira de la première série TV Dragon Ball depuis Dragon Ball GT, diffusée de 1996 à 1997. On sait juste que l'histoire débutera quelques années après le combat contre Majin Buu, et après les 2 derniers films Dragon Ball Z : Battle of Gods et Dragon Ball Z : Résurrection F, en pleine période de paix...
Akira Toriyama est crédité en tant qu'auteur original de l'histoire et des personnages. Côté Toei Animation, Kimitoshi Chioka (Hakaba Kitarō, Kamisama Kazoku) sera le directeur de la série, et Naoko Sagawa (Yomiko Advertising, Inc.) ainsi que Atsushi Kido (Toei Animation) rejoignent Nozaki en tant que producteurs. Kido a rejoint la Toei lorsque le groupe produisait la saga Namek de Dragon Ball Z.
Rendez-vous également sur la page Facebook Dragon Ball Super et cet autre compte Twitter de Dragon Ball Super pour ne rien manquer !
Merci Allan S. pour la notification !
https://www.db-z.com/forum/index.php/topic,4486.0.html