L'OST de Dragon Ball Super, annoncée depuis plusieurs mois, sortira le 24 février prochain au Japon. Le site de vente en ligne Amazon propose désormais d'écouter les extraits des 40 + 30 pistes des 2 CD que contiendra cet album, ce qui va bien au delà des 36 pistes annoncées initialement par Norihito Sumitomo, le compositeur des musiques (BGM/OST) de la nouvelle série Dragon Ball Super. Certaines pistes sont encore totalement inédites ! Saurez-vous deviner lesquelles ?
Cliquez sur la cover de l'OST pour écouter les extraits :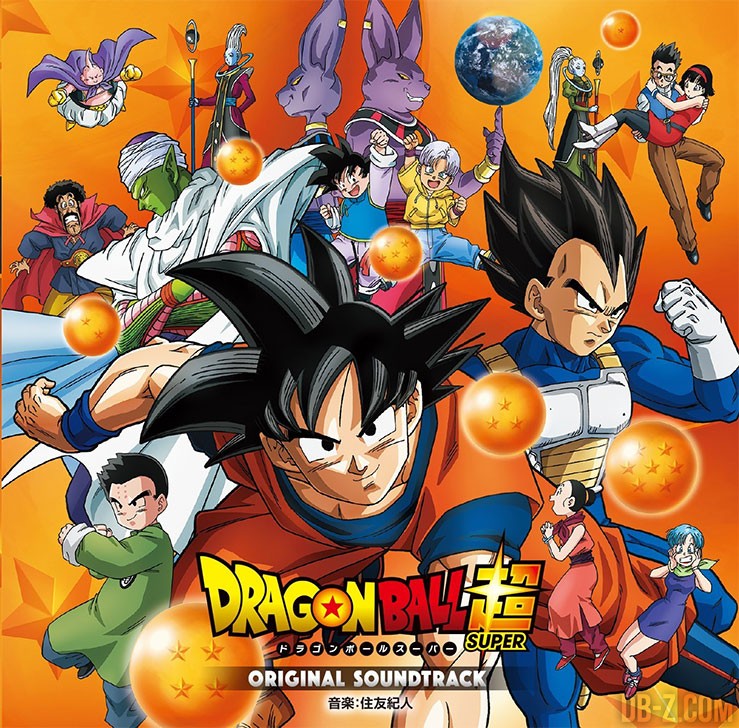 Norihito Sumitomo
Norihito Sumitomo (住友 紀人) est un musicien / compositeur / et chef d'orchestre japonais. Il est surtout connu pour ses compositions de musiques de séries TV et de films. Il a déjà travaillé sur la bande originale des films Dragon Ball Z Battle Of Gods (2013) et Dragon Ball Z Résurrection F (2015), ainsi que pour la Saga Buu de Dragon Ball Kai (2014), et on le retrouve désormais sur Dragon Ball Super.
Photos lors de l'enregistrement de l'OST de DBS
Dragon Ball Super
Dragon Ball Super est diffusé sur Fuji TV et rediffusé sur d'autres chaines japonaises chaque dimanche à 09h00, à partir de juillet 2015. Il s'agit de la première série TV Dragon Ball depuis Dragon Ball GT, diffusée de 1996 à 1997. Son histoire débute quelques années après le combat contre Majin Buu, et après les 2 derniers films Dragon Ball Z : Battle of Gods et Dragon Ball Z : Résurrection F, en pleine période de paix…
Akira Toriyama est crédité en tant qu'auteur original de l'histoire et des personnages. Côté Toei Animation, Kimitoshi Chioka (Hakaba Kitarō, Kamisama Kazoku) est le directeur de la série, et Naoko Sagawa (Yomiko Advertising, Inc.) ainsi que Atsushi Kido (Toei Animation) rejoignent Nozaki en tant que producteurs. Kido a rejoint la Toei lorsque le groupe produisait la saga Namek de Dragon Ball Z.
Remerciements : Shin Gaijin / SSJGZetto
https://www.db-z.com/forum/index.php/topic,4486.0.html