La beta fermée de Dragon Ball The Breakers se déroulera ce weekend, sur des créneaux très précis. Elle sera orienté « réseaux », en ce sens où ce qui va être particulièrement analysé lors de cette nouvelle beta, c'est la charge et la stabilité du réseau. C'est d'autant plus important que le jeu se joue uniquement en ligne, en mode multijoueur.
Cette beta fermée se déroulera donc ce weekend, sur des créneaux très précis. Il ne vous faudra donc pas les louper, si toutefois vous avez pensé à vous inscrire à la beta fermée de Dragon Ball The Breakers au préalable. Si c'est le cas, alors vous avez dû recevoir un code vous permettant de télécharger le jeu depuis hier, sur la plateforme que vous avez choisi. D'autre part, Bandai Namco a annoncé qu'une beta publique aura également lieu plus tard.
Freezer, Cell, Oolong, Bulma, et votre Avatar jouables
Lors de cette Closed Network Test, Freezer, le prédateur nouvellement annoncé, et Cell seront les deux Méchants jouables. Côté Survivants, les joueurs pourront choisir entre l'Avatar, Oolong, et Bulma.
Dragon Ball The Breakers : Dates et Heures de la Beta Fermée
La précédente beta fermée du jeu avait eu lieu seulement sur PC les 4 et 5 décembre 2021. Les nouvelles sessions de la beta fermé de Dragon Ball The Breakers seront disponibles ce 6 et 7 août, sur PlayStation, Xbox, PC, et Switch, aux horaires suivants :
Session 1 : Samedi 6 août – de 04h00 à 08h00
Session 2 : Samedi 6 août – de 14h00 à 18h00
Session 3 : Samedi 6 août – de 20h00 à 00h00
Session 4 : Dimanche 7 août – de 4h00 à 8h00
Si vous vous connectez en dehors des heures d'ouverture de la beta, vous aurez l'erreur suivante.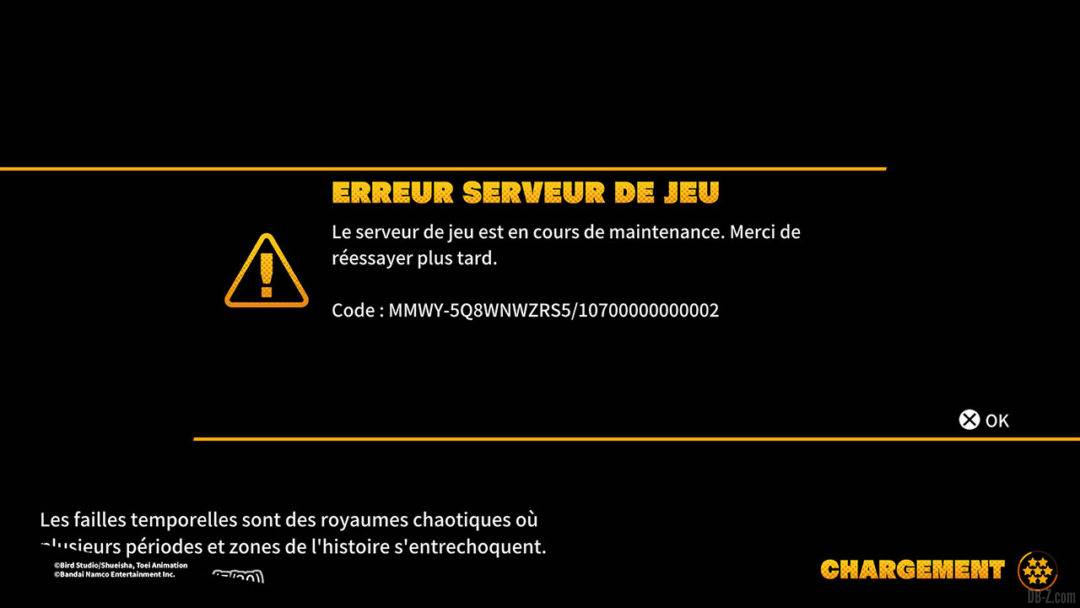 Afin d'être prêts pour la closed beta test, les joueurs peuvent découvrir le trailer du système de jeu Dragon Ball The Breakers ci-dessous. Le trailer offre un récapitulatif des règles et éléments de gameplay présents dans le jeu ainsi que des conseils pour jouer à la fois en tant que survivants ou raiders.
Dragon Ball The Breakers, en bref…
Dragon Ball The Breakers sortira en France et dans le reste du monde le 14 octobre 2022, et le 13 octobre au Japon, soit un jour avant. Il sera disponible sur PS4, PS5, Xbox One, Xbox Series, Switch, et PC. Il sera en audio Anglais + Japonais, avec des sous-titres en Anglais, Français, Allemand, Espagnol, Italien, Russe, Polonais, et Japonais.
L'histoire est présentée comme suit : Survivez pour vivre. Évoluez pour Vaincre… Trouvez la brèche ou échouez ! Pris dans un phénomène temporel imprévu, 7 citoyens ordinaires se retrouvent bloqués dans une faille temporelle : ils partagent leur captivité avec un Méchant, un ennemi menaçant venu d'un autre espace temps et doté d'une puissance écrasante
Leur seul espoir de survie est de rompre la faille temporelle avec une Super Machine à voyager dans le temps, mais le Méchant est toujours sur leurs traces et devient de plus en plus puissant, minute après minute. Dans une course contre le temps, la ruse des Survivants va devoir faire face à la puissance du Méchant, pour s'échapper libre, ou sombrer.