Après des débuts difficiles, et une difficulté certaine à convaincre le grand public, Dragon Ball The Breakers continue son bout de chemin en dévoilant aujourd'hui un premier trailer de la saison 2. Elle arrivera le 16 février 2023, soit ce jeudi, et comme le teasing l'avait dévoilé, l'attaque des Saiyans sera à l'honneur.
Le nouveau tueur débutera sous la forme d'un Saibaiman, pour ensuite se transformer en Nappa, puis en Vegeta, et pour finir en Vegeta Oozaru. Il enchaînera donc dans l'ordre les transformation suivantes, au fur et à mesure qu'il gagnera en puissance : Saibaiman > Nappa > Vegeta > Vegeta (Singe Géant).
On remarque aussi brièvement qu'une nouvelle map sera proposée, et qu'elle inclura la Tour Karin. Il ne s'agit pas pour autant de la Terre Sacrée, puisque les monuments et lieux de Dragon Ball sont tous mélangés dans la faille temporelle dans laquelle vous êtes prisonniers dans Dragon Ball The Breakers.
Dragon Ball The Breakers Saison 2 : Trailer
Au total, cette saison 2 offrira aux joueurs :
1 nouveau Méchant : Vegeta (dispo via Médailles TP)
3 skins de survivants (Chichi, le Roi de la Terre, ???)
1 Map
De nouvelles transphères
De nouvelles techniques actives et passives
De nouveaux objets de personnalisation (costumes, accessoires, etc)
Autres contenus (détaillés dans le planning plus bas)
En plus de ce nouveau Raider, d'autres contenus arriveront dans cette saison 2, comme les skins de survivants Chichi (jeune), et du Roi de la Terre (le type à tête de chat qui porte un costard). D'autres capacités actives et passives seront également de la partie, et on espère enfin que Bandai Namco proposera encore plus de contenus de personnalisation pour nos avatars.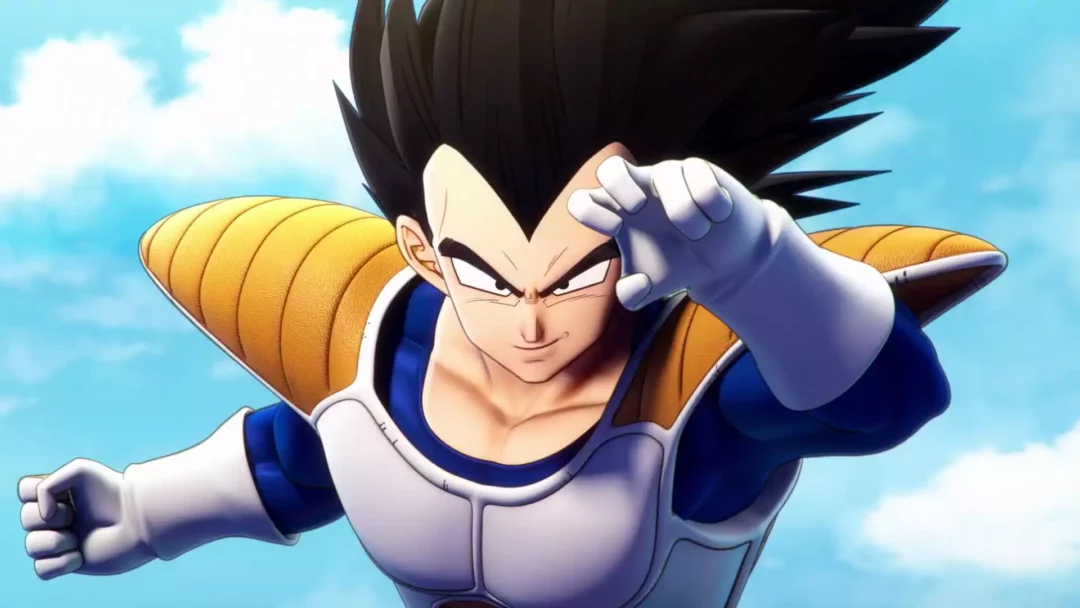 Le calendrier de sortie des contenus Dragon Ball The Breakers
Afin de rassurer les joueurs, Bandai Namco avait publié un planning de sortie dès le lancement du jeu. On apprenait ainsi qu'il y aura non seulement une saison 2, mais aussi une saison 3, et même une saison 4 !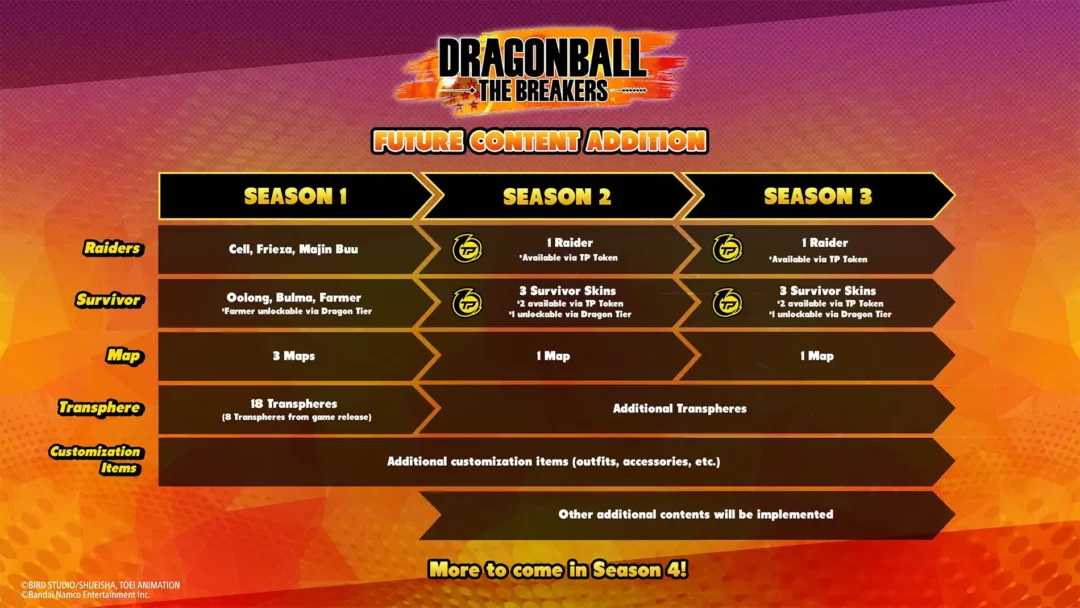 Dragon Ball The Breakers, en bref…
Dragon Ball The Breakers est un jeu d'action asymétrique développé par Dimps, et édité par Bandai Namco. L'action se déroule dans le même univers que les jeux Dragon Ball Xenoverse 1 et 2. L'histoire suit des civils humains, pris au piège dans une faille temporelle avec certains des méchants les plus emblématiques de Dragon Ball. Les survivants doivent s'entraider s'ils veulent survivre, car les méchants viennent les chercher.
Le jeu se déroule également dans le même univers que les jeux Dragon Ball Xenoverse, d'où l'apparition de failles temporelles mélangeant des ennemis des différentes époques de Dragon Ball. Plusieurs DLC ont déjà été annoncés par Bandai Namco. The Breakers bénéficiera de contenu additionnel et de mise à jour régulières qui sauront réjouir les fans. Les joueurs peuvent gagner du contenu gratuit via le Dragon Tier en jouant au jeu. Le pallier 50 de la première saison est le personnage jouable du "Fermier" pour les Survivants.