On connaît enfin l'identité de l'ennemi qui ressuscitera dans le film Dragon Ball Z 2015, et quel ennemi, puisqu'il s'agit de Freezer ! C'est ce que montre cette image qui vient de fuiter du prochain numéro du magazine japonais V-Jump qui sortira vendredi prochain. On y apperçoit pour la première fois un visuel du film qui sortira en mai 2015, avec le titre Dragon Ball Z : Fukkatsu no F (Dragon Ball Z : La résurrection de F).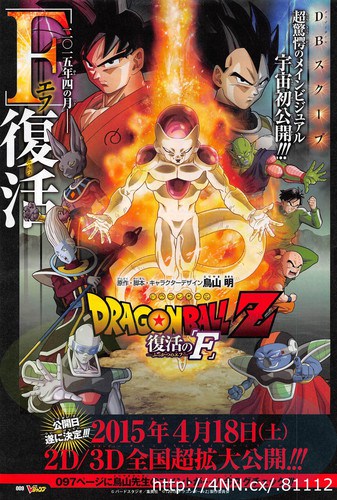 L'image ne montre pas que Freezer, mais aussi Whis et Beerus, les antagonistes du film Dragon Ball Z : Battle of Gods, ainsi que Goku, Vegeta ,et toute la bande, avec semble-t-il de nouvelles tenues ! Le magazine précise également que le film sortira le 18 Avril au Japon, à la fois en 2D mais aussi en 3D ! Dans une mini interview d'Akira Toriyama, le « F » du titre est pour « Freezer », » qui sera ressuscité dans le film. Toriyama précise qu'il a eu l'idée du titre en écoutant la chanson « F » du groupe Maximum The Hormone. En effet, l'un des membres du groupe et ami de Toriyama lui aurait confié que la chanson était en l'honneur de Freezer.
Le magazine décrit l'histoire :
Une Terre où régnait la paix. Cependant, des survivants de l'armée de Freezer, Sorbet et Tagoma (jeux de mots avec le mot japonais pour « oeuf ») arrivent sur la planète. Leur but est de ressusciter Freezer avec les Dragon Balls. Leur terrible souhait est accordé, et le « F » qui avait organisé sa vengeance sur les Saiyans est revenu à la vie… !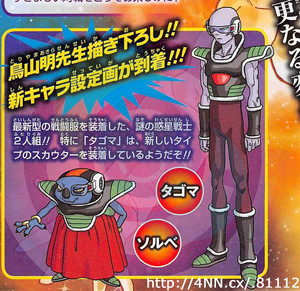 Ces deux nouveaux personnages ont été designés par Akira Toriyama lui-même : Sorbet (à gauche) et Tagoma (à droite). Ce sont des survivants et servants de Freezer.
https://www.db-z.com/forum/index.php?topic=3905.0